Do you love playing an epic battle game? Download Castle Crush Mod APK - Unlimited gems, money, coins today and earn unlimited gems and money. Win by eliminating your enemies and destroying their castles.
Information of Castle Crush
| | |
| --- | --- |
| Name | Castle Crush |
| Updated | |
| Compatible with | Android 4.3+ |
| Last version | 6.3.2 |
| Size | 136.18 Mb |
| Category | Strategy |
| Developer | Fun Games For Free |
| Price | Free |
| Google Play Link | |
| MOD | Unlimited gems, coins |
If you love epic battle games, you will definitely want to download and install Castle Crush now. This is a real-time strategy (RTS) game developed by Fun Games for Free. In this game, the gamer should try to destroy the opponent's castle using a variety of troops in epic battles. As you do this, you need to stop the enemy army from destroying your castle.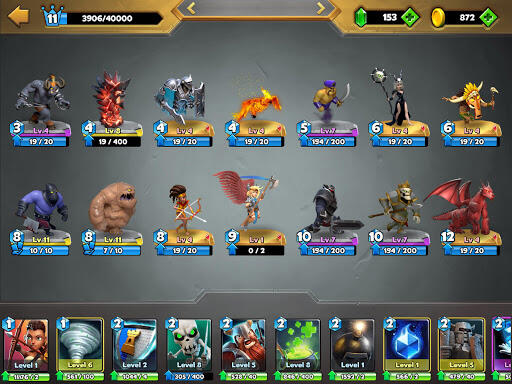 In Castle Crush, you lead your army to victory to crush your enemy's castle by deploying your most skilled troops! As the player, you need to define your strategy clearly and select your warriors carefully. Among the troops, you will have archers to kill with arrows from a distance as well as a huge super huge Dragon to spit fire on your enemies. Download the Castle Crush and make the difference between defeat and tremendous victory.
Epic Magical Battles!
Castle Crush is a great multiplayer strategy game where you can play with your friend and enjoy fighting your enemies. In the game, the main aim is defeating other armies and destroying their castles while at the same time avoiding the destruction of your castle. To make the game more exciting, there is a feature where you discover and unlock new powerful spells, monsters, and warriors. This way, you will overcome any army and destroy their castle.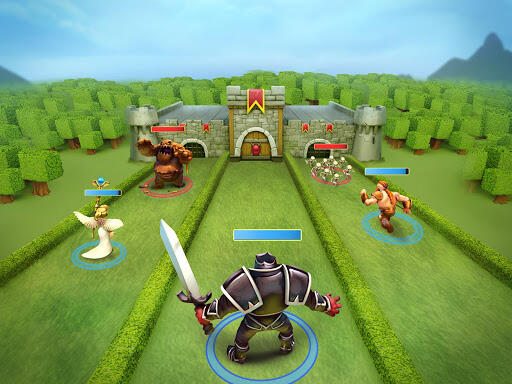 The main objective of the game is to take on inhabitants of various castles in epic magical battles. To make it easy, you have all you want to overcome other armies from top-notch weapons and armor, monsters like the humongous Dragon, to the lovely Dryad. You can also use new things to fire from the trebuchet are Greek fire, jars full of electric eels, ice grenades, to the mysterious purple flask that makes a small black hole. With all these at your disposal, you can eliminate all castle inhabitants and destroy it to the ground. Once you start playing and winning at various levels, you earn trophies and climb the global ranking. Download Castle Crush now and make epic magical battles your thriving space.
Castle Crush Features
The castle crush game comes with remarkable features that make it stand out as one of the leading epic battle games. Here are some of the most exciting features that you should look out for in the game.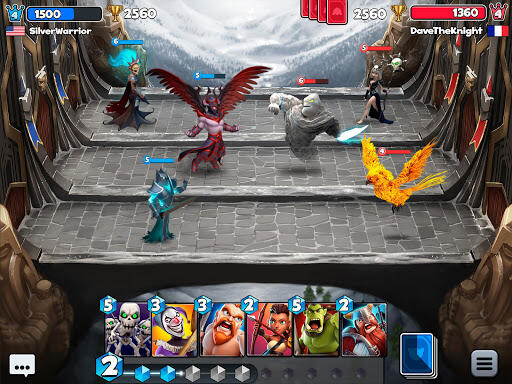 Battle Sections – Castle Crush divides the battlefield into three sections where you can deploy most your highly skilled troops. Similar to what happens in the Clash Royale game and other games in this genre, a card with a certain value in MANA points represents each of your units. Notably, each unit has its life points and a specific kind of attack. The game offers a strategic and fun battle system that you should win to go up the levels.
HD Clarity – needless to say, High-Definition animations have taken the gaming space by storm. Most developers are now creating games with 3D environments and HD environments. As such, games are coming out as the best creation with HC clarity. Unfortunately, the combination of a system of deck building with a simplified MOBA gameplay has led to the appearance of hundreds of clones, copies, and veiled homages on the platform. However, a video compilation of the clips taken from the game can help gamers separates the wheat from the chaff! Download Castle Crush today and enjoy the clarity of its interface.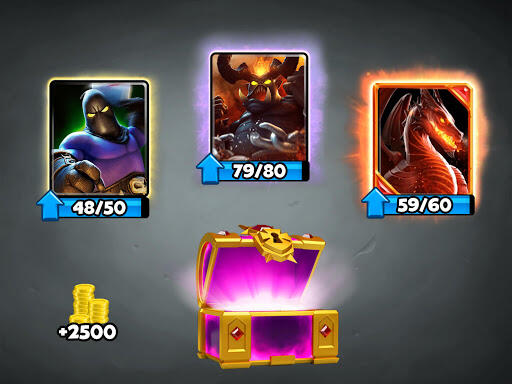 Powerful Troops and Monsters – in this game, you can choose your tactics and battle your opponents with the best you got! Of course, this is a strategy game where you must have the best strategy to overcome your rivals. You will be involved in duels against players around the world. Dryad – the superhero, the dragon, and super skilled troops are at your disposal. Luckily, you can collect gems and money to upgrade to over 40 troops and spells.
Thrilling Duels – in castle crush, you can get into the arena and clash with other players on epic and thrilling duels! In the beginning, the combat may be difficult. But as you continue, you will notice that you will need to prepare a definite strategy to win in this battle game! Once you do that, you can start the battle, put warriors on the battlefield, and destroy all enemies. You must further protect your castle from destruction as you also guard the walls of the citadel where the main secrets of your state are hidden.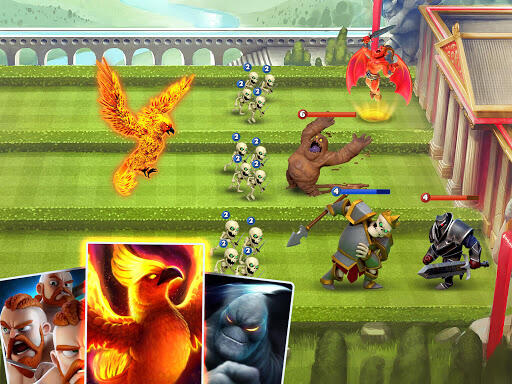 Weapons and Armors – as a fan of this remarkable battle game, you must know you cannot win without the best weapons and armor. That means that you need to equip yourself with the best and powerful weapons as compared with your opponents. Fortunately, you get free gems whenever you level up or gather gold from chests and unlock the best weapons in the game.
Tricks – all pro tricks in this game are upgraded to function with the latest version of the Castle Crush game. With this tool, a player can boost your score accessing the latest working methods. This trick has always assisted players to earn tons of gems in the game. If you use this properly, you can shoot down over 30 castles easily and earn lots of extra gems. You can also use a trick that gives access to buy unlimited free gems. After collecting sufficient gems, you can trade them all for instant access to the gems you require to level up.
Download Castle Crush Mod APK - Unlimited gems and coins
Download Castle Crush mod APK latest version today and earn highly compressed and unlimited gems and money. Eliminate your enemies and destroy their castles for more gems and money.