Download Bike Clash Mod APK Unlimited money and gems Latest version and play to become the best biker. It features hard-to-conquer mountain trails and the best bikers globally.
Information of Bike Clash
Bike Clash APK is an android racing game developed by T-Bull. It is an extreme mountain biking game that will take you to the next level. The trails are hard to conquer, and you need the best skills to make it through.
Fortunately, you will have the best bikers to keep you in check. Always work towards outsmarting and outracing them to become the best. While this won't be easy, the feeling you get when you win will be worth it.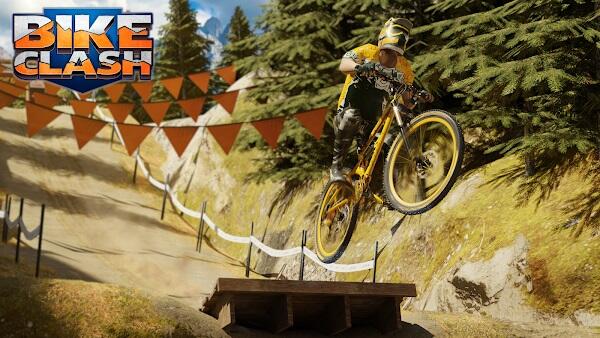 Even better, the controls are racer-friendly. They are designed to allow you to concentrate on what matters most-racing. This way, you can achieve the best results with little effort.
How to play Bike Clash
Just like any other racing game, the objective of playing Bike Clash is to come first. However, this isn't your typical racing game. It features more challenges that will push you to your limits.
You need to be extra careful not to fall off the bike. The tracks are rough, and one wrong move could be costly. But if you are careful enough, you will make it to the finish line in one piece.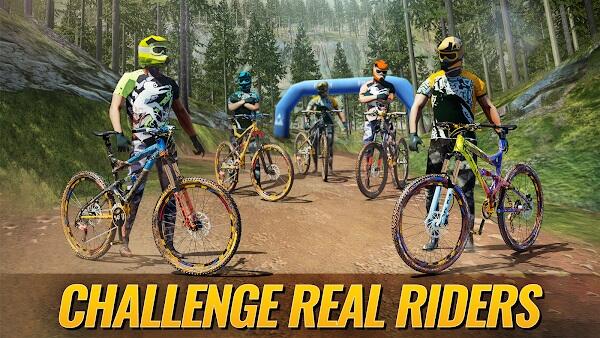 And when you do, pat yourself on the back because not many people can say they have conquered the Bike Clash tracks. They are only meant for crème-de la-crème. Are you up for the challenge? Download this thrilling game to find out.
Perform Jump & Stunts
In Bike Clash, you will perform many stunts and jumps. And trust me when I say this- they are not for the faint-hearted. But if you think you have what it takes, give it a try.
The stunts include riding on one wheel, flipping in the air, and more. They may seem impossible at first, but with time you will get used to them.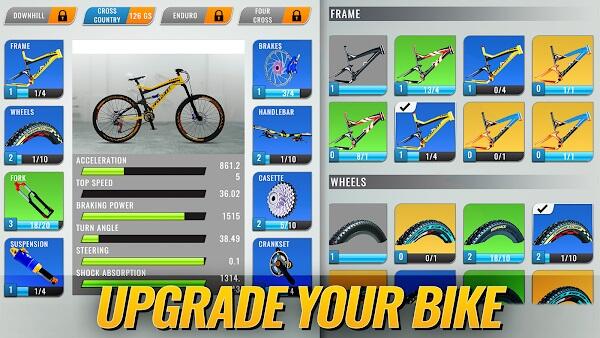 The key to performing them perfectly is timing. You need to know when to make your move. If you are even a fraction of a second late, you will fail miserably. But if you get it right, the feeling is unbeatable.
Several power-ups will come in handy while performing stunts. Use them wisely to give you an extra boost and help you achieve the impossible.
Customize Your Bike
In Bike Clash, you have the freedom to customize your bike to match your riding style. There are different types of bikes to choose from, each with unique features. Some are well-suited for downhill racing, while others are epic in cross-country matches.
When upgrading your bike, you must consider qualities like acceleration, steering, braking power, turn angle, top speed, and shock absorption. These factors will come into play depending on the race you are taking part in.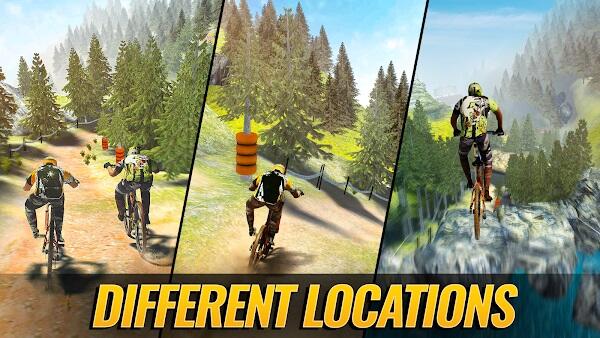 For example, if you are taking part in a cross-country race, a bike with great shock absorption is ideal. This way, you can handle the rough terrain without compromising your speed.
Additionally, this game lets you change several elements of the bike to suit your taste. You can change the color, wheels, frame, and more. The options are endless, and it is up to you to make your bike stand out from the rest.
Challenge Real Riders
This game allows you to test your skills against real riders from all over the world. Bike Clash features an online multiplayer mode where you can go head-to-head with the best bikers globally.
Here, you will be racing in real time, and the stakes are high. There is no room for error because one mistake could cost you the match.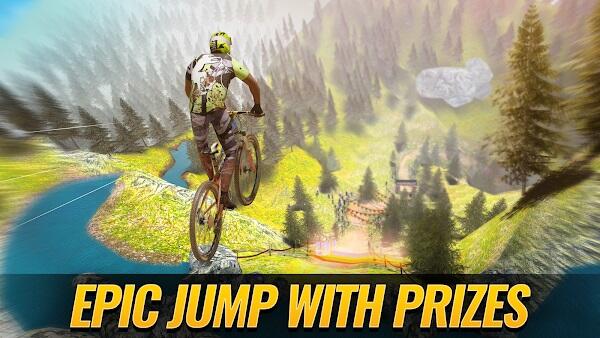 But if you are confident in your skills, go ahead and take on the world. The feeling of emerging victorious against some of the best riders is incomparable. You will also get to unlock new bikes and trails as you keep winning.
Other Unique Features of Bike Clash APK
Regularly Updated Leaderboards. This game lets you compare your performance with the best riders globally. You will enter into a whole new level of competition as you keep challenging yourself to do better. The leaderboards are updated regularly to ensure you are always up-to-date with the latest standings.
Mountain & Forest Trails. This game takes you to the most beautiful trails in the world. You will get to race in exotic locations and experience the thrill of biking on different terrains. The tracks are also well-designed to ensure you have a great time while playing.
Realistic 3D Graphics. This game features realistic three-dimensional graphics that give you an immersive gaming experience. The bikes and tracks are well-detailed and look just like their real-life counterparts. You will also love the animations and special effects used in this game.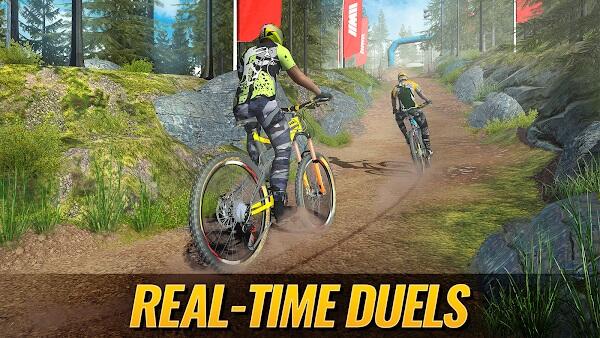 Frequent Game Updates. Bike Clash is constantly being improved to give you the best possible gaming experience. New features and levels are added regularly to keep you coming back for more.
Realistic Cycling Physics. This game makes use of realistic cycling physics to give you a realistic biking experience. You will need to put in some effort while pedaling if you want to win the race. Besides, handling the bike will feel different on different terrains.
PvP Competitions. This game features intense player-versus-player competitions. You will be matched with riders of similar skill levels for a fair and competitive race. There are also different leagues you can join depending on your expertise. Ensure you enter into events, duels, and tournaments to hone your skills.
Break Records & Earn Treasures. This game gives you the chance to set new records and earn amazing prizes. You can also complete missions to earn rewards that will help you progress in the game.
Bike Clash MOD APK Download
If you are looking for a great way to up your biking experience, download Bike Clash MOD APK for Android. This modified version allows you 100% access to all gameplay features, giving you the freedom to decide the trajectory of your game.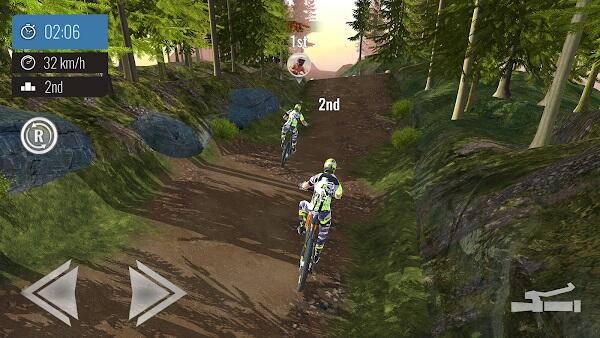 The Bike Clash MOD APK Unlimited Money and Gems version also unlocks all the resources you need to conquer the harshest trails. You will upgrade your bike faster and easier, allowing you to take on the best bikers in the world.
Additionally, the Bike Clash MOD APK 2023 version removes all ads from the game for uninterrupted gameplay. This way, you will focus on winning and nothing else.
Conclusion
Bike Clash is a great game for all biking enthusiasts as it features some of the best tracks, bikes, and physics in the world. You will also appreciate the competitive multiplayer mode and other unique gameplay features.
Additionally, the MOD version gives you everything you need to progress in the game faster. You will have access to all features and resources, allowing you to take on the best riders globally.