Download Arm Wrestling Clicker MOD APK latest version and become an arm wrestling bigwig. You must participate in dumbbell contests & earn rewards to prove your prowess.
Information of Arm Wrestling Clicker
| | |
| --- | --- |
| Name | Arm Wrestling Clicker |
| Updated | |
| Compatible with | Android 4.4+ |
| Last version | 1.4.0 |
| Size | 52.88 Mb |
| Category | Simulation |
| Developer | fffungame |
| Price | Free |
| Google Play Link | |
| MOD | Unlimited money and gems |
About Arm Wrestling Clicker
Arm Wrestling Clicker APK is a fun way to test your strength and stamina. You can participate in arm wrestling tournaments, enter dumbbell contests, and compete against opponents globally.
You will start with simple challenges that won't take long to complete. As you progress, the challenges will become more difficult and complex. You can use coins earned from tournaments to upgrade your arm strength and make it easier to beat opponents.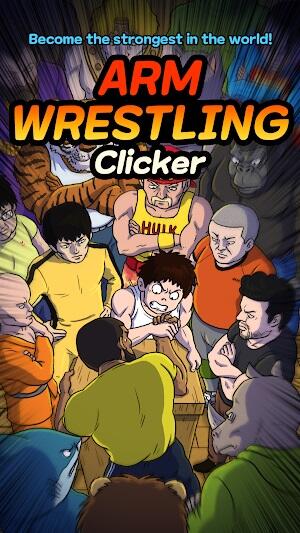 You can also keep training by lifting weights in the gym. This will enable you to increase your arm strength, enabling you to compete in tougher tournaments. Collect special items and use them to help you win the match quickly with style.
Overall, Arm Wrestling Clicker MOD APK for Android is a highly diversified game designed to continually challenge your arm strength and determination. With its simple game mechanics, it can provide hours of entertainment.
Arm Wrestling Clicker APK - Background Information
Arm Wrestling Clicker MOD APK was developed by FFFungame. This relatively new developer has another game in their portfolio, Tap Tap Ping Pong. They specialize in creating casual and fun mobile games with simple but varied gameplay.
This game does not fall short of expectations as it features a unique and exciting arm wrestling concept. It also combines this with other aspects, including weightlifting, rewards, and tournaments for an enhanced and engaging experience.
Additionally, the game is modeled with cartoonish graphics to give it a light and playful vibe. The simple animation style fits players of all ages, giving it an even broader appeal.
In-Depth Guide on Playing Arm Wrestling Clicker
At its core, Arm Wrestling Clicker MOD APK is a simple game. Its gameplay requires little skill, enabling you to play at your own pace. You don't have to think hard since simple clicks are enough to complete most levels.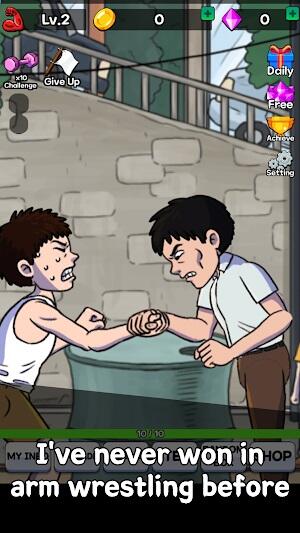 In the beginning, you will be a weak arm wrestler. As such, you must consistently lift weights and participate in tournaments to gain power. This will help you build your arm wrestling skills, enabling you to take on harder challenges.
You will also collect coins and other rewards as you progress. These will come in handy when you want to upgrade your arm strength and participate in sophisticated tournaments.
Whatever you do, ensure you keep your arm strength at its peak. This may require strategy, hard work, and dedication to outsmart your opponents. With dedication and focus, you can become the arm wrestling champion.
What are the Unique Features of the Arm Wrestling Clicker Game?
Encouraging Progression. Nothing can be as frustrating as grinding through the same levels without any change in difficulty. Arm Wrestling Clicker MOD APK addresses this issue by ensuring its difficulty level rises as you progress through the game.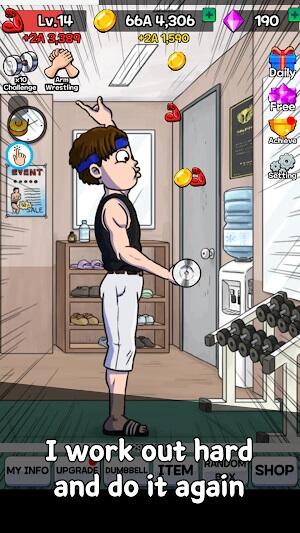 Simple Animation and Bright Graphics. The developers at FFFungame have a knack for creating bright & inviting games. This game is no exception, with its simple cartoonish graphics making it a favorite among casual gamers.
Rewards and Upgrades. As you progress through the game, you will earn coins that can be used to purchase upgrades such as stronger arm muscles. Additionally, these rewards can give your arm wrestling skills an edge over others.
Numerous Dumbbell Tournaments. This game features multiple tournaments that have varying difficulty levels. Participating awards coins, which can be used to upgrade your arm strength and further increase your chances of winning.
Many Collectibles. As you play Arm Wrestling Clicker MOD APK, you will collect several special items. These include hair, relics, and costumes that help to customize your arm wrestler's appearance & stamina.
Simple Clicker Controls. This game focuses on clicker controls, making it easy to play even for those unfamiliar with gaming. All you need to do is tap the screen, and your arm wrestler will move forward, lift weights, and participate in tournaments.
A Fully Equipped In-Game Shop. The in-game shop offers a plethora of items that can help you boost your arm wrestling skills. The shop is strategically stocked with items, giving you room for customization.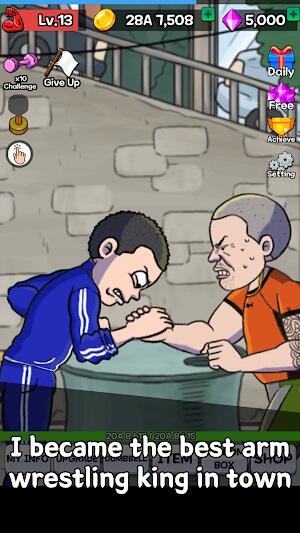 Lots of Fans to Cheer You On. As you progress in Arm Wrestling Clicker MOD APK, your fans will cheer you on and offer their support. This creates a sense of community that immerses you in the game and encourages you to keep playing.
System Requirements and Additional Information
This game requires an Android 4.4 or higher version & weighs approximately 40MB. It is free to download and play, although there are some in-game purchases to help you progress faster.
However, you can switch this setting off in the game's settings menu if you don't want to use it. This way, you can enjoy the game without spending any money.
Overall, Arm Wrestling Clicker is a great way to get your arm wrestling gameplay on the go. With its simple controls, bright graphics, and rewarding tournaments, you won't stop playing this fun-filled clicker game.
Proven Tips for Playing the Game
If you want to become the arm wrestling champion, here are a few tips to help you get started:
Collect Coins. Coins are essential for purchasing upgrades & rewards that can give you an edge over your opponents.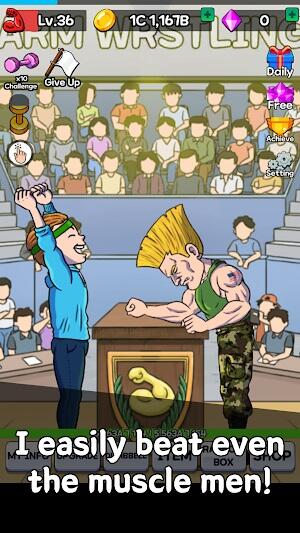 Participate in Tournaments Regularly. These offer a great way to test your arm wrestling skills against the best in the world.
Utilize Rewards and Special Items. These can provide temporary boosts that help you outsmart other players, giving you an extra advantage during difficult matches.
Strategize Your Moves. Plan each match carefully and never make bad decisions or underestimate an opponent.
Conclusion
Arm Wrestling Clicker MOD APK download offers arm wrestling fans an invaluable opportunity to practice and refine their skills on the go. It has simple clicker gameplay that is easy to pick up and understand.
Additionally, the numerous tournaments, collectibles, rewards, and in-game shops offer a great way to customize your wrestler. This makes the game even more fun and engaging.
If you are looking for an addictive clicker game with arm wrestling elements, Arm Wrestling Clicker MOD APK is a perfect choice. Download it now and start competing against the best in the world.