Download Airport Rush 3D Mod APK Unlimited money Latest version and progressively build your airport empire. It features simple graphics and a super realistic airport environment.
Information of Airport Rush 3D
| | |
| --- | --- |
| Name | Airport Rush 3D |
| Updated | |
| Compatible with | Android 8.1+ |
| Last version | 1.2.8 |
| Size | 135.48 Mb |
| Category | Simulation |
| Developer | MondayOFF |
| Price | Free |
| Google Play Link | |
| MOD | Unlimited money |
Airport Rush 3D APK is a life simulator game offered by MondayOFF. You will manage airport operations to ensure customer satisfaction and earn profits.
You will start with simple assignments such as loading luggage and collecting tickets from passengers. As you work your way up, you will be tasked with managing new belts, ramps, and gates.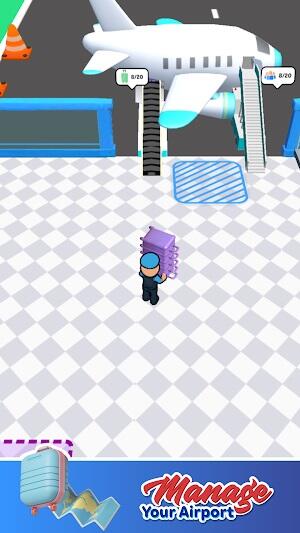 All the while, you must keep customers happy by providing speedy and efficient service. For example, you can introduce a soda vending machine to the airport lounge. This will offer unrivaled convenience and keep passengers satisfied as they wait for their flights.
Overall, this game may not be a banger graphic-wise, but it offers a fun and engaging simulation experience. Its simplicity ensures minimal downtimes, making it an ideal choice for players of all skill levels.
Airport Rush 3D - Background Story
MondayOFF is known for creating lightweight simulation games compatible with many Android devices. One of its latest addition is Airport Rush 3D, which offers an exciting airport management experience.
Based on a super realistic airport environment, the game serves up all the classic challenges of this sector. You will be tasked with managing airport operations from start to finish and ensuring total customer satisfaction.
To do so, you must master a wide range of skills, including loading luggage, collecting tickets, and managing various airport facilities. You must set up security checks and baggage handling systems, and ensure the terminal is always clean and tidy.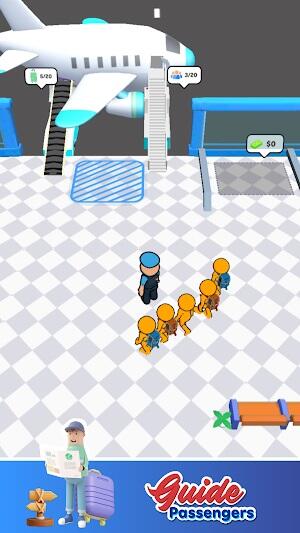 But that's not all. You have to keep passengers happy by providing quick and efficient service at all times. This means introducing new facilities like vending machines and cafes to help speed up the process.
Outstanding Features of Airport Rush 3D APK
Guide Your Passengers. As you expand your operations, you'll continually handle more passengers. You must ensure they are quickly and safely guided through security, bag drop, and boarding gates. This way, you can keep them happy and improve your ratings.
Manage Your Assets. You'll have to carefully manage the assets at your disposal to ensure each customer gets what they need promptly. For example, you will need to optimize the layout of baggage belts and conveyor systems. This way, you can quickly transfer luggage between the terminals and outbound trucks.
Keep it Organized. You must keep things organized to ensure maximum efficiency. This means automating some of the processes, including ticketing and security checks. You can also introduce self-service kiosks to streamline the process further.
Upgrade Your Facilities. As you progress, you will unlock more advanced facilities, such as pastry shops and gift shops. These will help boost customer satisfaction levels and ensure higher profits in the long run.
Hire More People. To run your operations smoothly, you need a good team of employees. This means hiring the best workers available and managing them effectively to keep things running smoothly. Ensure you assign the right tasks to the right people to optimize efficiency.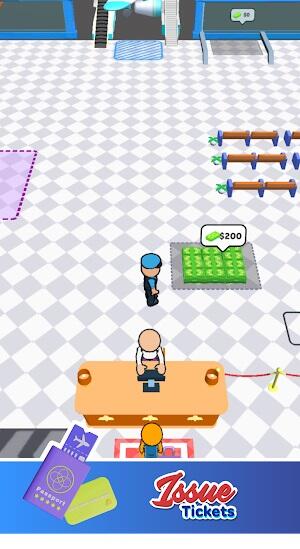 Earn Money! Ultimately, your goal is to earn as much money as possible. If you exceed customer expectations, you'll receive high ratings and unlock even more lucrative contracts. As such, you must be strategic about where and how you spend your money to optimize profits.
Simple Controls. Everything in Airport Rush 3D is easy to control, thanks to its streamlined interface. Even young players can pick up this game and enjoy the fast-paced action right away. Simple touches and swipes are all you need to navigate the various menus and manage airport operations.
Endless Replayability. You will always encounter new challenges as you progress. This will call for high-level adaptability and strategic planning to successfully manage your operations. As such, you can keep playing this game for a long time without getting bored.
System Requirements & Additional Information
As earlier mentioned, Airport Rush 3D is compatible with most Android devices and requires a few MBs of space (approximately 88MB). To take full advantage of its advanced features, you will need to have at least 512 MB of RAM and an internet connection.
For optimal performance, we recommend using Android version 8.1 or later. This will ensure lag-free gameplay and seamless integration with the latest system updates.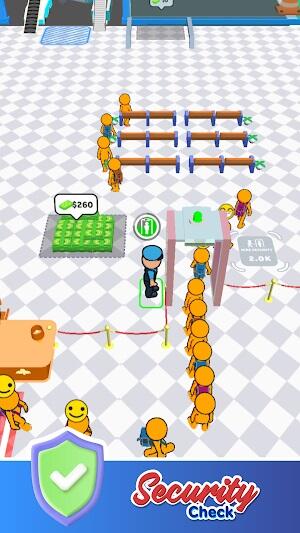 Additionally, this game offers in-app purchases ($0.99 - $9.99 per item) that can be used to purchase premium features and additional items. However, these purchases are optional and are not required to enjoy the game fully. They only accelerate gameplay for advanced players.
Reliable Tips and Tricks
If you're looking to get the most out of Airport Rush 3D, here are a few tips and tricks to keep in mind:
Be strategic about where you spend your money. For example, prioritize upgrades to improve the speed and efficiency of baggage handling and security screening.
Manage your employees effectively. This means assigning them to the right tasks based on their skill sets, experience levels, and preferences.
Keep an eye on customer satisfaction levels and strive to exceed expectations. This means providing timely, high-quality customer service and ensuring that your facilities are always clean, modern, and well-maintained.
Don't be afraid to experiment with different strategies and approaches. This will help you find what works best for your particular airport and business model, ultimately helping you achieve long-term success and profitability.
Airport Rush 3D MOD APK Download
The Airport Rush 3D MOD APK for Android is patched to offer quicker loading times and smoother gameplay. Here are its exceptional features: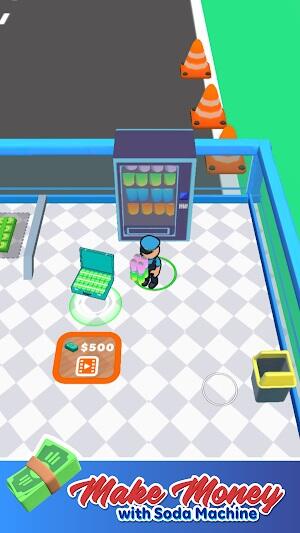 Airport Rush 3D MOD APK Unlimited Money. This game is resource-intensive since it involves complex management and operations. As such, it can be challenging to progress without in-game currency. The MOD gives unlimited resources, allowing you to purchase upgrades and items hassle-free.
Airport Rush 3D MOD APK All Unlocked. This MOD unlocks all the game's premium features, allowing you to enjoy everything from the start. You'll no longer need to wait for new contracts or spend real money on premium items.
No Ads. This game features frequent ads that can be disruptive and annoying. With the MOD, you will never have to deal with these ads again, giving you a more immersive and uninterrupted gaming experience.
Conclusion
Airport Rush 3D is an exciting and addictive mobile game that puts you in charge of a busy airport. To get the most out of this title, be strategic about expenditure & employee management.
If you're looking for faster loading times and glitch-free gameplay, consider downloading the Airport Rush 3D MOD APK for Android today! This MOD integrates with your device and offers all the features you need to stay on top of the competition.