With the AirDroid Mod APK app, you will enjoy local and remote connection features out of this world. Use the app to control your android device on PC remotely.
| | |
| --- | --- |
| Name | AirDroid |
| Updated | |
| Compatible with | Android 4.0+ |
| Last version | 4.3.1.2 |
| Size | 66.02 Mb |
| Category | Tools |
| Developer | SAND STUDIO |
| Price | Free |
| Google Play Link | |
| MOD | Premium/Full unlocked |
AirDroid by Sand Studio is an amazing application that allows users to control their Android devices from any computer's browser. With this local and remote connection, you can manage all of your device's content using a much more comfortable interface and with the steadfast help of the mouse. That simply means that you can link up and access your mobile phone from your PC.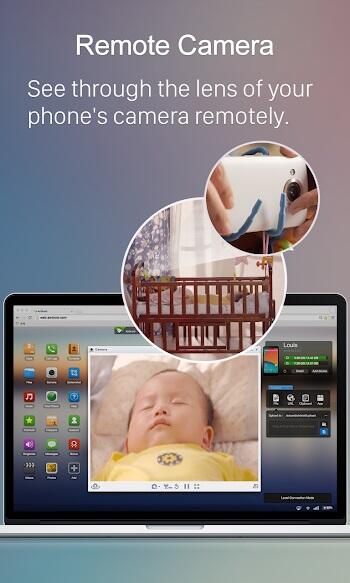 You can remotely add or remove elements from your android device, uninstall applications and perform dozens of other actions. The application's most useful tool is the one that allows you to import or export elements like photos, songs, and videos from the computer to the phone and vice versa. Note that this function is facilitated fast and in the most comfortable way.
With the rich features of this app and the exciting user experience, AirDroid has received immeasurable praises and recognition from millions of users across the globe. Currently, the app has an accumulative 4.3 user rating on Google Play and has millions of people using it now.
Remote Control Android Devices
The AirDroid app is the go-to solution for managing your phone and performing some crucial tasks remotely. some of the things you can do with the app include file transfer, remote control, screen mirroring, and get SMS notifications right on your computer.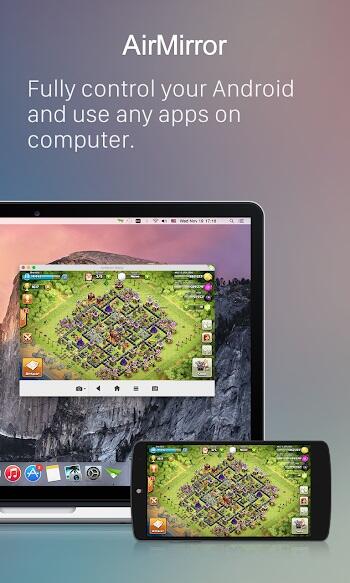 This app supports and works on all platforms over the Internet. AirDroid has everything you require, including a web version, which makes managing your phones and tablets easier and convenient. Another advantage that makes the app quite interesting is that you can write messages from your PC and send them through the Android device automatically.
Notably, the interface of the app can be executed directly from the browser on your computer. It works perfectly from any PC browser like Google Chrome, Safari, Mozilla, and others. That implies that you can still enjoy the application regardless of the browser or computer you have.
Highlights of the AirDroid App
AirDroid is a useful tool that Android users can rely on, especially in making many tasks easier. Apart from downloading online videos, you can do a lot more. Here are some features that stand out!
Hyper-Fast File Transferring – enjoy moving files from your android device to your PC or vice versa without limitations. After trying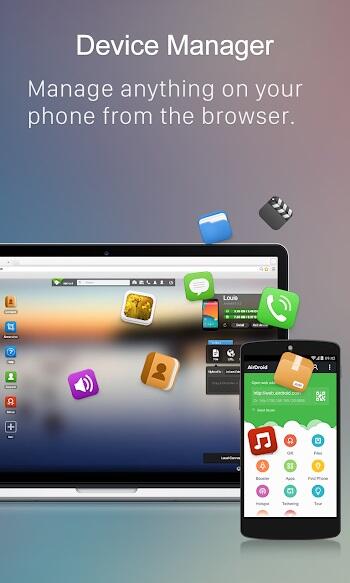 AirDroid, the app will definitely become your best mobile device management suite. The app is built on 10 years of continuous improvements and will help you with tasks like screen mirroring, file transfer and management, downloading online videos, remote control, and receiving SMS notifications on your PC, and more!
Use AirDroid to enjoy the extremely fast file-transferring speed up to 20MB/s using either local or remote connections. Here, you will enjoy the uncompromising experience for productivity. You even have the choice of switching to 5G, 4G, Wi-Fi, or network. The nearby feature also allows you to send photos & videos to your nearby friends, instantly and directly, without creating an account or internet connection.
Control Android devices on PC – with this app, you can take full control of your Android device with your PC. All that is possible even without rooting your device. You simply need to connect to the AirDroid PC and do whatever you want on your Android devices remotely. Play games, open or uninstall an app, check the phone status, check notifications, send or receive files, and more.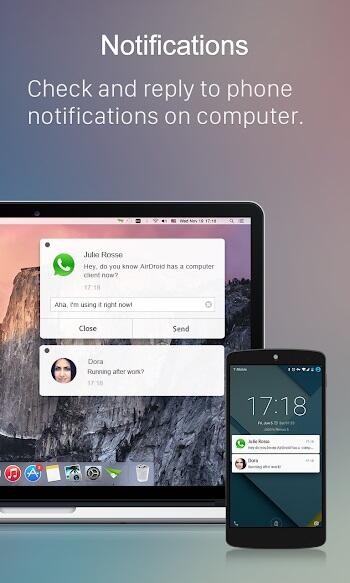 The remote control feature for AirDroid is easy to set up and operates smoothly even if one of the parried devices is on the other side of the globe. However, you need to install AirMirror for the controller device if you need to remote control an Android device from another Android device.
Screen Mirroring – mirroring your device on another simply means that you want to share your display with other people. It could be an audience, a partner, or even students during a lesson. With this app, you can mirror your screen wirelessly and also stream your broadcast. Besides, you can share games or pictures with your audience faster and more easily. Note that the screen mirroring feature doesn't need the phone and the computer to be on the same network.
Make Calls On PC – it is often fascinating to many users how they can make calls using their PCs. however; it is very much possible with the AirDroid desktop client installed. You can import phone numbers in bulk directly on the app, click to call, and talk to anyone you want. Use your handset or Bluetooth headset of the phone.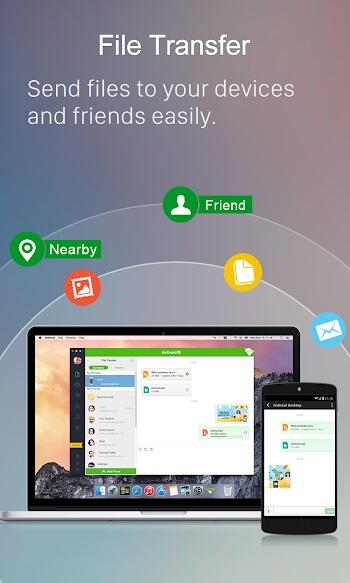 Save and Share – with this awesome app, you can download your favorite videos into the memory of your Android device or PC and share them with your friends and family. Save video files, build your own collection of favorite online videos, and share them in just a few simple clicks!
Premium version – the Airdroid Mod APK comes with a free account that has a 200MB/month data limit. There is also a limit to using the remote camera. It is recommendable that you upgrade to premium, enjoy unlimited remote data, and unlock other important functions and services.
Download Airdroid Mod APK – Fully Unlocked, Premium Features!
With the Airdroid Mod APK Free, you can do lots of things with a connection between your smartphone and your PC. Download the Airdroid Premium Mod APK and explore what it has to offer!