Do you love ants? In Pocket Ants Mod APK - Unlimited money & gems, you can build an ant colony by yourself! Build chambers, complete quests, feed your queen ant and breed many worker ants.
| | |
| --- | --- |
| Nama | Pocket Ants |
| Diperbaharui | |
| Kompatibel dengan | Android 4.4+ |
| Versi terakhir | 0.0837 |
| Ukuran | 103.02 Mb |
| Kategori | Strategy |
| Developer | Ariel Software |
| Harga | Gratis |
| Tautan Google Play | |
| MOD | Unlimited money & gems |
Ants are everywhere in the world and they can be annoying and fascinating at times. When they're not annoying, they provide us with many useful information and skills that we can also use in our lives. So, if you love ants, then playing an ant simulation is the best thing you can do today. Pocket Ants is a simulation game that lets you start an ant colony right from scratch. Do everything you can to grow your colony today which involves creating, feeding, and raiding!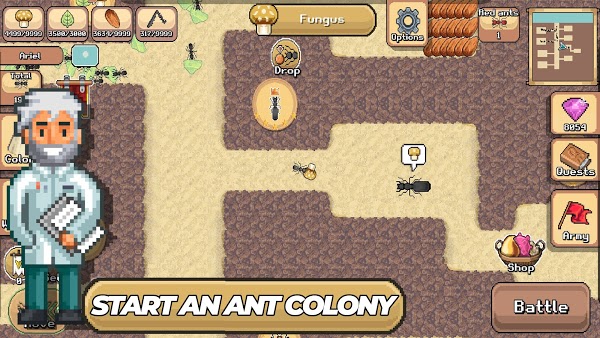 In this game published by Ariel Software, you're in charge of your ant colony's progress. You first need to create a food processing chamber then find various food sources around. You can then complete many quests available for the day such as breeding ants, building leaf storages and many more. Here, there are many enemy ants that will threaten your existence but you can defend them! You can also raid other people's colonies to get items and resources.
Build Your Ant Colony
Ants are one of the few animals that are all over the world today. Their numbers seem to grow by the second and they're unlikely to be endangered in years to come. But apart from that, they're fascinating creatures that do much more than you think! To build an ant colony is no easy feat and you can learn all about it yourself in Pocket Ants. Here, you'll experience everything there is to building one as you're in charge of your own ant colony.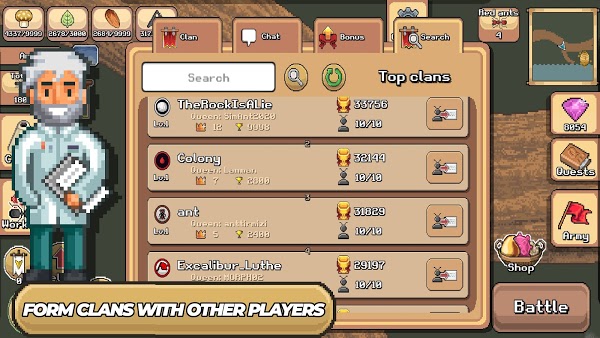 In this simulation, you will need to gather various resources such as food, creatures and many more to your nest. Then, you'll need to improve your nest by building various chambers dedicated to different things. Moreover, you'll need to feed your queen so she can breed as many worker and soldier ants as possible. This is so you can become self-sufficient and to protect yourselves against countless ant enemies. Then, you can also defeat and capture other creatures so you can make them join your soldiers.
Defeat many other red ants and other enemies today so you can earn extra items!
Highlights of Pocket Ants
Ants are some of the most incredible animals today. Enjoy your time building an ant colony in Pocket Ants now.
Build an Ant Colony Yourself – If you know ants, building a colony isn't as easy as others might think. This is because you'll need to think about the overall survival of your colony before anything else. This means you'll need to create their nest, breed the queen and find many food and resources for them. This is a challenging task that only those who love ants can do. In Pocket Ants, you can enjoy building an ant colony yourself and see their progress.
Here, you'll need to complete various quests to receive various rewards. During the first moments, you'll need to build various chambers inside the nest and then find food. There are many food sources that you can collect today which includes mushrooms, leaves, nuts and insect legs. Moreover, you can breed more ants by feeding the queen continuously and providing all the resources needed. In this game, you'll learn a lot about the process of building an ant colony.
Complete Quests – There are so many things that ants do in the real life. So, you won't get confused, the game lets you do quests daily. These are things that you can do right now so you can get rewarded easily. This includes building various things, feeding the queen and gathering as many resources as possible. You can see all the quests in the Quest tab in the screen today.
After you complete the quests, you can then claim your rewards easily. Complete as many quests as you can every day to receive many rewards.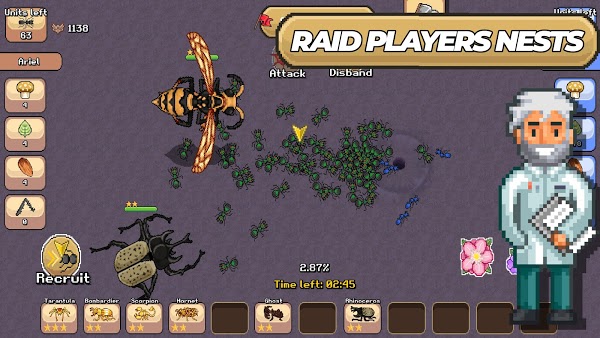 Build Your Army – One of the main things that you'll also need to pay attention to is your army ants. You'll need to build your army of soldier ants so you can protect your colony and defend your resources. You need to breed as many soldier ants as possible so you can defeat other creatures as well.
Build your Workers – The worker ants are responsible for gathering food and other resources outside to your nest. You should also breed as many of them as you can so you will have an ample supply of food for many days. Then, you can also upgrade them!
Upgrade Your Nest – There are many chambers that you'll need to build inside the nest. Then, you can upgrade them one by one to increase their capacity and unlock different types of ants as well.
Raid Other Colonies – You can also raid other ant colonies for resources today. Join or create a clan now!
Download Pocket Ants Mod APK – Unlimited money & gems
Who says creating an ant colony is boring? Enjoy the whole process in Pocket Ants and get unlimited money.