What do you think about catching zombies? If you think this is a cool job, try Zombie Catchers now and collect zombies to make zombie juices and make money!
Information of Zombie Catchers
| | |
| --- | --- |
| Name | Zombie Catchers |
| Updated | |
| Compatible with | Android 4.4+ |
| Last version | 1.32.7 |
| Size | 94.18 Mb |
| Category | Action |
| Developer | Deca Games |
| Price | Free |
| Google Play Link | |
| MOD | All Levels Unlocked |
The topic of zombies has been mainstreamed now for decades. There are always movies, shows and games being made revolving this topic. However, as more and more games are competing in the genre, we're seeing more unique one's pop just like Zombie Catchers! This is a game where instead of shooting them, you're going to catch zombies just like fishes!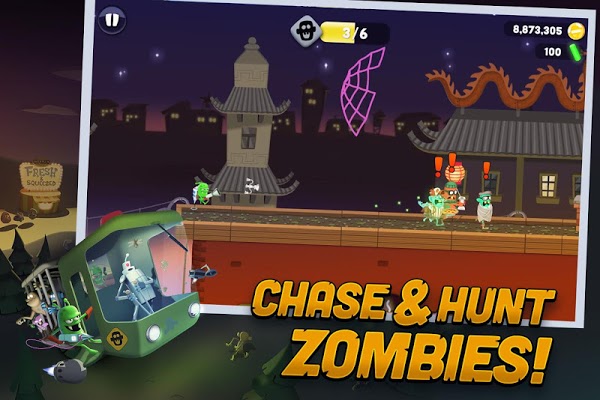 There's a 99% chance that you haven't played a game likes this in a while and you're in luck! This unique zombie game lets you establish a business with you as A.J and Bud as your partner selling zombie juices! This came to fruition after the world was suddenly infested with zombies. You will now try to save the world while making money as well! Can you handle all types of zombies and save the world?
Catch Zombies
It isn't easy to start a business, but a lot of people do it anyway. But when you're in a world where zombies exist, it's a whole different story. But thankfully, you're not just anyone – you're A.J. who's an alien businessman. Along with your trusty friend Bud, you're going on a mission to catch a whole lot of zombies and turn them into ingredients for your juice. But that might be easier said than done!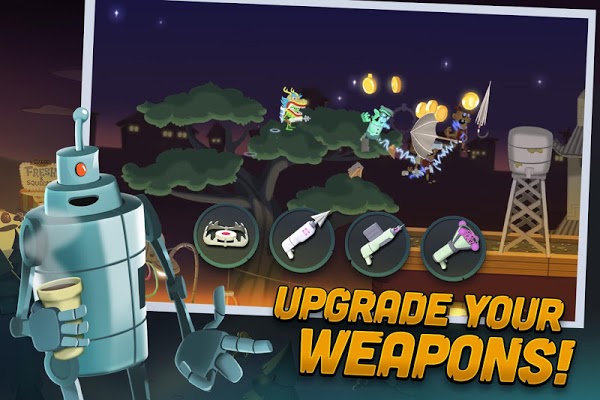 First, you'll need to catch them using your harpoon and some traps. The game starts easy as you'll also be guided on how to catch the zombies. But as you get more zombies, you'll face tougher ones as well including bosses! But you can also upgrade and purchase new hunting gears such as guns, weapons, nets, traps and even jetpacks to make things easier for you. Aside from that, there are also a lot of other products you can sell such as candies, snacks and more! Bring in millions of profits while saving the world one zombie at a time now in Zombie Catchers!
Features of Zombie Catchers
Zombie Catchers is a mobile game produced by Deca Games. It now has a hundred million downloads and a lot of positive reviews. Find out why people love this game from the features below:
Hunt down zombies – When we think of zombie games, this usually involves shooting ones such as Left 4 Dead or Dead Trigger. But sometimes, developers are finding new ways to let gamers enjoy a zombie game that's not as hardcore as most. One of these games are Zombie Catchers where you just need to capture zombies to make a living. Aside from that, you can progress considerably here and make a lot of money from your business. Now, you're saving the world from zombies while making money – how sweet!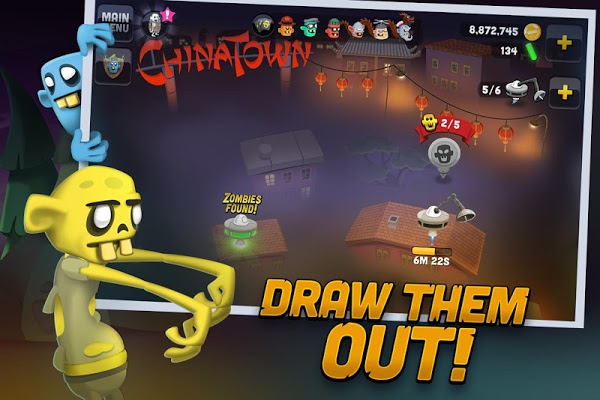 Use and unlock hunting gears – To help you hunt zombies efficiently, you'll be equipped with various hunting gears. At first, you'll use a harpoon and some brain traps to lure the zombies. The game does a good job of guiding newbies on how to properly catch zombies. But after a while of getting used to it, you'll be able to buy new gears such as weapons, guns, nets, traps and jetpacks! There's a whole lot of items here that can help you realize your goals. Use a variety of them depending on the difficulty and the location!
Complete various missions – The game also gives out missions daily depending on your level. Completing them means you can receive rewards! The missions vary a lot. You will need to upgrade certain items, sell a certain number of products and so on. The important thing is that you must complete the missions to earn more money! To do this, you can upgrade your machineries to process more zombies at the same time. But take note that this costs money as well so you must first evaluate the pros and cons.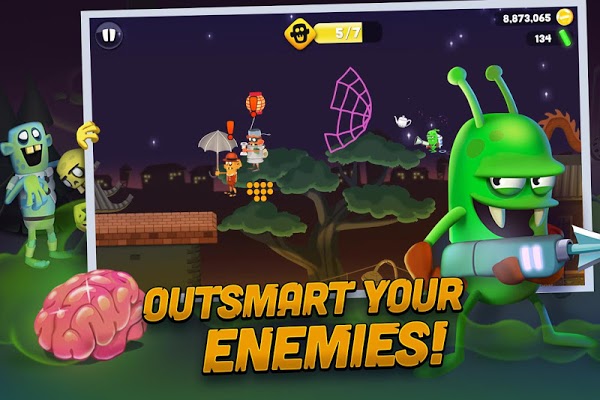 Progress in different stages – There are a total of 6 different locations in Zombie Catchers. The first one being the Swamp where you'll encounter zombies hiding in the swamps. Then there are the other locations as well such as the Beach, Snow, China Town and Lagoon. The zombies become increasingly difficult to catch as you progress. This is the same thing for the bosses! Depending on the boss, you may need to hit it a multiple time using your harpoon to successfully catch it.
Manage your business – Zombie Catchers isn't just an action game. It also allows you to become a business manager in the midst of a zombie apocalypse. Here, you'll need to manage your machineries, develop new recipes and upgrade your overall production. You must always think of ways to bring in more money!
Download Zombie Catchers Mod APK – Latest version
Want to catch zombies and make a profit? Download Zombie Catchers and create a zombie business!