There are many survival games to play right now. But if you want a cowboy-themed one, enjoy Westland Survival today. Create a ranch and fight enemies!
Information of Westland Survival
| | |
| --- | --- |
| Name | Westland Survival |
| Updated | |
| Compatible with | Android 6.0+ |
| Last version | 6.2.0 |
| Size | 434.69 Mb |
| Category | Adventure |
| Developer | Helio Games |
| Price | Free |
| Google Play Link | |
| MOD | Unlimited money |
Unlimited money
Unlimited everything
There are many survival games today which you can enjoy. They're mostly zombie ones or those that allow you to survive in desolate places with monsters. But if you're getting sick of all those, then you've come to the right place. In Westland Survival, you will get to enjoy a Western-themed game full of surprises. Enjoy creating your own character with unique facial features, skin colors, and hair colors.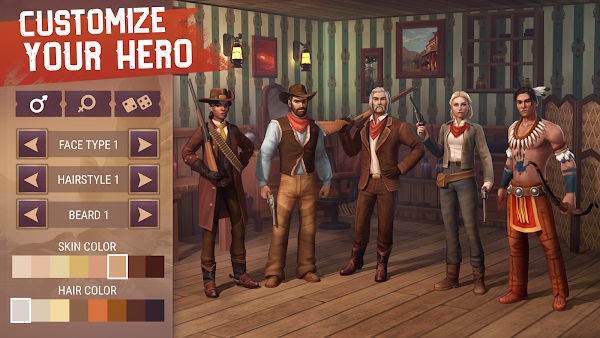 Select your gender as well and input your name in the game. In this survival game, everything is reminiscent of the West in the golden era. You can build your own ranch and fight bandits and gangsters using various weapons in this game. There are many things to do to earn some money to survive such as wood logging, deer hunting, mining and looting for items. Try your best to survive in these wild times!
Survive in the West
There are plenty of survival games that's available today to play. These games allow players to enjoying surviving on a world that's either filled with strange creatures or a normal one. Here, you can complete with other gangsters and lawless men to try and get loots in dangerous areas. There are plenty of places to explore and many loots to discover. You'll need to survive in Westland Survival and to become a figure that others will respect.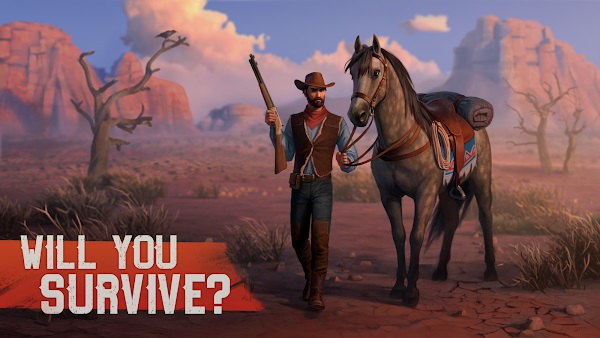 In this world, there are no laws as even the Sheriffs have become sinners. Due to the nature of this world, food is scarce and people are always fighting just to survive. You'll then need to claw your way up as you try to survive. This means gathering precious loots in different areas. You also need to be ready anytime as bandits and bad people will be all over you! Pick up some rifles and pistols so you can protect yourself while you venture off to dangerous places.
Here, you can build a house that you can call home. Complete lots of quests and fight other players as well!
Westland Survival Features
Do you want to test your luck if you can survive in the Wild West? In Westland Survival, you can do so today!
A Survival MMORPG – Do you love survival games where you can test just how much you can survive in a world without anything? Over the years, we've seen a lot of survival games pop up one after another. They are popular with people because they offer an interesting gameplay that not many can refuse. If you're one of the people looking for a new one, try Westland Survival. Instead of zombies or monsters, you'll try to fight gangsters and other players here!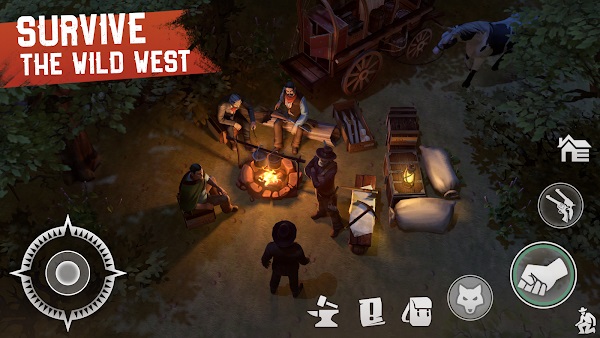 In the wild West, there are no rules that govern the land. This means that every man will have to fend for himself if you want to live. Here, you can tame and mount animals such as horses to go around places. Explore the open lands and find valuable loots lying around. But be careful as there could be bandits that are waiting for you!
Customize Your Character – Like with many games, you're free to customize your characters to however you want them to look. Games today give the freedom to players so they can choose their own characters to play with. In this fun survival game, you're free to select the gender whether male or female. In addition, you can freely select your face type, hairstyle, beard, skin color, and hair color. You can choose the colors ranging from black to white.
Create Your Home – In Westland Survival, you'll need to create your home if you want to survive for a long time. This means buying a house and filling it up with your own things. This is a survival game that you'll be playing for a long time. It's best if you enjoy every step of the way and try to live day by day.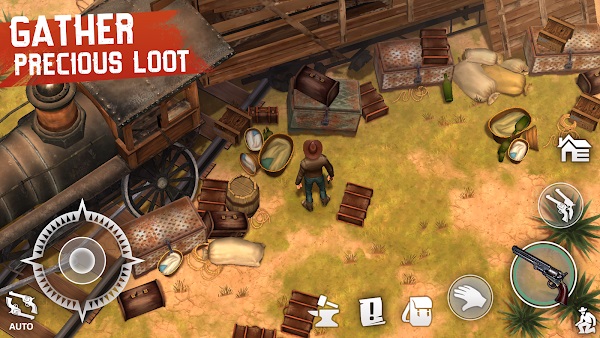 Do Plenty of Jobs – To survive, you can do a lot of things here in the west. You can go mining for minerals in caves. Or, you can go deer hunting so you can get food. Also, you can try wood logging and sell it for some money. Other than that, you can also try to find loots in various places in search of valuable items and money.
Tame Animals – You'll be able to tame animals in this game if you know how to! Ride horses and get around town today.
Craft Items and Equipment – Create the best weapons and armors for yourself now!
Download Westland Survival APK – Latest Version For Android
It's a tough life out here in the West. Try to survive now in Westland Survival! Do your best to find food and shelter.