Do you love cartoons? Change your profile picture into a caricature now with Voila AI Artist cartoon photo! With just a few taps, you can transform any photos today.
Information of Voilà AI Artist
| | |
| --- | --- |
| Name | Voilà AI Artist |
| Updated | |
| Compatible with | Android 5.0+ |
| Last version | 3.3 (368) |
| Size | 45.54 Mb |
| Category | Photography |
| Developer | Wemagine.AI |
| Price | Free |
| Google Play Link | |
| MOD | Pro unlocked |
Smartphones today have become so advanced that we can take photos and videos anytime and anywhere we want. Today, we can capture important events and memorable scenes with ease. There's no need to bring bulky cameras like we did back in the day and we don't need to develop the films. But if you want to have a unique photo, download Voila AI Artist today and enjoy! With this app, you can turn your photos into various types of cartoons.
Here, you can upload your photo and let the app turn it into different types of cartoons today. You can choose to make it into a funny caricature, a 3D cartoon, a renaissance painting, and many more. There are many fun styles to choose from and there's no limit to how many photos you can convert. You can then download or send these photos to everyone you know and enjoy their reactions. This app is capable of many interesting features today.
Convert Photos into Cartoons
There are a lot of fun photos and videos we can take thanks to our smartphones today. The smartphone industry has become so big that it now sells many units every year and caters to worldwide consumers. Almost every person today has at least one smartphone that they use for work, school and personal purposes. There are many brands out there but most of them have cameras that allow the users to snap photos and videos effortlessly. But if you're looking for an app that can make a smile on your face, you can download Voila AI Artist.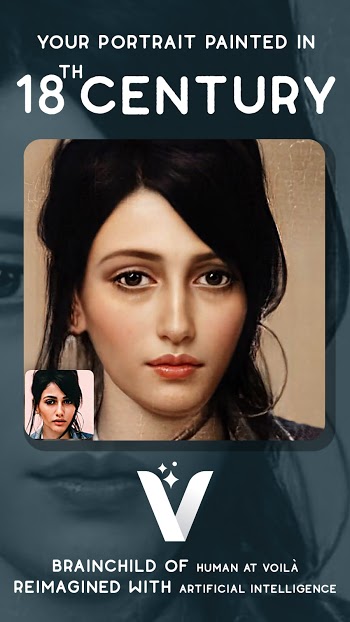 Published by Wemagine.AI, you can turn any photos into different types of cartoons today easily. With just a few taps, the app itself converts your photos into cartoons in just a few seconds. This is possible today thanks to the incredible efforts of the developers who've worked tirelessly to create this masterpiece. Here, you're free to upload any photo you wish and select what type of cartoon you want.
You can turn it into a Disney-style cartoon or a funny caricature or even a Renaissance painting! Moreover, you don't need to do anything else to enjoy it.
Voila AI Artist Features
There are so many fun and high-tech apps today that you are free to download. One of the best is Voila AI Artist and you can enjoy it today.
Turn Photos into Cartoons – Nowadays, technology has come a long way ever since the first smartphones. Now, the screens are bigger, the processers have gotten a lot more powerful and the cameras are clearer. Today, you can easily create videos and even films with just your smartphone. These devices have gotten so advanced that it can act as a small computer in most cases. But if you want to turn your photos into cartoons, download Voila AI Artist now.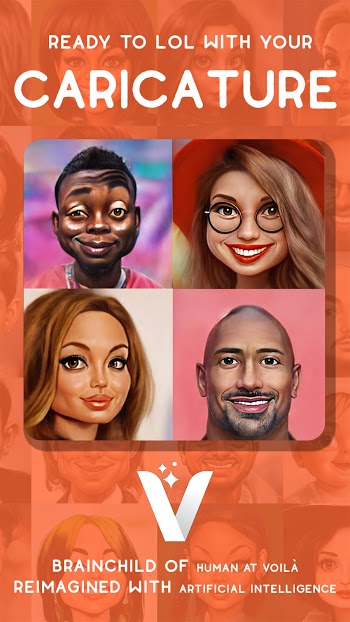 This app simply turns your photos into a cartoon version of yourself with artificial intelligence. Here, you can select various types of cartoon and you can paint yourself in the 15th, 18th, and 20th century paintings. Not only that, but you can also select 3D cartoons, caricatures and many more styles today. Enjoy turning celebrities into cartoons as well and share a laugh with friends.
Select the Type – Here, there are many types of cartoons and paintings that you can select. Here, you can turn your photos into portraits that are from the 15th century all the way to 20th century. Turn your photos into incredible cartoons as well such as a funny one, a caricature, and even a 3D cartoon. Here, there are many variations you can choose and you can upload as many photos as you want. Enjoy experimenting today and see what suits the photo best.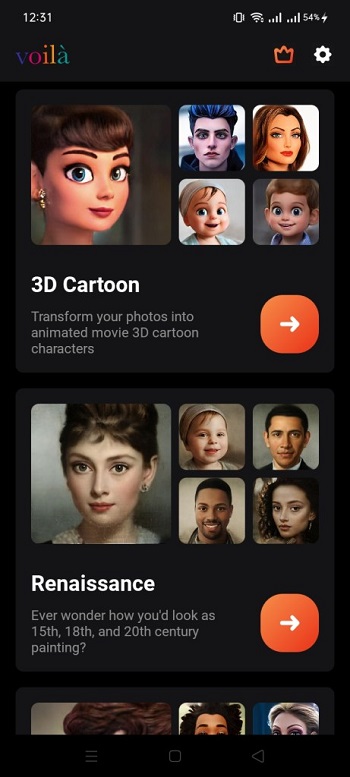 Convert in Just a Few Taps – You don't need to edit anything in order to turn the photos into cartoons. Here, you just need to upload the photos you will turn into cartoons. Select them and choose from your gallery – it can be yourself or your friends! Then, select the style you want and then download the result easily with just a few taps. This app converts the images into cartoons easily thanks to the advanced AI it has.
It can recognize faces and even blurs out backgrounds!
Use Your Photos or Celebrities – You can use your photos here or any other celebrity to test it out. Make your friends laugh when you can create funny caricatures of your favorite celebrities. Or, stun your followers with a cute cartoon portrait today.
Download Voila AI Artist Cartoon Photo – Latest version
Enjoy turning your images into cartoons easily with Voila AI Artist! Impress your friends and fans.