Download Turbo Dismount Mod APK All unlocked Latest version to perform hair-raising motor stunts, destroy walls, and have fun! It has multiple vehicles and numerous levels.
Information of Turbo Dismount
| | |
| --- | --- |
| Name | Turbo Dismount |
| Updated | |
| Compatible with | Android 4.1+ |
| Last version | 1.43.0 |
| Size | 83.6 MB |
| Category | Simulation |
| Developer | Secret Exit Ltd. |
| Price | Free |
| Google Play Link | |
| MOD | All unlocked |
Turbo Dismount is an Android game that is developed by Secret Exit Ltd. The objective is to perform crazy stunts and record maximum scores.
The player can choose from several vehicles, including a car, a motorcycle, or a Segway. There are different levels with different obstacles. The player has to navigate the vehicle through the obstacles and perform stunts to earn points.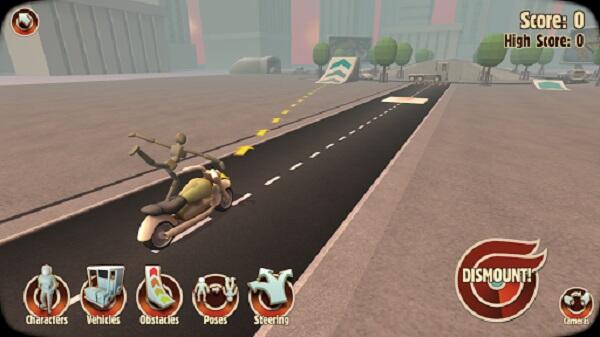 The game is well-detailed and offers a realistic experience. You will drive on asphalt roads, on grassy plains, and even off-road. This diversity ensures you choose how you want to play the game.
Lots of High-Octane Activities to Complete
With Turbo Dismount, you will undertake many different activities, some of which are downright impossible in real life. For example, you can drive your car at high speeds and then hit a wall to see how much damage it can cause.
You will also be required to perform flips and other stunts with your Segway. This increases the score multiplier and helps you achieve a higher score. There are numerous levels, and each is more challenging than the last. Other activities include:
Create Traffic Pile-Ups. The game features a realistic traffic system. You can create pile-ups by driving into oncoming traffic. The larger the pile-up, the more points you will earn.
Drive Off-Road. You are not restricted to driving on roads. You can also venture off the beaten path and explore the rugged terrain.
Destroy Obstacles. There are various obstacles in your path, including walls and other vehicles. You can destroy them for bonus points.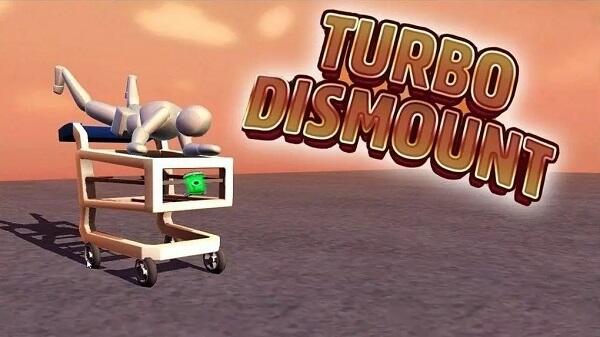 Whichever way you choose to play this game, always ensure you are ready for an adrenaline-pumping experience. It will leave you in awe, and you will be itching to play more.
High-Level Customization Options
This game allows you to fully customize your experience. There are two levels of customization:
Vehicle Customization. This feature allows you to modify your vehicle to suit your playing style. You can change decals, colors, and even change the wheels.
Character Customization. You can also customize your character. There are several clothes and accessories to choose from. You can also change the hairstyle and facial features.
These customization options make the game more personal and ensure you have a unique experience. You must try out all the different options to see which ones you like the most.
Multiple Vehicles to Use
This game features several vehicles, including a car, a truck, a construction vehicle, a skateboard, a motorcycle, or a Segway. You can also unlock new vehicles as you progress through the game.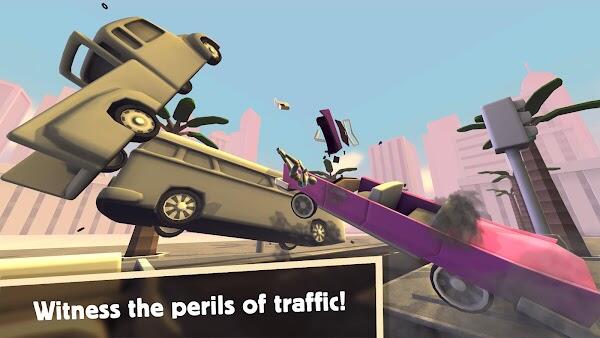 The choice of vehicle will affect your gameplay. For example, a skateboard is more agile than a car but is less durable. A truck is slow but can cause a lot of damage. Choose the right vehicle for the job, and you will be successful.
Lots of Levels to Explore
This game is loaded with content. The levels are well-designed in different environments, including city streets, deserts, mountains, and forests. This diversity ensures you always have something new to look at.
You will start with simple levels with minimal traffic. As you progress, the levels will become more difficult, with more traffic and more obstacles. This gradual increase in difficulty ensures you are always challenged.
Additionally, each level comes with different rewards. Ideally, you should aim to get all the rewards at each level. This will help you progress through the game faster.
Other Unique Features of Turbo Dismount APK
Flinch-Inducing Effects. The crash physics in this game are realistic. You will see the damage to your vehicle and your character in great detail. This gruesome display is sure to make you wince.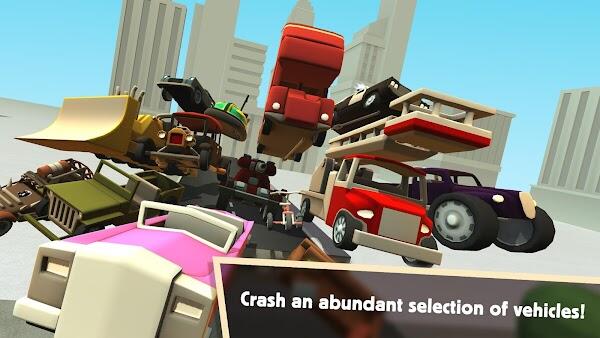 Superior Sound Effects. Everything from the engines to the crashes is realistic. You will hear the explosion as your vehicle collides with another object. This audio quality makes the game even more immersive.
Slow-Motion Replay System. This feature allows you to see the carnage in slow motion. It is a great way to appreciate the detail that went into the game. You can also share these replays with your friends.
Multiple Characters. This game features several characters, each with its abilities. You can also change their outward appearance. For example, you can make them wear a helmet or change their clothes. Even better, you can customize their abilities to suit your playstyle.
Achievements and Leaderboards. This game features an extensive list of achievements. You can also compare your progress with other players on the leaderboards. This competitive element adds to the replay value of the game.
Tweak Any Level. As earlier mentioned, this game has many levels. You can play each level multiple times and try to get a better score. You can also change the parameters of each level to make it more difficult or easier. This customization ensures freshness and replayability.
Supports Game Controllers. The game's controls are uncomplicated. You can even use a game controller if you prefer. This makes the game more fun, interactive, and exciting.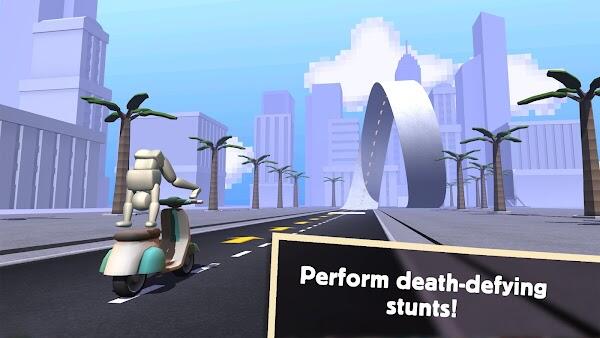 Full Resolution 4x MSAA Visuals. This game is very appealing to the eye. The visuals are top-notch, with full resolution and 4x MSAA. This ensures that all the details are visible, even on the smallest screen.
Turbo Dismount MOD APK for Android
Turbo Dismount MOD APK 2023 is edited to include special features not available in the original game. You can get an unlimited supply of vehicles and levels.
You can also get all the rewards at each level without playing the game multiple times. Other outstanding features are:
Turbo Dismount MOD APK All Unlocked. The MOD APK includes all the features, characters, and levels locked in the original game.
Turbo Dismount MOD APK Unlimited Money. You will have an unlimited supply of resources to buy any vehicle or upgrade you want.
No Ads. You will perform all the stunts and crashes without watching ads.
Conclusion
Turbo Dismount is an addictive and exciting game. It features well-designed levels, realistic graphics, and superior sound effects. The MOD APK provides you with an unlimited supply of resources and removes all the ads. Download it now and start your crashing spree.