Download Train Simulator Railroad Game MOD APK Unlimited money latest version and enjoy a scintillating train ride. It comes with realistic game physics and relaxing graphics.
Information of Train Simulator Railroad Game
| | |
| --- | --- |
| Name | Train Simulator Railroad Game |
| Updated | |
| Compatible with | Android 5.0+ |
| Last version | 0.2.48 |
| Size | 172.89 Mb |
| Category | Simulation |
| Developer | Azur Interactive Games Limited |
| Price | Free |
| Google Play Link | |
| MOD | Unlimited money, gems |
Unlimited Money
Unlimited Blueprints
Note: (Money and Blueprints never decrease when you spent)
About Train Simulator Railroad Game
This is a simulation game developed by Azur Interactive Games Limited. It gives you the chance to take charge of a highly dynamic train.
Even better, the game uses superior 2D graphics that gives a realistic feel as you maneuver through valleys and hills. You'll get memorable views of cities, green countryside, and other highly immersive features.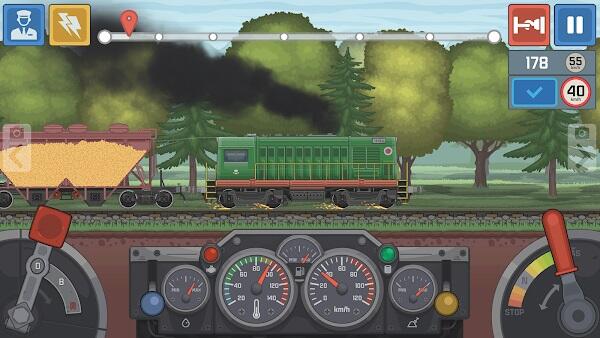 Additionally, the game incorporates super cool sound systems that make you feel like you're riding a real locomotive. If you've always longed to be in control of a train, download Train Simulator Railroad Game for Android. You'll get a feel of the real train driver!
An Interesting Plot
Train Simulator uses a plot that mirrors what happens in today's society. It's set in a region that is suffering an economic downturn. It'll be your role to revolutionize the train transport system and increase inter-regional trade with the neighboring regions.
When you join the game, you'll get a highly disorganized rail system that's suffering losses. The region's factories and industries are in shambles. The transport system is poorly maintained and, quite clearly, you'll have a lot of work to do.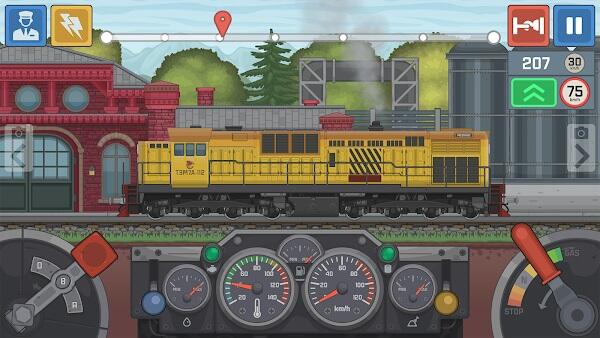 Are you up to the task? Can you turn around the fortunes of your region's economy? Download this dynamic game and test your creativity, resilience, and persistence.
Highly Immersive Gameplay
Train Simulator has demanding gameplay that requires top-notch concentration and utmost determination. It uses a complex system that lets you control the train from the driver's seat.
While you may not need prior experience in train control, you'll need to spend a few minutes learning the controls. At first, it'll be challenging but it becomes easier as you progress with the gameplay.
Your primary role will be to pick up cargo from the factory. Then, you'll have to drop them off in the neighboring regions. You can use your creativity to pick out the best routes and optimize efficiency levels.
To avoid boredom, the game allows you to transport different types of cargo, ranging from agricultural products to building materials. In some instances, you'll ferry highly perishable goods that require delivery within the shortest time possible.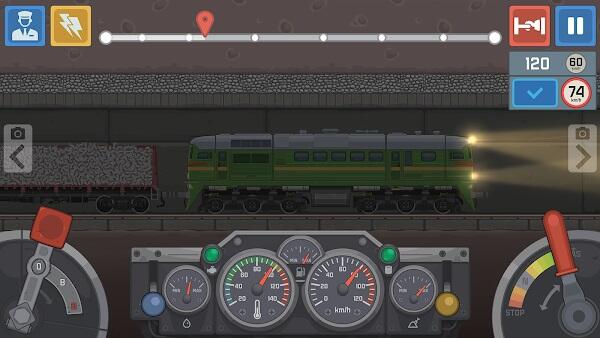 Always aim at realizing optimum profits and unmatched efficacy in every trip that you undertake. This way, you'll be able to revolutionize your region's economy with much ease.
Besides ferrying goods, you'll also be required to take up managerial roles. As such, you must meet heads of railroads in different regions. Ensure that you discuss ways that you can improve transport logistics and maximize profits.
The game uses realistic controls that let you make small adjustments as needed. It's an awesome way to learn about locomotive engines without getting into one.
Improve Your Region's Economy
As you continue gaming, you'll start making profits. Always ensure that you plow back the money to improve the region's infrastructure, recreational facilities, and overall industrial production.
Additionally, you'll be able to grow and expand your region. To achieve this, you can develop neglected regions such as swamps and deserts. This way, you'll have an all-around economy that will propel your region to prosperity.
Unique Features of Train Simulator Railroad Game
You'll have a huge assortment of trains to choose from as you embark on your journey. You can select from different types, sizes, and colors. This makes it possible for you to customize the train as per your preferences.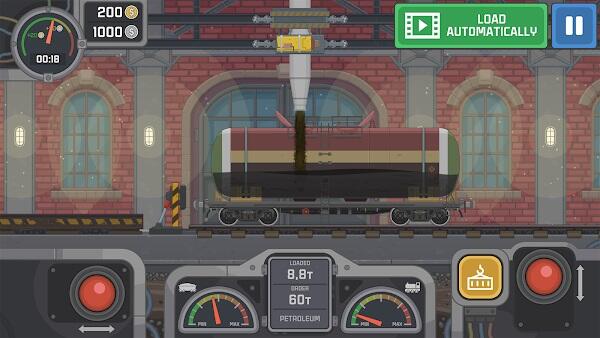 However, only a few diesel locomotives will be available at the beginning of the game. As such, you must work tirelessly to earn money that you can use to upgrade your trains. The better trains you have, the more business goals you'll achieve.
Dynamic Weather Conditions
Like real-world transport, you'll have to cope with tough weather conditions as you manage train schedules. Sometimes, rails may be flooded or blocked by snow resulting in delays. As such, make sure that your trains are equipped for adverse weather conditions.
Train Simulator uses a unique modulator system that lets you control speed, direction, and braking. You can easily make adjustments to the speed of your train as needed. Though at first, you'll find it challenging; you'll eventually get used to it.
Expansive Game World and Many Skins
As you continue playing, you'll unlock new regions to expand your railroad empire. Each region has its unique weather conditions that are carefully modeled after real-world maps.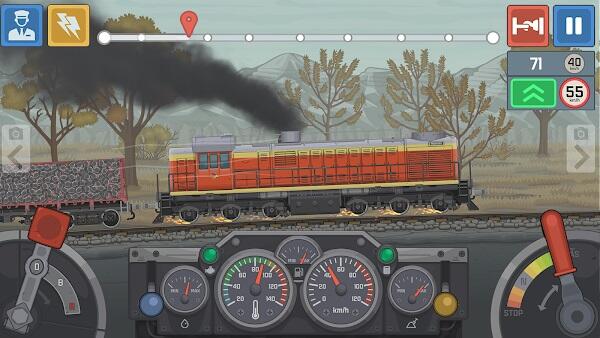 Additionally, the game features different skins for both trains and stations. These unique features ensure that players have countless hours of fun as they transport goods across the vast world map.
Outstanding 2D Graphics and Sound Systems
The game comes with highly realistic 2D graphics. It leverages the power of the Unreal 3 Engine to deliver flawless visuals with unrivaled detail.
The sound system uses top-class effects that come in handy for optimizing the entire gaming experience.
Train Simulator Railroad Game MOD APK Download
If you want to get an improved gaming version, you should get the latest modded version of the game. It offers extraordinary features such as:
Unlimited Money. If you want to expand your business empire faster, download the Train Simulator Railroad Game MOD APK unlimited money. It offers everything you need to purchase unique locomotives and propel you to quick success.
Unlimited Gold. The Train Simulator Railroad Game MOD APK unlimited gold ensures that you have all the resources you need to revive your factories and revolutionize industries. It offers limitless resources to assist you in achieving your expansion goals.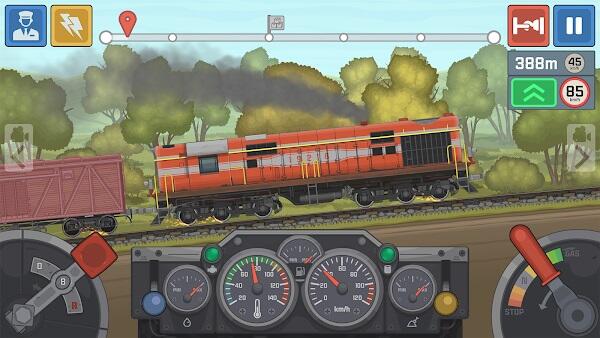 Unlimited Skins. The modded version lets you access all the trains, including the ones that are exclusively available to VIPs. Using this, you can easily transport goods throughout your region without any hurdles.
No Ads. The Train Simulator Railroad Game Mod APK has no ads. As such, you don't have to put up with unwanted disruptions.
Conclusion
Train Simulator is a highly enjoyable game that lets you transport goods through challenging terrain. It offers different locomotives, real-world routes, and dynamic cities.
It incorporates unique graphics and sound systems to enhance the overall gaming experience. If you want a first-rate train simulator, then Train Simulator Railroad is the perfect choice for you.