Download Tower Crusher Mod APK Latest version to shoot and destroy towers. You will have unlimited turrets, coins, and energy to crush every tower in your path.
Information of Tower Crusher
| | |
| --- | --- |
| Name | Tower Crusher |
| Updated | |
| Compatible with | Android 5.0+ |
| Last version | 3.3 |
| Size | 92.59 Mb |
| Category | Casual |
| Developer | Sincapp Games |
| Price | Free |
| Google Play Link | |
| MOD | Unlimited money |
Tower Crusher APK is a casual game where you destroy towers to earn coins. Its gameplay concept mimics games like Crush the Tower or Stack Tower.
In this game, you can upgrade your turrets to make them more powerful in taking out towers. You can unlock new levels and challenges as you progress through the game.
Always ensure that your turrets are positioned strategically to maximize their damage output and destroy the towers quickly. This is the only way to earn the highest score and climb your way up the leaderboard.
A Casual & Super Entertaining Gameplay
Tower Crusher offers a relaxing gaming experience. It's a great game to play when you have downtime and want to destress. You start with basic towers, but as you earn more coins and upgrade your turrets, the challenge increases.
The towers will become more sophisticated and harder to destroy. As such, you must be keen on your placement and use of turrets to complete a level. This way, the gameplay remains entertaining and engaging.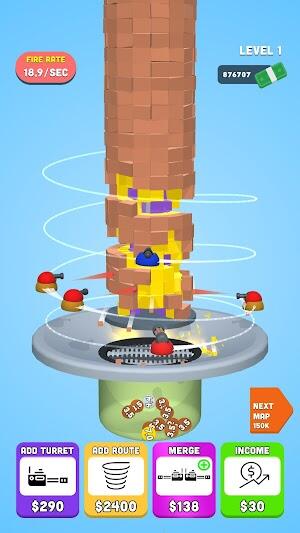 Additionally, Tower Crusher APK also has beautiful graphics and smooth gameplay. You will enjoy the satisfying feeling of successfully destroying a tower with your upgraded turrets.
Lots of Upgrades to Undertake
This game has several upgrades that can help you destroy towers more efficiently. They include the following:
Add Turrets. If you are having trouble destroying a tower, you can add additional turrets to increase your firepower. This is the most critical upgrade, as it is directly related to your tower destruction ability.
Add Route. This upgrade allows you to add a route for your turrets to shoot from. It can help with tower destruction and increase your score in a level. Ensure that the route is placed strategically for maximum damage.
Upgrade Turrets. This upgrade increases the power and efficiency of your turrets. It's critical to continually upgrade your turrets as you progress through the game and face harder towers.
Upgrade Coins. This upgrade increases the number of coins you earn from destroying a tower, allowing you to upgrade faster and progress through the game.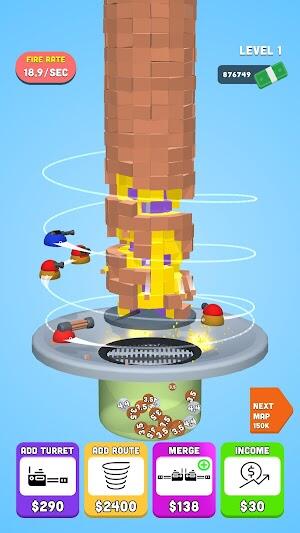 Merge Turrets. This upgrade allows you to merge two turrets to create a more powerful one. It can be a helpful option when facing particularly tough towers. You must carefully consider which turrets to merge for the best result.
These upgrades are essential for your success in Tower Crusher APK. Ensure you constantly upgrade and improve your turrets for the ultimate tower destruction experience.
Click to Shoot
This game uses a simple one-click control to shoot and destroy towers. All you have to do is click on the screen to activate your turrets and start shooting at the towers. It's easy for anyone to pick up and play, making it suitable for all ages.
However, you must continuously strategize and plan your turret placement to efficiently destroy the towers. One-click controls make the gameplay smooth and enjoyable, especially when combined with the satisfying graphics of tower destruction.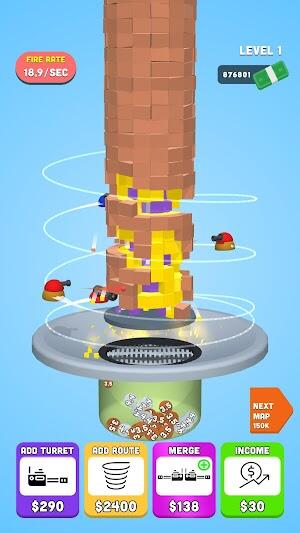 You will never struggle with clumsy controls or complicated gameplay. Enjoy the simple and stress-free tower destruction experience with one click of a button.
Other Features of Tower Crusher APK
Highly Cathartic Gameplay. If you're feeling stressed or overwhelmed, Tower Crusher is the perfect outlet for letting out some steam. The satisfying feeling of successfully destroying a tower is highly cathartic and can help improve your mood.
Numerous Maps. This game offers a variety of maps to choose from, each with different towers and difficulties. It ensures that the gameplay remains fresh and entertaining as you progress through the levels.
Increase Fire Rate. The primary determiner of your score in a level is the speed at which you destroy the towers. You must always work on increasing your fire rate to achieve a high score and earn more coins. This will include upgrading and merging your turrets.
Beautifully Colored Graphics. Tower Crusher APK has vibrant, eye-catching graphics that make the gameplay even more enjoyable. The towers have unique designs and colors, adding to the overall aesthetic of the game.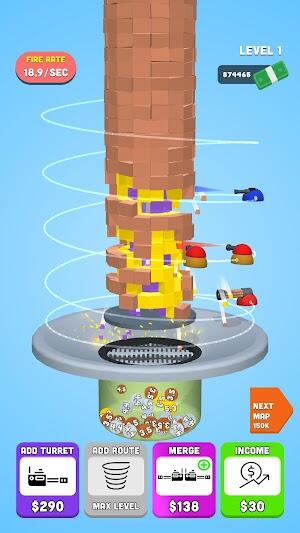 Lightweight Game. This game is only 64MB, making it easy to download and saving storage space on your device. You can easily play Tower Crusher anytime, anywhere without taking up too much space on your phone.
Super Optimized for Android. Tower Crusher APK is optimized for Android devices, ensuring smooth gameplay and minimal glitches. You can play without worrying about lag or technical difficulties.
Many Levels and Endless Fun. Tower Crusher APK offers numerous levels and challenges for endless entertainment. The gameplay is always engaging, and there is no end to the tower destruction fun.
Tower Crusher MOD APK Download
The Tower Crusher MOD APK for Android has everything you need to destroy towers quickly and efficiently. Here are a few of its exceptional features: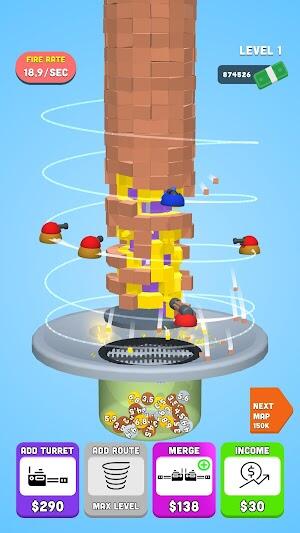 Tower Crusher MOD APK Unlimited Money. This game usually requires you to earn coins through levels and upgrades, but with the MOD APK version, you will have access to unlimited funds. This makes it easier for you to upgrade your turrets and progress through the game.
Unlimited Merge Turrets. The MOD APK version also provides unlimited merging of turrets, allowing for more powerful combinations and an easier time destroying towers.
No Ads. The MOD APK allows you to play Tower Crusher without the distraction and inconvenience of ads popping up in between levels. Enjoy a seamless tower destruction experience with no interruptions.
Conclusion
Tower Crusher APK is a simple yet highly addictive game with smooth one-click controls and vibrant graphics. It offers endless entertainment and cathartic gameplay, making it the perfect stress reliever.
With the MOD APK version, you will have access to unlimited funds, allowing for even better tower destruction fun. This way, you can progress through the levels and upgrade your turrets without limitations.