Download Time Cut Mod APK Premium unlocked Latest version to access an advanced video editing algorithm. You can make slow-motion and fast motions videos hassle-free!
| | |
| --- | --- |
| Name | Time Cut |
| Updated | |
| Compatible with | Android 5.0+ |
| Last version | 2.6.0 |
| Size | 81.01 Mb |
| Category | Photography |
| Developer | changpeng |
| Price | Free |
| Google Play Link | |
| MOD | Premium unlocked |
Time Cut APK is a video editing app offered by Changpeng. It uses a top-of-the-range image processing algorithm to make your videos look more professional. You can modify any video without quality loss.
The app is designed for professional & amateur video editors. The UI is plain sailing, and even first-time users can quickly get accustomed to it.
If you're looking for proven techniques to revolutionize your videos, download Time Cut APK for Android. Some of its features are motion blur FX, video frame rate conversion, and speed adjustment. It works optimally with any Android device (preferably 5.0 and above).
Why You Need Time Cut APK
If you love editing videos, you appreciate how laboring it can get. Time Cut makes the process a lot easier by automating most of the work. The app employs high-quality image processing to stabilize and correct videos.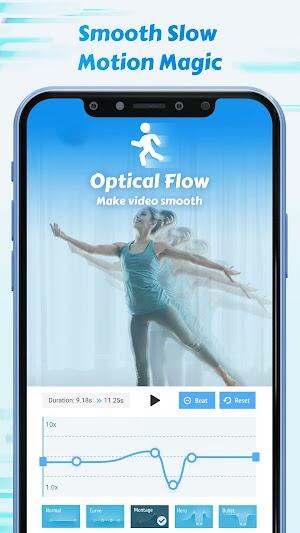 The dynamic algorithm can detect errors like shakiness and low light. It will also correct the frame rate and produce a more natural-looking output.
When you use this application, your videos will look like they were filmed by a seasoned cinematographer. The quality is that good!
How to Use Time Cut APK
This application has all the features consolidated in an intuitive UI. The interface is uncluttered, and you can find all the tools within reach.
The first step is to upload/import the video you want to edit. You can either record a new one or upload an existing file from your gallery. The app supports several video formats.
Once the video is uploaded, you can start editing it by adding various effects. The app has a library of transition effects, filters, and overlays. You can also add slow-motion and fast-motion effects to your videos.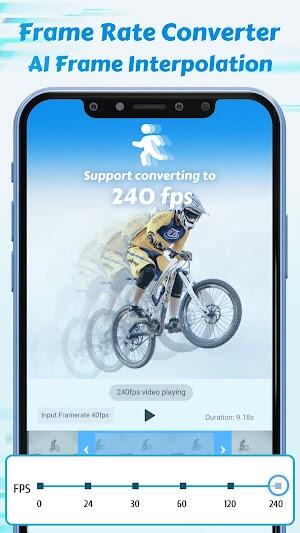 When you're done, tap the Export button to save the changes. The app will render the video and produce an output file in your desired format.
Outstanding Features of Time Cut APK
Video editing involves a complex series of processes. Without an all-in-one app, you can use a whole day trying to piece everything together. Time Cut APK uses an optical flow algorithm to automate every element of your work.
You will achieve amazing results in a fraction of the time. Here are some features that make the app outstanding in every way.
A Dynamic Frame Rate Converter
Frame rate is an essential aspect of video quality. A higher frame rate will result in a smoother output. Time Cut APK increases the quality of your video to 60 fps, 120 fps, or even 240 fps.
If you prefer sharing your videos in low resolution, the app can also reduce the frame rate. You can achieve a slash to 24 fps or 30 fps with a single tap. This process achieves smooth, lag-free playback on any device, including low-end ones.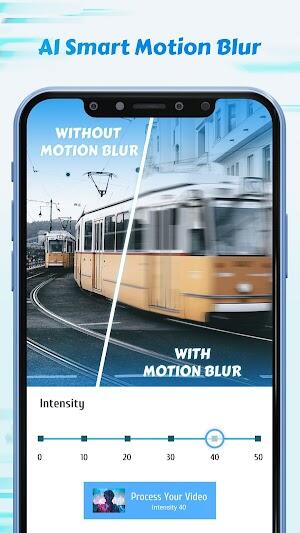 Even better, this application supports 1 fps to 240 fps videos. You can work on go pro, drone, or even action cam videos without a hassle!
Highly Functional Motion Blur Effects
This app uses an intelligent image analysis algorithm to produce natural-looking motion blur effects. The result is a real video that looks like it was shot by a high-end DSLR camera.
The app can generate motion blur effects automatically. You can also fine-tune the settings to achieve the perfect look.
Speed Adjustment & Slow Motion Editor
If you want a magical touch in your videos, consider adding a slow-motion effect. Time Cut supports up to four times slow-motion videos without quality loss.
You can also increase the speed of your video to several times the original rate. This is perfect for creating time-lapse videos or compressing long clips. Other speed features include a tailor-made speed curve and time freezer.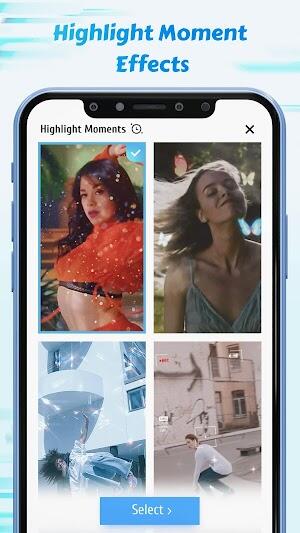 These two features will give you more control over the video editing process. You can quickly slowmo unique and memorable events, bringing out the fine details.
Do you want to draw attention to a particular scene in your video? Time Cut can help you create an animated title that will appear at the beginning of the selected scene.
The app has an FX tool that will help you select the right moments. Once highlighted, you can add various effects, including flashy lights, filters, and overlays.
You can also add music that matches the mood of the scene. This outstanding feature will turn an ordinary video into a work of art!
Simplified Graphics for Easy Application
An editing app doesn't have to be complicated to be effective. Time Cut APK uses a simple user interface. The controls are self-explanatory, and you can find all the features within reach.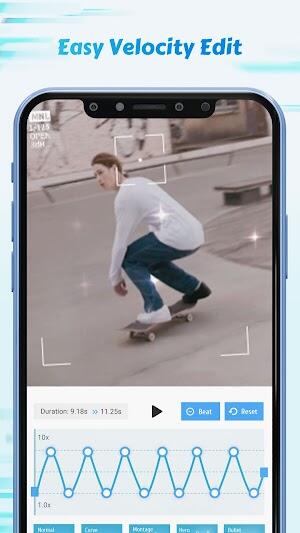 The app is also designed to use minimal processing power. This means you can edit videos on any Android device, including low-end ones.
This minimalistic approach ensures that the app doesn't drain your device's battery. You can work on your videos for hours without worrying about power loss! You will also have power concentration for a long editing session.
Time Cut MOD APK Download
Some of the tools in the original are premium and will cost $1.99 - $7.99 per item. If you want to access them for free, you should download Time Cut MOD APK for Android. Here are its exceptional features:
Time Cut MOD APK Premium Unlocked. The MOD version will give you access to all the features in the app. You can use them without limits!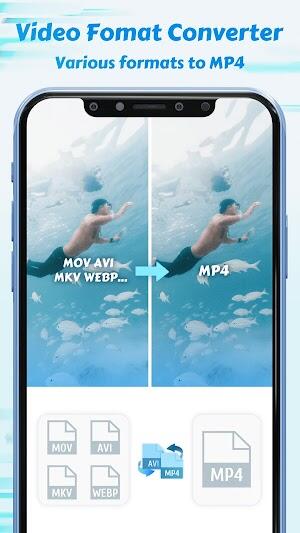 No Ads. The Timecut MOD APK version is ad-free. This feature allows you to focus 100% on your work.
Seamless Operations. This app has been optimized for smooth and lag-free operations. You can work on your videos without interruptions!
Conclusion
Time Cut is a must-have app for anyone who loves making videos. The app has all the features you need to create professional-grade clips. It's also easy to use, and you can work on any Android device!
If you want to access all the features for free, you should download Time Cut MOD APK for Android. This app will give you all the tools you need to make outstanding videos!