Download Super Touch Mod APK Vip unlocked latest version and change your phone's responsiveness. With the app, simple screen touches will complete commands without delay!
Information of Super Touch
| | |
| --- | --- |
| Name | Super Touch |
| Updated | |
| Compatible with | Android 4.4+ |
| Last version | 8.7 |
| Size | 9 MB |
| Category | Tools |
| Developer | Lucky Super Man |
| Price | Free |
| Google Play Link | |
| MOD | Vip unlocked |
Super Touch APK is a productivity tool by Lucky Super Man. It is designed to ensure you have a smooth experience using your Android phone.
The app is optimized to work with most Android 4.4+ devices, including phones and tablets. It offers an improved user experience by reducing touch latency on your device. It also improves the speed and response of your phone to input.
If you've experienced sluggishness or unresponsiveness on your Android device, Super Touch is worth a try. It's free to download but offers affordable in-app purchases ($0.99 - $14.99 per item).
What is Touch Latency?
Touch latency is the delay between when you touch your screen and when the phone registers your input. This can be caused by several factors, including a slow processor, low memory, or outdated software.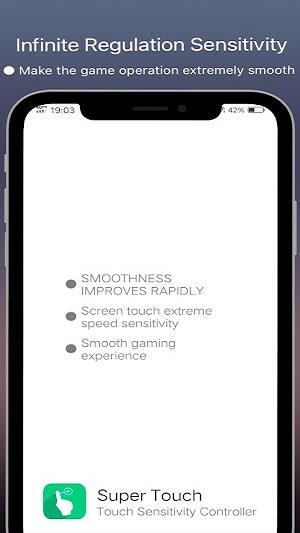 It causes lots of frustration because it makes your phone feel unresponsive. It can also lead to missed touches and misinterpreted input. This not only reduces productivity but can also result in inaccurate typing, gaming, and other issues.
If you've found your phone's touchscreen to be unresponsive, download Super Touch APK for Android. It may improve your phone's performance and make it feel new again.
How Does Super Touch Work?
The app uses a combination of hardware and software optimization to reduce touch latency on your device. It doesn't require root access/ special permissions. Just install and run the app, then follow the instructions.
Immediately after installing Super Touch, you'll notice a difference in your phone's responsiveness. Touches will register faster, and the phone will feel more receptive overall.
One of the app's best features is its ability to run in the background without affecting battery life. It will continue to optimize your phone even when you're not using it.
In addition to reducing touch latency, Super Touch can also improve your phone's performance in other ways. It can speed up the processor, boost memory, and optimize the software for a better overall experience.
Whether you're a power user or just looking for a better Android experience, Super Touch is worth a try. It offers undeniably the best touch response on any Android device.
Improve Application's Startup Speed
It is annoying to see a slow application's startup speed. Even if the app is not complex, a slow start up speed will make you think that it is not well-developed.
No one likes to wait for an application to start up; we want everything to be quick and snappy. However, this is not always the case, as apps can take a while to load.
Fortunately, Super Touch can help you speed up the startup of your apps. It does this by optimizing the app's launch process and making it more efficient.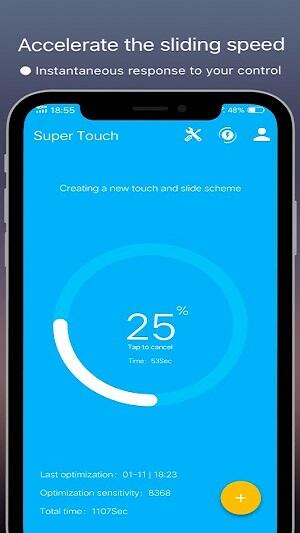 As a result, you'll see a significant decrease in the time it takes for your apps to start up. Not only will this save you time, but it will also make it fun to use your apps again.
Outstanding Features of Super Touch APK
Superior Reactivity. This application enables you to change the way your phone responds to your touch. You will never have to press the screen too hard or wait for your phone to register your commands. With this app, simple touches will complete commands without delay!
Efficient Background Processes. This application is designed to save your battery and RAM. It can run in the background without affecting your phone's performance. You can also choose to have it automatically start when your phone boots up. The settings are diverse, and you can limit the background activity.
No Rooting Required. This app will run on most devices without any issues. This way, you can keep can avoid any potential risk associated with adjusting your Android system files.
Full Customization. You can change the sensitivity, delay, and other settings to match your needs. The app also offers an Advanced Settings menu where you can fine-tune how your phone responds to input.
Improve Continuous Clicks. In some situations, you need to press a button multiple times in quick succession. With this app, you can do so without any delay or issues. This will save you the trouble of freezing your screen or losing your place.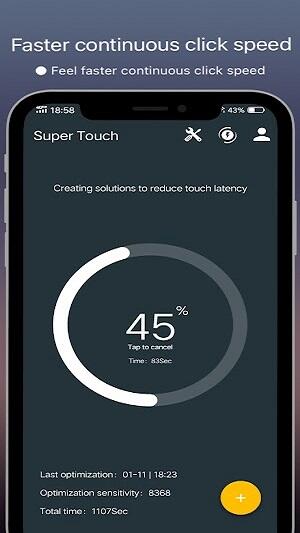 Increase Sliding Speed. If you often find yourself frustrated by the slow sliding speed of your phone, this app can help. You can flip through pages and menus with ease.
Application Cache Cleaner. One of the issues that can affect your phone's performance is a cluttered cache. This app comes with a cache cleaner that will help you get rid of unwanted files and data.
An Ideal App for Gamers!
Gaming can take a toll on your phone's resources. If you're a power user or gamer, you know that a responsive phone is essential. This app will give you the edge you need to dominate your opponents.
The app reduces lags and provides a smooth gaming experience. This way, you will never miss a move, a shoot, or a jump again.
Super Touch MOD APK Download
Using the premium version is the dream of any Android user. However, it can be quite expensive. This is where Super Touch MOD APK 2023 comes in. It is a modified version of the original app that gives you access to all the features for free, including:
Super Touch MOD APK BIP Unlocked. This app normally requires you to use in-app purchases to unlock all the features. With this modified version, you can use all the features without restrictions.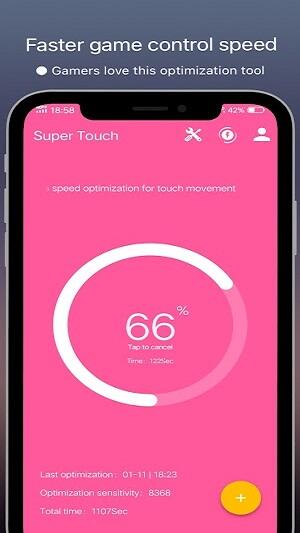 Ads Removed. This app is normally ad-supported. However, the ads have been removed in the Super Touch MOD APK for Android. You will never have to put up with those pesky ads again.
Improved Stability. The Super Touch MOD APK full version has been tested and optimized for maximum stability. You can use it without any fear of crashes or errors.
Conclusion
The Super Touch app is an essential tool for any Android user. It can speed up your phone's performance and give you a better experience. The modified version gives you all the features for free and without ads. Get it now and see the difference!