Can't get enough of stickman action? Download Stick Wars 2 now and enjoy a game where you can fight with stickmen against other stickmen and win now!
Information of Stick Wars 2
Unlimited money
Unlimited diamonds
No ads
Do you love playing with stickmen games? These games are always a whole lot of fun and they bring the most action-packed scenes. But if you're looking for a simple yet addictive mobile game about stickmen, play Stick Wars 2 now! This game is as simple as completing levels by fighting against multiple stickmen. Aside from that, you can do nothing and just manage.
Nothing beats seeing a full-on war against stickmen especially when you're the one managing them. Here in this game, you can collect over 20 types of unique troops with different abilities and roles. There are swordsmen, archers, spearmen and even giants! Participate in plenty of levels and fight your enemies head on in different locations! Can you complete these challenges and come out on top all the time?
The War of Sticks
When it comes to mobile games, stickmen are the staple of action and adventure. There have been many tower games, action games and even shooting ones involving these simple creatures. But in Stick Wars 2, you'll get to experience a classic head-on battle against groups of stickmen fighting for glory. This game from DIVMOB is a classic action game involving tons of action, sticks and fun!
This second installment involves new characters, fresh landscapes and a lot more actions. Engage in battles and try to strategize your troops and positioning and create the most satisfying battle experience ever. There are numerous troops you can collect such as swordsmen, archers, spearmen, giants, and more. See the battle in real-time as well as the level bar on who's winning. Overall, there's a whole lot of levels to play in and complete.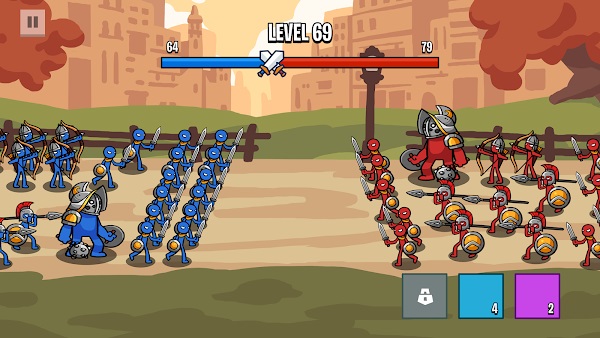 Each level rewards you with coins and also allows you to unlock many types of troops. Each troop is categorized as common, rare and epic rarity. There are also a lot of chests such as wooden chest and golden chest that you can collect. These contains a lot of characters as well as gold coins.
Stick Wars 2 Features
Do you feel like you have the best strategy when it comes to wars? In Stick Wars 2, you get to test out your skills against stick opponents!
Fight in wars – Did you want to have the best battle mobile game ever? Perhaps you're tired of the usual battle royale or shooting games that are popular today. In Stick Wars 2, you get to experience something familiar yet new. Here, you get to fight against groups of stickmen and engage in an all-out war. In this game, you get to experience fighting against other stickmen using your own. You first need to select the best locations to place each of your troops before the match begins.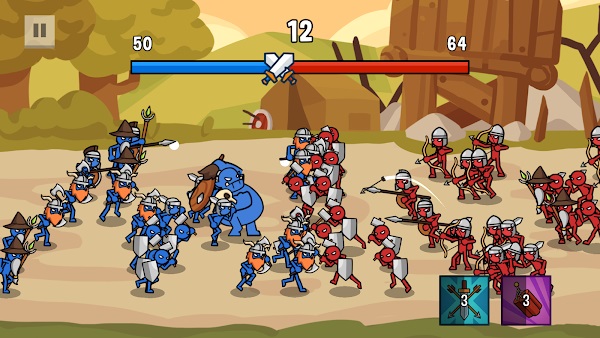 Then as the match starts, you'll just watch them as the battle automatically ensues. Your victory depends on a lot of factors such as your placement, troop strength, numbers and so on. Obviously, you want to have the upper hand always so you can win.
20 Collectible troops – In Stick Wars 2, you get to fight against plenty of opponents in each level. Because of this, you can collect plenty of them on your own as well. There are actually 20 different troops you can unlock and use! These includes swordsmen, archers, spearmen, ogre warriors, assassins, and many more! But what's even more amazing is that you can upgrade your troops to make them stronger!
You can use coins to make each troop stronger. There are 3 phases and each time, they change in appearance and stats! The more money you have, the more troops you can upgrade.
Plenty of levels to finish – This game isn't a multiplayer one but it provides plenty of challenges for those looking for one. It has dozens of levels for you to complete and each of them brings a whole new challenge. There are about equal number of troops to you in every level so you need to gain the upper hand in the battles. It's up to you to place your troops strategically and also overwhelm them with numbers. Overall, there are plenty of things you can adjust throughout the levels to win!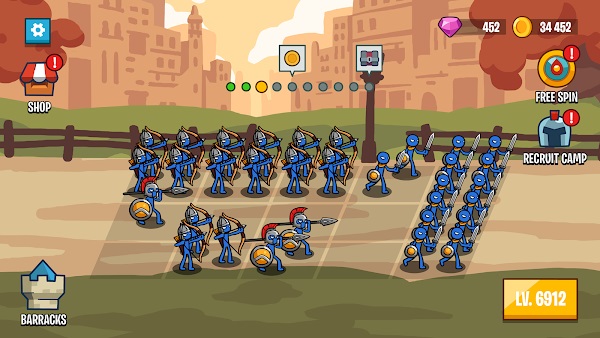 Fun locations and chests – There are many different locations in Stick Wars 2 that you can play as well. Aside from that, you can collect different chests that contain random rewards such as troops and coins. You can get these chests through completing levels or by buying them in the shop using real money.
Great graphics – Stick Wars 2 is a fun game with enjoyable graphics for kids at hear!
Download Stick Wars 2 Mod APK – Unlimited money
Want to wage an all-out-war against stickmen? Download and play Stick Wars 2 now and prepare for war.