Do you love stickman and puzzles? Download Stick Clash and merge with other stickmen strategically to become stronger. Pick the best paths and fight the boss!
Information of Stick Clash
| | |
| --- | --- |
| Name | Stick Clash |
| Updated | |
| Compatible with | Android 5.0+ |
| Last version | 1.0.26 |
| Size | 97.86 Mb |
| Category | Casual |
| Developer | Azura Global |
| Price | Free |
| Google Play Link | |
| MOD | unlimited money |
Stickmen are the easiest things to draw. They literally just take a couple of lines which is why a lot of games feature them. If you notice, they are in a lot of older games and they are so fun to play for everyone. But if you combine puzzles and stickmen, the game you'll find is Stick Clash. This game was published by Azura Global and it has gotten more than 1 million downloads now.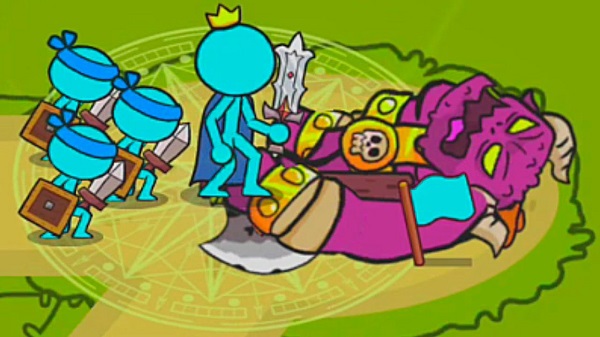 This game features stickmen but with a twist. Instead of just fighting enemies, you'll need to merge with other stickmen to become stronger first. Each level has a bunch of paths that you can take until you reach the final boss. But you must always remember that you need at least 2 stickmen to beat 1. This restriction allows you to think strategically on where you'll go first.
Action Puzzle Stickman Game
Have you played a lot of stickman games before? If yes, you might love this one. In this game, you will play a combination of action and puzzle game. The result is a wonderful and challenging game. The controls are as easy as choosing the right path and tapping there. Then, you just need to merge with stickmen so you can increase your power. At the end is the boss just waiting to fight you.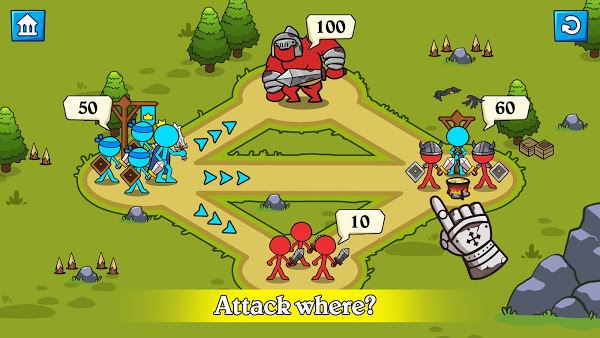 In Stick Clash, you will play different levels that will challenge you to think hard. At first, you don't need to have any strategies as the correct paths are obvious. However, that's no longer the case when you go up the levels. Sometimes, you'll need to go for the less obvious path first. But the great thing is that you'll see the strength level in every path as there's an indication of them. You'll also know your current strength so you can make the best decisions. Here, there are traps, and different levels to complete! There are also challenging final bosses.
Stick Clash Features
If you can't get enough of action and puzzle games today, why not play a game that combines both? Here's what you can get out of Stick Clash.
Simple Yet Engaging Puzzle Game – So, are you looking for a simple action and a puzzle game? We all know that the trend today is to combine the two but it's not easy finding a game that fits everyone. But if you're a simple guy that loves stickman, then you'll surely find Stick Clash satisfying! In this game, you'll be entertained by the various puzzles that are laid out on each level. First, you must take note of the different paths laid out for you. You can go left, right or straight. But in every corner, there may be enemies or allies. Sometimes, you'll need to fight with them in order to join forces. But sometimes you don't need to do that. But the most important thing to take note is that you must have more strength than the others to overpower them.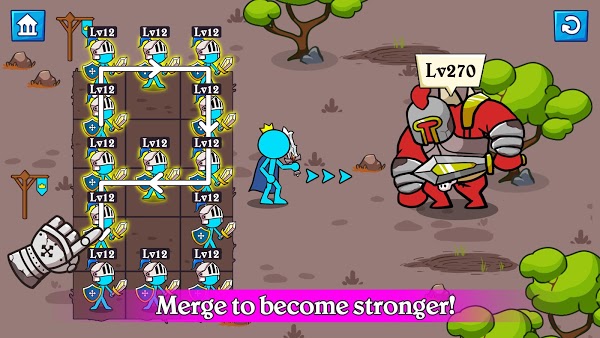 Merge and Fight – Do you love to play with stickmen? In Stick Clash, you'll need to merge and fight with different enemies. If the stickmen are in red, you must fight them first in order to merge with them. But if not, you can instantly merge with them. But aside from that, you'll also fight with bosses at the end. They usually have strength of over 100 so you need to fight them last. You must get as many people to your side first before fighting the boss. But it isn't going to be easy as there are a lot of different layouts, traps and enemies in the game.
Beautiful maps and levels – There are hundreds of levels to finish in the game. Each of them is tough on their own. Each also has different layouts and number of enemies. You must always think ahead first before going in any path to avoid repeating the level. But that's not always the case as sometimes the choices aren't that obvious. In any case, you'll earn many rewards as you finish each of the levels. There are also a variety of maps to play in such as the grasslands, the winter lands, and more.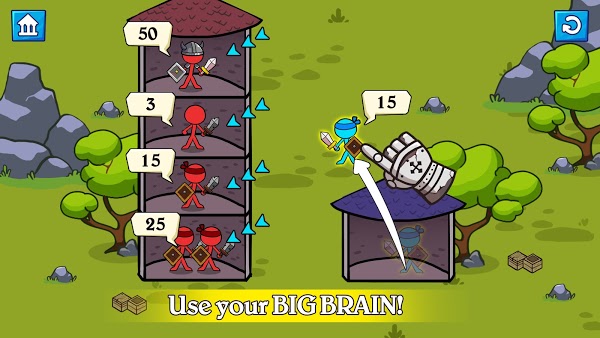 Fun and engaging graphics – In Stick Clash, you'll enjoy the different layouts and graphics of the game. The stickmen will fight automatically though. You just need to guide them on the right path!
One hand control – In Stick Clash, you can play the game even with just one hand. Enjoy fighting enemies now!
Download Stick Clash Mod APK – Latest version
Do you want to play with stickmen and puzzles now? Download Stick Clash and enjoy a wide variety of puzzling levels.