With the Spiral Craft 3D Mod APK, you discover new planets and create habitable surfaces. Move from one planet to another, building various structures and forming more ground.
Information of Spiral Craft 3D
Unlimited money (buy with real money)
Note:
Step 1: Download and install Lucky patcher but don't open it.
Step 2: Download and install apk mod.
Step 3: Open game and buy with real money in shop.
Spiral Craft 3D is an awesome creation of the Dual Cat team and has over one million installs from Google Play Store. It is an impressive game where the gamer has a mission to discover new planets, gather resources, and build new worlds. The game has Autonomous Sensory Meridian Response (ASMR) touches and is immensely relaxing. You will not be rushing against time and there are no imminent dangers.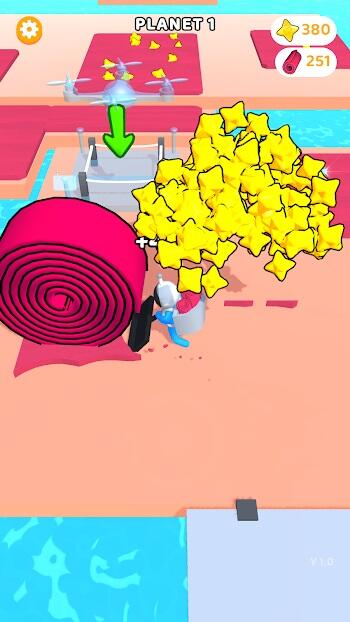 The gameplay only involves that character (a scientist in a spacesuit) moving around the surface of a planet to build more ground. You must engage in searching for resources, extract and use them to build more ground in the new planet. The materials to be collected are harvested from the ground with a shovel. They roll up like bunches of spirals objects and are collected into a backpack carried by the character. Later, they are deposited on a spot where more ground is to be constructed. Download the Spiral Craft 3D game now and enjoy making new inhabitable surfaces in newly found planets.
Create Everything on New Planets with Spiral Craft
The gameplay revolves around finding new planets within the universe to create more grounds that are fit to live in. To do so, the gamer will need to extract resources and construct new surfaces. With the ASMR feature, the player can use just one finger to control the character. Smoothly control the movement of the character on various surfaces with a relatively huge touchable button on the left bottom of the screen.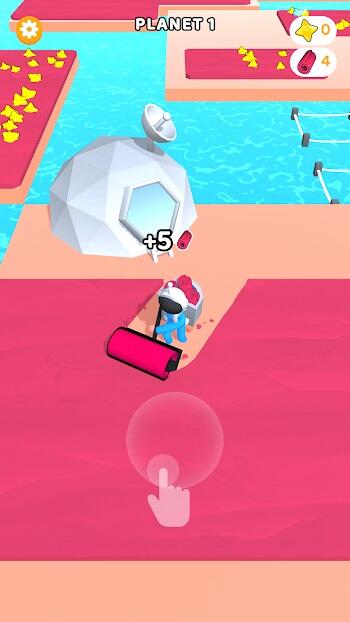 Gathering up spiral materials with the shovel is automatic. You just need to lead the character in the direction where the material is on the ground for a swift collection. Transfer the materials to the right spot and construct new surfaces and bridges that allow you to access isolated regions. As a gamer advance in gameplay, there will be new machines to discover. The machines are used to facilitate more collection, production, and processing of the spiral materials. Progression of the game levels is guided by the swiftness of accomplishing various objectives in each level. After a level is complete, a super speedy rocket carries the character to another planet.
Spiral Craft 3D Features
Gameplay presented by this game is amazing. Everything from harvesting the spiral materials to building new structures is overwhelming. Discover new worlds and change the skins of the characters, all facilitated by a number of features. Here are some features that make the game startling.
Gather Resources – the gameplay offers gamers an exciting experience where they exploit new planets where they are able to extract spiral materials. One can extract spiral material growing on every ground space. Then, they can gather the resources during gameplay to build structures and extend dry surfaces on watery planets. This is possible by depositing the spiral materials into the ground near the desired region. When you finish building one planet, you get in the rocket ready for another planet. Notably, the interface displays the rocket with blaring flames heading to another planet.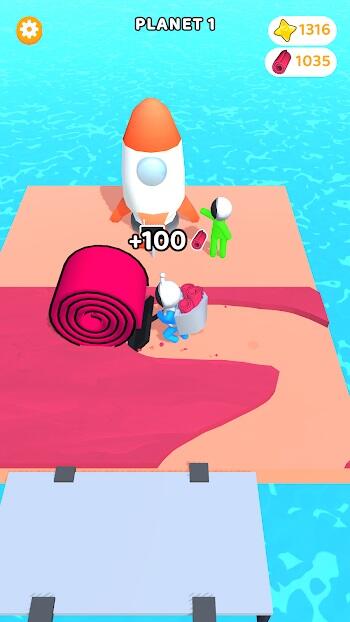 Create Amazing Machines – for you to create structures in other worlds, there are lots of machines you need to discover. In the entire gameplay, you have a shovel to harvest more spiral materials from the ground. Luckily, you can upgrade or size up the shovel or unlock the golden shovel to harvest more materials within a short period. You will also unlock a drone that helps you harvest more spirals and build more ground as well as a ground driller to drill deep the surface and extract more materials.
Build Your Own World – in this game, you can harvest spiral materials, deposit them to a new spot where you want to create a solid ground/surface. There are colorful pink and purple spiral materials that you need to harvest and build your world. On the game interface, there is a spiral counter that lets you know when you get to your target spirals needed to build enough structures or surfaces. Get the Spiral Craft 3D, create more surfaces and build your own world!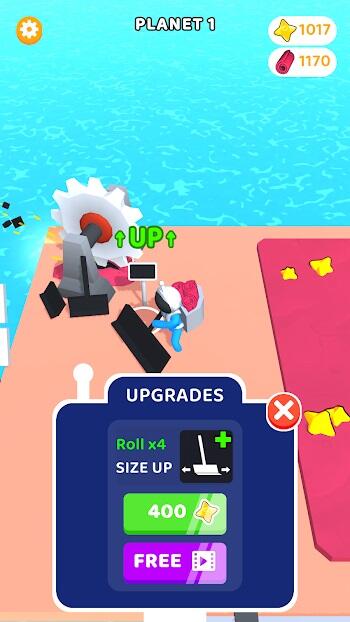 Cool and Special Sound Effects – As you play the game, you are motivated by some cool background music. With such kind of soft yet electrifying music, you can play the game for a long period of time. The music kills any boredom or sense of monotony that may occur.
Graphics – the game features great graphics and a colorful setting. The extraction action is realistic with the spirals producing a spiral effect. The movement of the characters is smooth and the harvest of the spiral materials offers a satisfying action. The movement of the rocket as a game level comes to an end is very captivating with almost real flames!
Download the Spiral Craft 3D Mod APK - Unlimited money and gems
If you would love to go on a spiral-harvesting spree and build ground on an alien world, download the Spiral Craft 3D Mod APK. With the Spiral Craft 3D Mod APK Latest Version, you will enjoy getting unlimited gems, Gold, and Elixir.