Download Shot Factor MOD APK latest version and engage in breathtaking shooting escapades. It boasts realistic sound systems and exciting challenges. 
Information of Shot Factor
Shooting Factor is an arcade game that combines the use of wit and strategy to shoot and eliminate your competitors. It was developed and released by Voodoo.
The game boasts simple graphics that ensure that you have minimal distractions. It requires that you load your gun and shoot your opponents within the stipulated timelines. When you complete each level, you'll win unique rewards that will help you in advancing your gameplay.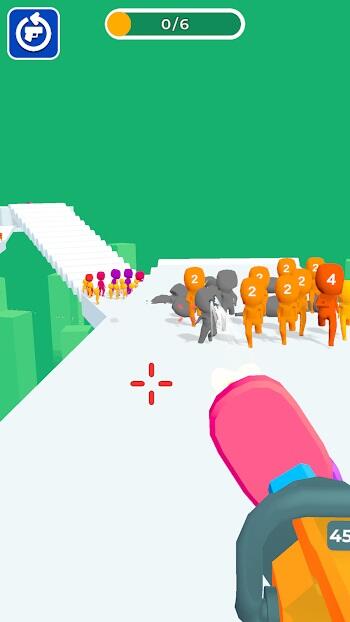 If you want to enjoy this game anywhere you go, you should download Shot Factor for Android. The mobile version is lightweight and highly responsive.
An Immersive Gameplay
Shot Factor arcade game challenges you to shoot and eliminate your enemies. To achieve this, you will have a loaded gun.
Additionally, you will be empowered to determine the speed of your gun. For example, 2/sec means that can only shoot two bullets in a second. The higher the speed the better. High shooting speeds enable you to eliminate your enemies fast.
Every time you complete a mission, you will earn rewards. The rewards will be helpful as you progress with the gameplay. They will help you to unlock better guns and get unique features.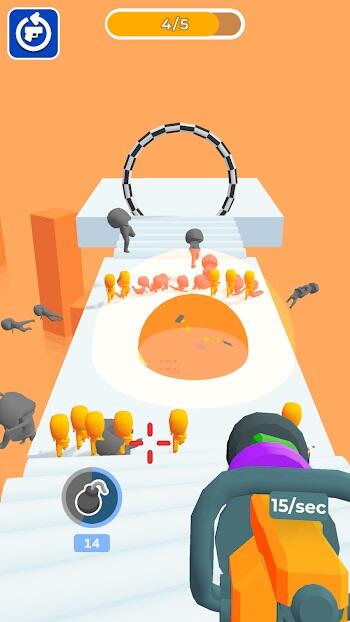 This way, you will improve the playability of the game and enjoy it better. Always ensure that you complete all your missions as fast as you can to become the ultimate shooter.
Simple Controls
Shot Factor has simple controls that are highly responsive regardless of the type of phone you're using. To load the gun and determine the speed of shooting, you will use a drag-drop approach. The factors (coming in different figures such as x2, x4, and x8) are positioned on top of your screen. Tap on it and drag it towards the gun.
When you want to shoot, you will press the gun on your screen. Once you complete, you can press any place on the screen to move down the walkway as you enjoy breathtaking backgrounds. Ensure that you are set for any adversary. Once you spot them from a distance, you should start shooting.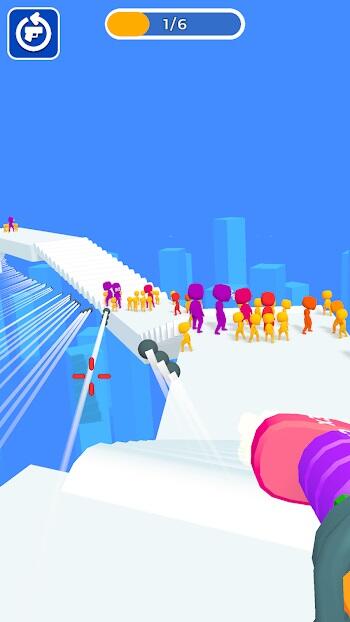 However, you must be keen to complete the mission without exhausting your resources. Avoid many blocks and shoot on target. You should also be careful to shoot emerging enemies simultaneously, without losing focus.
Unique Features of Shot Factor
Customize Your Shot Speed. This game has several factors that you must consider when loading your gun. This will determine your speed of shooting and your success chances. In the beginning, you will have few options as you will only have one drag-drop option of feeding your gun. However, the options increase as you progress with the gameplay.
Outstanding Sound Systems. Shot Factor incorporates unique sound systems that resemble those of a real gun. This feature gives the game a realistic feel.
Simple yet Impressive Graphics. The game comes with simple 2-D graphics. However, this simplicity is crucial since it enables you to concentrate on the main assignment. The loading and the shooting will be completed by dragging and pressing the screen. Additionally, the game comes complete with a white walkway where you can race as you look for your adversaries.
Regularly Updated World Score Leaderboard. The game incorporates a scoreboard that shows your current standings globally. This feature will motivate you to keep winning and rising through the leaderboard. Always ensure that you kill as many opponents as you can to win treasures.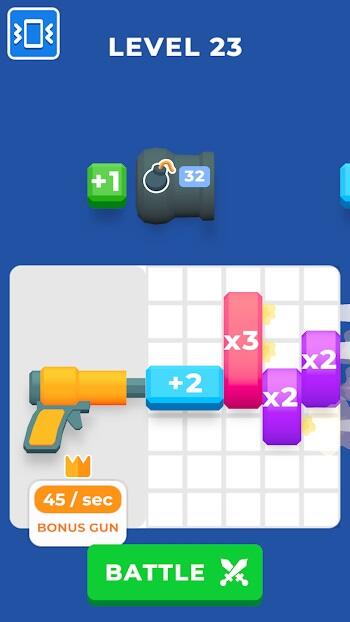 Many Level with Unique Challenges. The shot Factor has dynamic levels. Each level comes with unique challenges that provoke your thinking. This diversity breaks the monotony and ensures that you yearn for the next level. You will not get bored when playing the game.
A Summary after Each Level. After you complete a level, you will get statistics on your performance. The easy-to-understand report shows you how many shot blocks you got, how many enemies you shot, and whether you earned a bonus.
Shot Factor MOD APK Free Download
The modded version of the shot factor is improved to offer you a better gaming experience. It ensures that you have more fun playing the game from the onset. Some of the outstanding features of the MOD version include:
Shot Factor MOD APK Unlimited Money. This version comes with unlimited resources that you can use to unlock sophisticated guns. You can also use the money to unlock unique skins and improve the background of your gameplay. This way, you can be sure that your experiences playing the game will be unbound.
Shot Factor MOD APK Free Purchase. The modded version of this game allows you to make free purchases. You will access all the in-app purchases for free. This way, you will have the ability to customize the gameplay from the start.
Unlocked Levels. Shot Factor MOD APK latest version has everything unlocked. As such, you will be able to access higher levels and enjoy their uniqueness. This feature also enables you to have a sneak peek view of what to expect in the gameplay.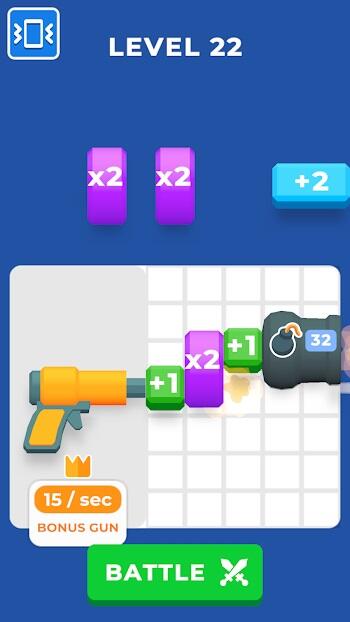 No Ads. The modded version has no adverts. As such, you can be sure that the user interface will be friendlier. This way, you will have an easy time maneuvering through the challenges that come along with the game. Additionally, the minimal interruptions ensure that you concentrate on the gameplay maximally, thus increasing the chances of winning.
Conclusion
If you love relaxing arcade games, you should download Shot Factor. The game challenges you to shoot your adversaries and win treasures. In the beginning, the challenges will be pretty straightforward. However, it will become more complex as you advance to higher levels.
Nevertheless, the gameplay is surely entertaining. You'll get unique sound systems that make shooting realistic. The graphics are simple, which allows you to concentrate on solving challenges and shooting adversaries.