Want to play as a shop owner of a medieval fantasy game? Download Shop Heroes now and create rare weapons, trade, and recruit different heroes!
Information of Shop Heroes
| | |
| --- | --- |
| Name | Shop Heroes |
| Updated | |
| Compatible with | Android 4.1+ |
| Last version | 1.5.91000 |
| Size | 67M |
| Category | Simulation |
| Developer | Cloudcade, Inc. |
| Price | Free |
| Google Play Link | |
| MOD | No ads |
RPG games are abundant in the mobile gaming world. But if you want to play something different for a while, why not try Shop Heroes? Here, you're free to craft legendary items, design your dream shop, customize your avatar, trade with other players, fuse items together, recruit RPG heroes, loot treasures, and fight others in PVP battles.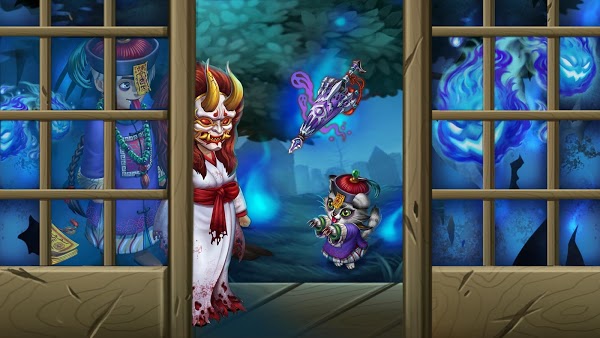 With more than a million people in this game, you can play a lot and enjoy. This RPG game is more than your typical one. For one, you will have your own shop. You can literally become the best medieval fantasy tycoon there ever is. You can build and nurture your shop by crafting items, trading and more. Then you can conquer the kingdom by hiring heroes and fighting in the PVP arena. Earn a lot of rewards with everything you do in this game.
A Unique RPG Game
If you are a gamer, then there's a great chance that you've played a lot of RPG games over your lifetime. These games are dime a dozen but they still find a way to make them fun and unique. For instance, Shop Heroes is a unique blend of a lot of games. One of its most unique aspects is that it allows players to establish a shop in the game and fight. This is something that is rarely done in an RPG game but it's truly fun.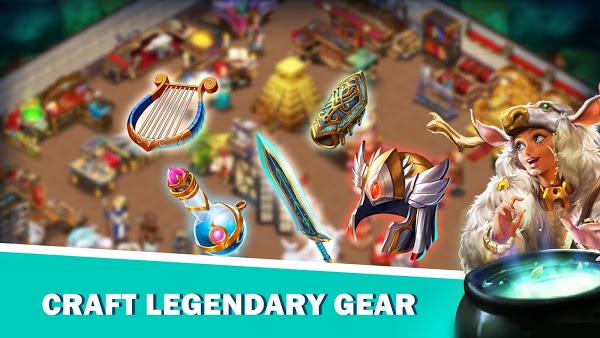 As a shop owner, you are responsible in crafting legendary items you can sell. You can then trade these with other players. You can also customize your outfit and your shop to attract customers. Discover powerful weapons and armor and fuse items together to unlock rare equipment! Then as someone who has interests in the kingdom, you can recruit different heroes to conquer different locations. Get exciting loots as there are many quests in the game. You can also test your strength against other real players in the PVP arena. Or you can team up with friends and build a city. There are also trade wars to consider!
Features of Shop Heroes
Want to indulge in a unique RPG game today? Download and play Shop Heroes now. There are so many features that this game offers.
Customize your shop – Even though this may look like an RPG game at first glance, it's actually more of a simulation game. Although there are still a lot of RPG elements present in here, you'll primarily be a shop owner. As such, you can customize the interior of your shop to whatever layout and decorations you want. Invest in timely pieces to attract customers all over the city. You can also customize the shopkeeper to have distinct outfit.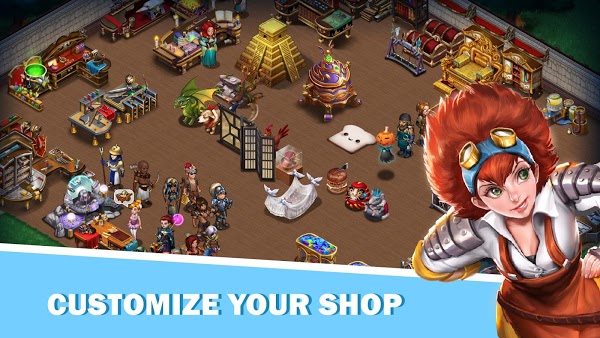 Craft legendary items and trade – As a shop owner, you must craft different items that you can sell. Your shop is where the items will be crafted and sold. You can also trade different items with other players to build your wealth. Shop-wise, there are so many things to achieve in here! You will also level up as you get many achievements and rewards.
Recruit powerful heroes – You'll also need to hire heroes so you can establish your influence. Your heroes will be the ones to go on quests and adventures which will allow them to get insane loots. Get a diverse cast of heroes with different roles and stats.
Battle other players – If you want to see how far you've come, you can also battle other players in Shop Heroes. Or you can team up with friends and build a city. Or go on raids to earn a lot of loots.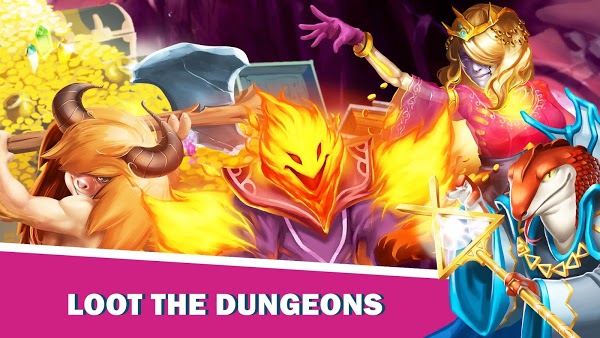 Trade wars and raid – There are a lot of trade wars that will take place. You can also gain allies here that will prove beneficial in the future. The question is, are you skillful enough to come out victorious or not?
Cool graphics – From the shop to the battle aspect of this game – everything was designed thoughtfully. This is a well-crafted game that will impress every RPG fan!
Download Shop Heroes Mod APK – Latest version
Download Shop Heroes today and experience a whole new world of RPG and simulation blended beautifully. Craft weapons, open a shop and fight online players!