Download Scratch Adventure APK Mod latest version to enjoy a super hypnotic gaming experience with your partner. It has unique challenges for optimum enjoyment.
Information of Scratch Adventure
| | |
| --- | --- |
| Name | Scratch Adventure |
| Updated | |
| Compatible with | Android 5.0+ |
| Last version | 1.7.5 |
| Size | 104 MB |
| Category | Entertainment |
| Developer | Maurice Wirth |
| Price | Free |
| MOD | No MOD |
Scratch Adventure APK 2023 is an entertainment app developed by Maurice Wirth. It is approximately 105 MB and works optimally with Android 5.0 + OS devices.
It has multiple games offering highly riveting moments for couples who seek fun and adventure. The app is designed to bring couples together as they engage in interesting tasks.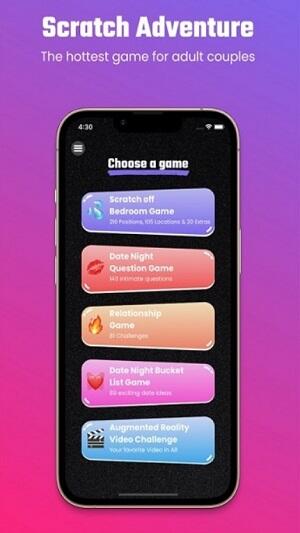 The game is pretty simple & lightweight. The UI is straightforward, and the controls are effortless to master. Players can quickly get used to the game's mechanics without any issues.
Scratch Adventure Mission
Scratch Adventure is one of the games in this app. You will enjoy every moment as you and your partner get to complete several challenges. The game is quite straightforward, and the objective is clear. You need to earn points by completing the given tasks within the stipulated time.
The faster you complete the task, the more points you earn. The game is designed in such a way that it tests different aspects of the relationship. It is an excellent way to learn more about your partner and have fun simultaneously.
Its mission is to promote couple's bonding and help them you know each other better. The game is an excellent icebreaker for couples who are shy or introverted.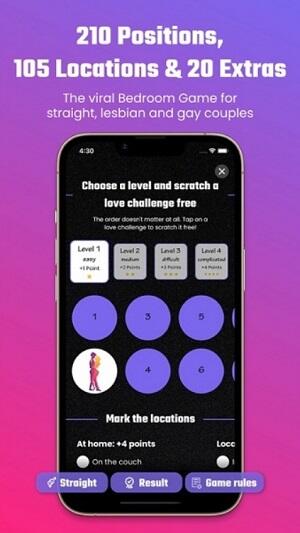 The app is quite versatile as it offers a broad range of activities for couples to do together. There are many things that couples can do to strengthen their relationship.
Multiple Mini-Games with Diverse Gameplays
The app has a set of mini-games that players can take part in. This diversity makes the app all the more interesting as players are not limited to one type of gameplay.
Some of the mini-games available in the app include:
This game allows couples to get intimate with each other. They need to scratch off the items on the list and perform the tasks accordingly.
The game is not just about getting naughty but also about being creative and trying new things.
Players can use their imagination to come up with interesting ways to complete the tasks. The game is sure to provide a lot of laughs and some memorable moments.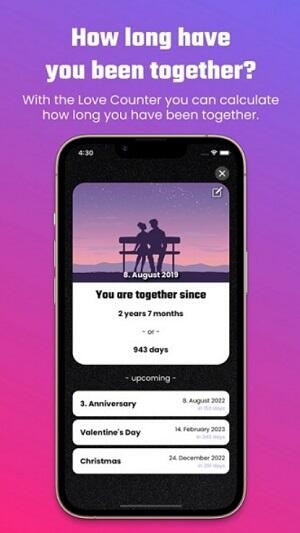 Once the task is completed, players can move on to the next one. There is no need to worry about losing track of the game as the app keeps track of progress.
Players need to answer questions and find out how well they know each other. It enables you to start a conversation and learn new things about each other. It is also a great way to break the ice if you are feeling shy.
Players can take turns asking each other questions. The game is sure to provide some insight into your partner's thoughts and feelings.
Augmented Reality Video Challenge
This mini-game is an excellent way to have some fun with your partner. Players need to film themselves doing a set of challenges.
The game challenges you to get out of your comfort zone and try new things. It is also a great way to bond with your partner as you work together to complete the challenges.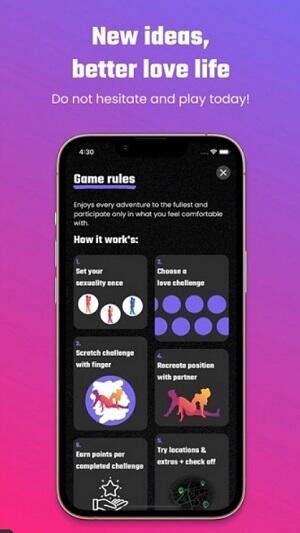 Players can use the app to watch the videos of other couples and get some inspiration. The game is sure to provide some laughs and some memorable moments.
Date Night Bucket List Game
This game allows you to tell your partner what you would like to do on a date. Players need to add items to the bucket list and tick them off as they complete them.
It is the ultimate way to get your partner to try new things. It increases openness and communication as you discuss your bucket list items.
Unique Features Scratch Adventure APK for Android
More than 600 Challenges. There are more than 600 challenges in 5 categories. You will always have a new task to complete.
105+ Locations. The game has 210+ positions in highly diverse locations. You can play the game anywhere you want. This way, you can always find a challenge that is right for you.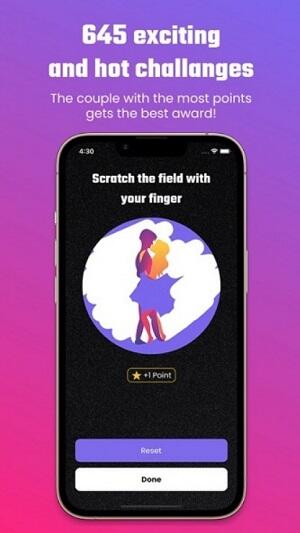 In-Built Rewards System. The game has an in-built rewards system that encourages you to keep playing. Players can earn points by completing tasks and unlocking achievements. These points can be used to unlock new content and customizations.
140+ Questions. This game offers well-thought-out questions designed to help you comprehend the desires of your partner. You can choose a category that represents your interests the best.
100% Free to Play. The game can be played for free without any restrictions. All the content is available to everyone.
Simplistic Graphics. This game has uncomplicated graphics to let you focus on the task at hand.
Scratch Adventure APK MOD
If you want to revamp your gameplay, the Scratch Adventure APK free MOD is the way to go. It offers better graphics, more challenges, and new content. You can also use the MOD to unlock all the features of the game.
Conclusion
The Scratch Adventure APK offers a great way to bond with your partner and try new things. The game is sure to provide some laughs and some memorable moments.
It offers many mini-games designed to help you spice up your relationship with your partner. By the end of it, you will understand each other better. Download it now and start your adventure!