Download Rumble Heroes Adventure RPG MOD APK latest version and save the princess from evil dark knights. You'll recruit heroes, mine treasures, and enter epic combat!
Information of Rumble Heroes Adventure RPG
| | |
| --- | --- |
| Name | Rumble Heroes Adventure RPG |
| Updated | |
| Compatible with | Android 5.1+ |
| Last version | 1.5.005 |
| Size | 164.98 Mb |
| Category | Adventure |
| Developer | PlayHard.Lab |
| Price | Free |
| Google Play Link | |
| MOD | Unlimited money |
About Rumble Heroes Adventure RPG
Rumble Heroes Adventure is an action-packed RPG game offered by PlayHard.Lab. It tests your creativity and strategy, as you must go deep into dungeons filled with enemies to save the princess.
Even worse, you will start from scratch since the evil dark knights have taken over the kingdom. Your job is to reconstruct the village and hire heroes to fight with you.
The game offers stunning 3D graphics, intense controls, and vibrant sound effects. As you progress, you can customize your characters & upgrade their skills. Just ensure your village is strong enough to survive the never-ending fights.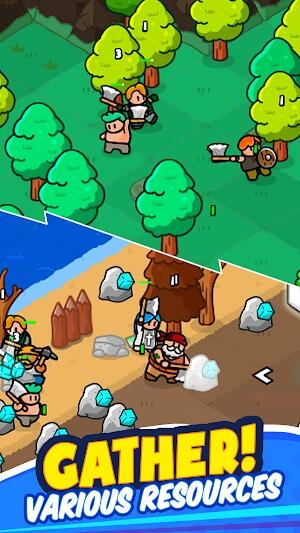 This game will truly challenge your strategic capabilities, as you must devise the best possible plans to overcome your adversaries. Download Rumble Heroes Adventure RPG MOD APK for Android now and embark on an epic quest. Be the one to save the princess and restore peace in her kingdom.
Rumble Heroes Adventure RPG APK - Background Story
Years ago, your home kingdom was prosperous & happy. But one day, dark knights invaded and destroyed everything. The beautiful princess was kidnapped and taken to an unknown location.
The village has been destroyed and requires a complete reconstruction from the foundation. While this may seem simplistic, your trial lies ahead as you attempt to rescue the princess from an insidious foe.
You'll need bravery, resilience, and a well-crafted plan to succeed in this mission. To commence your journey, you must gather heroes who will accompany and aid you in the pursuit.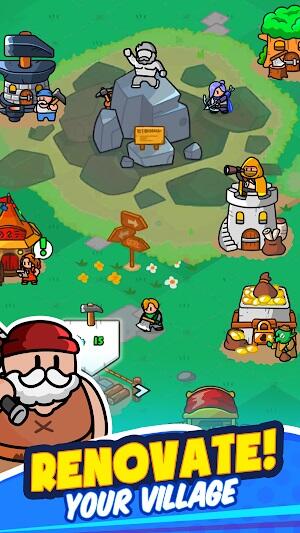 Once ready, ensure they have all the right tools and know-how to succeed. They must be well equipped with skills & upgrades necessary to decimate the enemies and save the princess. This way, you can be confident knowing that no challenge will impede you from achieving victory.
Do you have the mettle to accept this daring challenge? Even though it isn't easy, a great time is guaranteed for all. Begin your journey today and get ready for thrilling battles.
How to Play Rumble Heroes Adventure RPG?
The goal of Rumble Heroes Adventure is to restore the kingdom and save the princess. To begin, you must first hire heroes who will join your mission & aid in battles. You can review their skills & customize them to fit your needs.
Once ready, embark on a heroic quest. Explore dungeons, battle monsters, and complete challenging levels. Ensure you are always ready for the next fight by upgrading your heroes & weapons. The game offers multiple difficulty levels, so choose wisely and make decisive decisions.
In addition to regular battles, you can also participate in special events & tournaments. Participate and compete against other players globally. With every victory or defeat, you get to learn more about strategies & eventually come closer to your goal.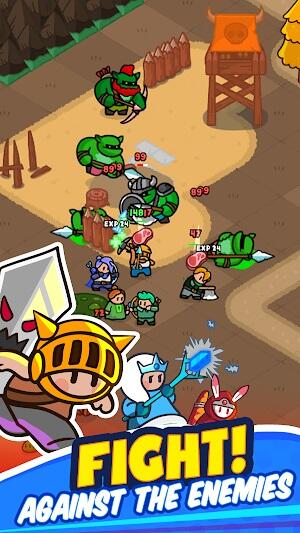 Besides, you must cut trees, mine ores, and build houses to re-establish the village. With each finished task, you move closer to the successful restoration of your kingdom.
It will be super satisfying once you save the princess and restore peace in her kingdom. Can you achieve this goal? Start the adventure right away and prove your capabilities.
Exceptional Game Features
Numerous Activities to Undertake. This game is packed with thrilling activities — from building your village to engaging in intense battles. Every activity brings you closer to your mission and makes progress exciting.
Customize Heroes & Skins. Equip your heroes with special skills as you customize their appearance and weapon effects. Select from multiple skins (card system) plus an array of weapons and become invincible.
Highly Intuitive Controls. Whether you are fighting a monster or exploring dungeons, controls are very easy to use. Simple taps and swipes are enough to master the game. This way, you can enjoy the game without any trouble.
Recruit Heroes Regularly. If you're to achieve victory, you need strong heroes by your side. Recruit new warriors, upgrade their abilities and customize them to fit your needs.
Compete in Tournaments & Events. Participate in mind-blowing tournaments and unique events. Compete against players from all around the world and test your skills. In addition to rewards, you will also gain valuable insights on how to play better.
Play with Friends. Join other players and form powerful alliances to fight against the most fearsome monsters. With friends by your side, you will be able to complete missions more quickly and save more princesses.
Collect Treasures and Monsters. This game offers hundreds of monsters and plenty of treasures to collect. Each monster exhibits unique abilities, and you can capture them with the help of special items. As for treasures (wood, ore, meat, etc.), each one will provide a significant stat boost that'll make your heroes even stronger.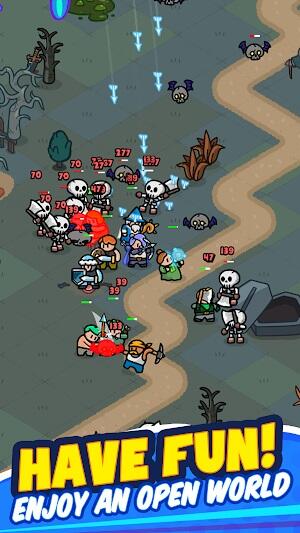 Beautiful Graphics. Dive into Rumble Heroes Adventure RPG's mesmerizing 2D graphics and captivating animations, as you explore its ornate backgrounds. Challenge fierce monsters in thrilling battles to save the princesses from peril.
And-Slash Game Mechanics. Experience rush-inducing, electrifying and-slash battles with a variety of combos, special moves, and tactical decisions. Upgrade your character's weapons and gear so that they're able to overcome any adversary standing in their way. With every customization, you make sure it gives them an edge against all opponents.
Simple Interface. Craft your perfect gaming experience with the intuitive interface of this game—select heroes, customize weapons, and more without any difficulty or delay. Enjoy a seamless journey into captivating new worlds.
Lots of Dungeons. Navigating dungeons is one of the most arduous tests in this game. As you quell your way through, uncover precious artifacts and face off against formidable adversaries. Choose wisely as you traverse each dungeon - may the rewards be plentiful.
System Requirements and Additional Information
Rumble Heroes Adventure RPG requires Android 5.1 and later, with a minimum of 2GV RAM. It's free to download & play but there are in-app purchases available for additional content.
Additionally, the game is optimized for tablets and phones – each one bringing out a unique experience. This way, you can explore the game wherever & however you want.
Tips & Tricks of Playing the Game Like a Pro
Keep Upgrading Your Heroes and Weapons. Upgrade your warriors to make them more powerful and equip them with the best available gear. This will empower them to take on any challenge with confidence.
Participate in Tournaments and Events Regularly. Participating in tournaments & events is an excellent way to evaluate your abilities against other gamers. You will also gain insightful information on how to play better than before.
Collect Treasures and Monsters. Capture rare creatures with the help of special items and collect all kinds of valuable treasures. Doing so will give your heroes a stat boost & make them stronger.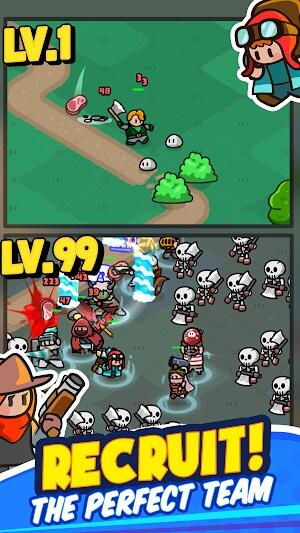 Master The And-Slash Mechanics. Become an expert in combos, special moves, and strategies to annihilate your adversaries with ease.
Conquer The Dungeons. As you traverse these perilous dungeons, seek out valuable artifacts and brace yourself against ferocious foes. Make the right decisions and reap the plentiful rewards.
Conclusion
Rumble Heroes Adventure RPG MOD APK download offers an exciting and captivating adventure for all kinds of players. With beautiful graphics, an intuitive interface, and-slash game mechanics, and plenty of dungeons to explore.
Intrigued by the adventure that awaits? Then indulge in this captivating world filled with a plethora of mysteries and creatures. With each battle you fight, your heroes become even more powerful as they acquire new resources to upgrade them. Download it now and join forces to protect the princesses from danger.