Download Rope Hero Vice Town Mod APK - Unlimited money and gems and play in an open-world game where you become a superhero who saves the city. Defeat all gangs and win!
Information of Rope Hero Vice Town
| | |
| --- | --- |
| Name | Rope Hero Vice Town |
| Updated | |
| Compatible with | Android 5.0+ |
| Last version | 6.5.5 |
| Size | 123.94 Mb |
| Category | Action |
| Developer | Naxeex Ltd |
| Price | Free |
| Google Play Link | |
| MOD | Unlimited money, gems |
Unlimited money
Unlimited gems
Note: Money and Gems increase when spent!
About Rope Hero Vice Town
Batman, Superman, SpiderMan, Super Girl, Iron Man, and other superheroes are real role models for most children around the world. More so, more games have been developed to feature these characters or other characters with superhero powers.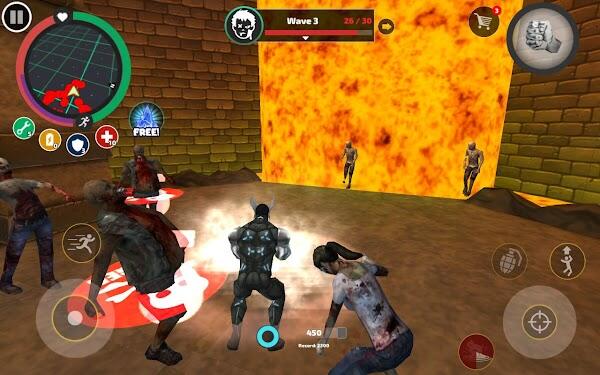 Rope Hero Vice Town is such a game that allows the player to play the role of a superhero that makes his primary objective as protecting the city from bandits! The storyline of this amazing RPG is based on a character with superhero abilities and extremely eye-catching acrobatics. Here, criminals are raging in the city and continually disrupting the order of life.it is now up to you to stand up and defend the Innocent people that desperately need you in the Rope Hero Vice Town game!
Stand Up For The City!
In this incredible movie-like game, you can get anywhere in the city within a blink of an eye. You are able to do this by swinging rope-like Spider-Man shooting silk on buildings and other tall structures. Then, you have to battle and put down the bad guys in the city.
For weak thugs, gentle kicks will work wonders and make them wary and scared. However, the hardened gang bosses will require you to use strong weapons. Just like in GTA III, this game allows you to joke and attack people. You can also attack the police, but be careful since they will mobilize many forces to pursue you.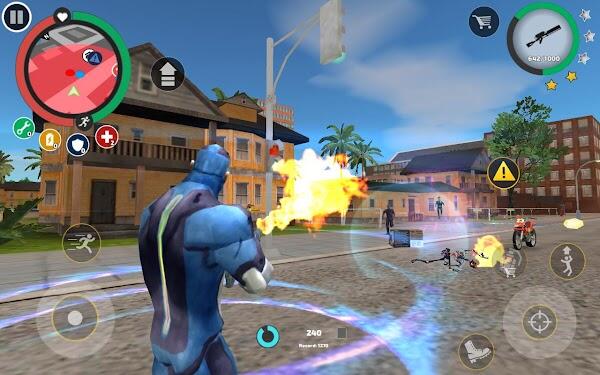 Rope Hero Vice Town is a breathtaking open-world game developed by Naxeex LLC. Currently, the game has over 100 million downloads in Google Play Store! That implies that this is one of the few games that has taken the gaming world by storm. In this game, the character has unique superpowers and can leap from building to building using an unlimited super rope! Think about this game as a hybrid of Spiderman Games and GTA you're in for a surprise.
Rope Hero Vice Town Features
This RPG presents thrilling gameplay with beautiful graphics. In fact, you will immerse yourself in a game that seems like a movie! Here are some of the features that you will enjoy here.
Unique Action Gameplay – without a doubt, open-world gangster games are not new since they have been around for the longest time. The most popular and hugely successful of this genre is the GTA franchise. However, Rope Hero Vice Town is a special and interesting game that comes with a blended action between GTA and other superhero games!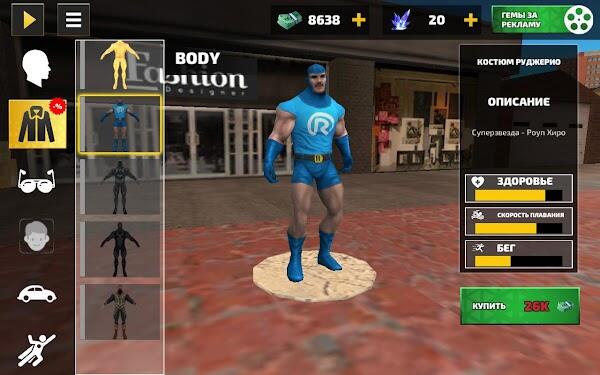 In this game, you will play as a superhero in a gang-filled city! Here, you must complete various missions and eliminate all the criminals troubling the city. You can use either your traditional weapons or superpowers to perform your hero duties. Furthermore, you can simply explore the vast world in this game and enjoy doing routine things. Download the game today, explore the big map, and discover new places
Upgrade Your Weapons – in Rope Hero: Vice Town, you are born as a hero. However, the escalation of evil and the increase of troublemakers in your neighborhood make your strength great. You will face off with notorious gangs and attempt to get rid of them as fast as you can. Therefore, you should arm yourself with lots of weapons and keep upgrading the weapon powers. Besides, you can freely purchase more lethal weapons with your earned unlimited money. Buy a range of weapons from pistols, machines guns, rifles, and more.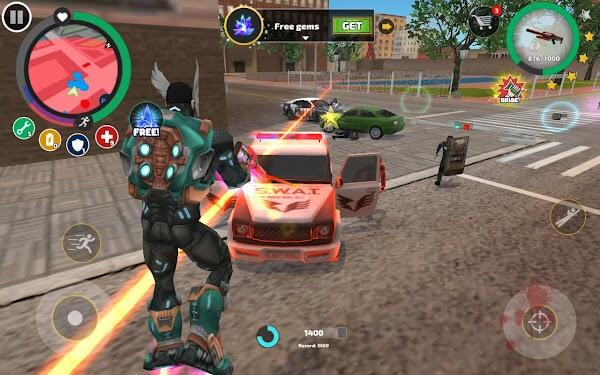 Great Vehicles – there is unlimited use of vehicles in Rope Hero: Vice Town. The vehicles will prove useful especially in the movement of your character from one point to another when you are not using the super role to fly above buildings.
In the game, you will be overwhelmed to see supercars such as BMWs, off-road vehicles, and even motorcycles. The most fascinating thing is that you will even have powerful military vehicles like helicopters, military aircraft, or tanks. Get the game now and use over 20 different types of vehicles and missions effectively.
Easy Controls – this game has very innovative controls that are simple to understand and use. On the left side of the interface, a joystick is available for movement. All the action and attacking buttons are on the right side of the screen. All the buttons are optimized and fully responsive for smooth gameplay. With these simple controls, you can control stamina, speed, damage, power, pick weapons, and everything else you would want to do. You can cables, a car and everything you want.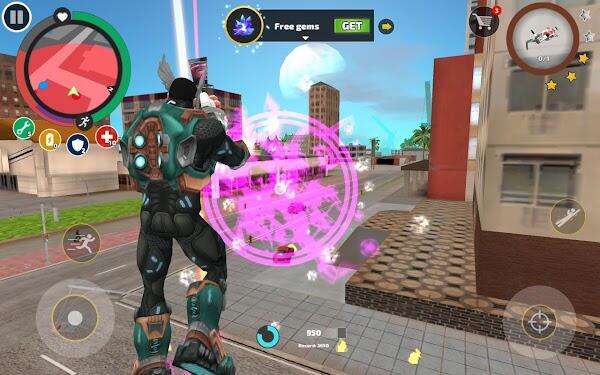 Realistic Graphics – Rope Hero Vice Town game features 3D graphics with realistic detailing. The graphics are greatly optimized for smooth gameplay. You can adjust the stunning visual effects if you are playing on a low-end device. The game has beautiful locations and an incredible game environment for your exploration. Get the game now and explore the entire map with high-quality graphics.
Unlimited Money – during gameplay, you can freely pick anything and carry it with you. However, every game action perfectly executed earns you unlimited money. With this money, you will be able to make in-game purchases. Look out for the totally free in-game items in the mod version.
Download Rope Hero Vice Town Mod APK 2023 – Unlimited money and gems
In the Rope Hero Mod APK, you will get unlimited money and resources. Download the game now and get unlimited money to buy and unlock all the items for free.