Download Roof Rails Mod APK Latest Version free for Android. Pass each level by scaling the roofs without having your pipe fall apart or falling to your demise.
Information of Roof Rails
Scale buildings and ride along rails to the end goal! Download Roof Rails for Android and play this running game with a twist. Make your way to the end of each level, without falling off of the rooftop. You'll need your trusty pipe to make this possible.
How to Play
Learning how to play Roof Rails is fairly easy to follow and understand. In fact, the general concept of the game is quite easy to grasp. The main objective is to reach the goal without falling to your doom. This can be achieved through using your pipe to guide your way through railings on the rooftops.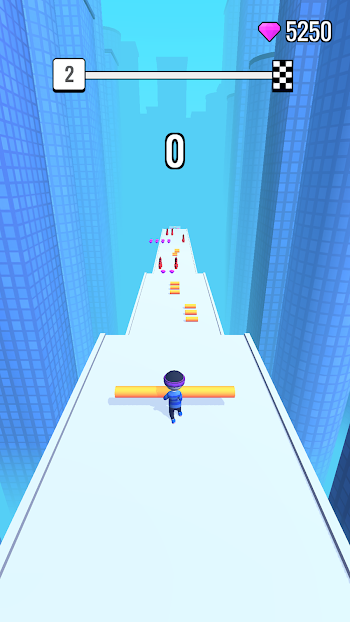 However, there are a few aspects of Roof Rails that you will need to look out for. Your pipe can either grow in size, or get completely chopped into pieces. You'll want the former to happen, if you want the game to work in your favor. Some of the rails will have gaps that vary in size. So, your pipe will need to remain an appropriate length in order to survive.
Watch out for the saw blades. These blades will cut down your pipe into smaller pieces. Sometimes, these blades will be unavoidable. So, you will need to navigate your path in a way that saves you the largest amount of your pipe to remain. As levels progress, these blades will begin to move and act in various patterns. Thus, you will need to time your mown movements to avoid them.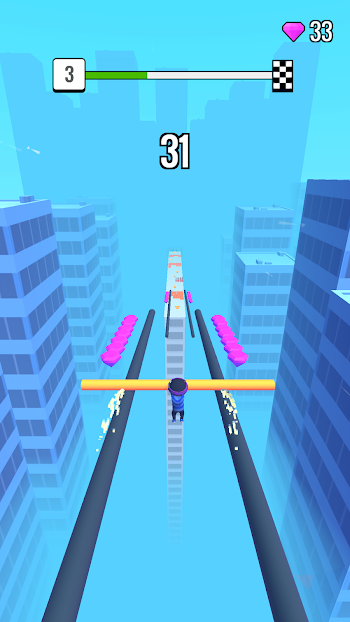 On the other hand, gems will increase the overall size of your pipe. Furthermore, even if you hit a saw blade, it isn't the end quite yet. You just might have time to recover and regrow the length of your pipe.
Controls
As for the controls of Roof Rails, the game is just as easy to control as it is to understand. You can use simple tap and swipe commands to move your character left and right across the rooftops.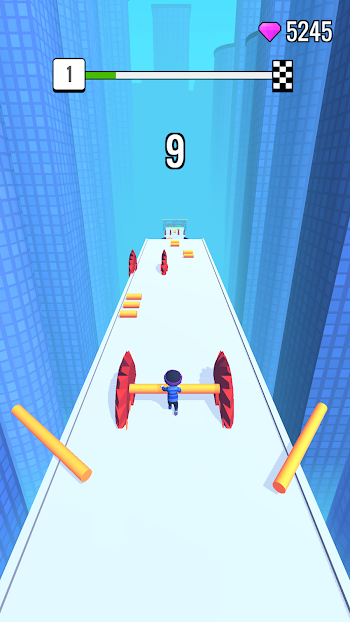 In fact, the game could even be played with one hand. If you are an expert at multitasking, this is definitely a game of choice.
Roof Rails Mod APK Free Download
Are you ready to get started with your run? If so, then you can download the Roof Rails Mod APK Latest Version free for Android right here. This version of the game is much better than the Google Play Store version. For one, you'll be able to make edits to the file, if you know how. Also, the file size has been condensed and made more accessible to have on your device, saving data and storage.
Either way, no matter what download you get (though we recommend ours), Roof Rails is a fun and addicting running game. Score buildings and reach the goal with the best possible score available. Download Roof Rails for Android to begin!