Download Rage Road MOD APK and start taking down your chasing enemies in the movie-style. This game will give you very funny and interesting gaming moments.
Unlimited diamonds (Play through stage 1-2 without getting diamonds, please exit the game and re-enter)
Have you ever felt what it feels like being chased by villains just like in movies? Do you like to shoot the people chasing you in a moving vehicle? If yes, then download Rage Road for Android now.
With very interesting gameplay, all the players will love to get engaged with it for a very long time. This game will never let you down in your boring times.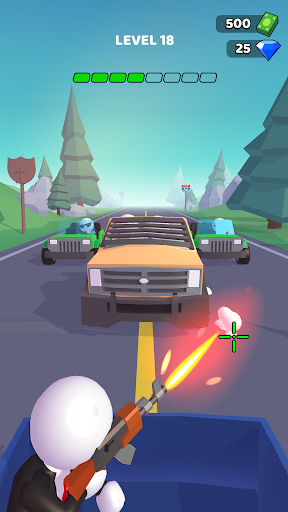 Designed to offer amazing 3D graphics, there is nothing to dislike when it comes to front-end. The visuals' touch and feel are totally different and unique from other 3D games.
A low-end phone might be incapable of running this game and performance cannot be guaranteed. So, to be on the safe side, play it on a medium configuration.
Great Gameplay with lots of stuff to do
Rage Road is level-based gameplay, where your only aim in each level is to destroy the goons who are chasing you.
You will be set at the back of your vehicle, where your task is to make the best use of available weapons. Do not hesitate to use a revolver, pistol, rifle, or even machine gun to shoot those moving chumps.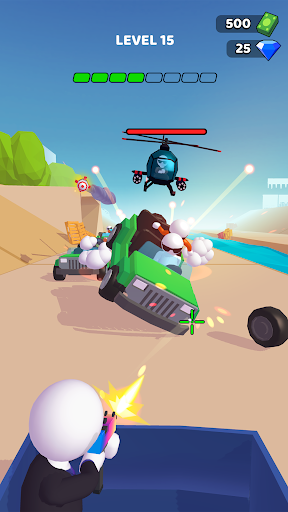 As you progress, your enemies will move from defense mode to attack mode. So be ready to tolerate some action from their side too.
Also, as the game gets harder, people will start chasing you in various vehicles such as bike, car, jeep, and even helicopters. If you think that's enough difficulty, keep in mind that helicopters do shoot rockets and missiles and you must take down the bird before it kills you.
Awesome Graphics with a heavenly feel
The shinny and glossy visuals are just luring. Everything is designed in a high-resolution 3D format. However, there is no detailing feature, but that's just not at all important and can be ignored.
When it comes to animations, they might get quite funny, as the chasing goons might get confused and appear to act funny. Watching them falling off the vehicle is also interesting.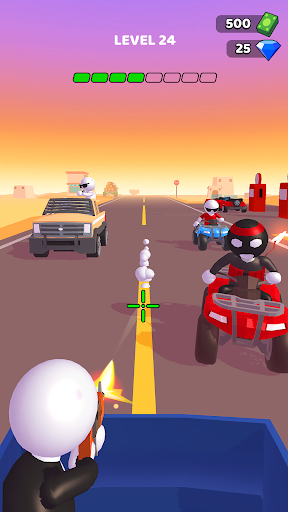 The characters are all actually the 3D representation of classic old stickman. Their implementation is just impressive.
Overall, the game from front-end to back-end and music is just perfect. There is nothing at all to complain about.
MOD APK Features of Rage Road
Besides amazing gameplay and graphics, here is something more interesting about Rage Road MOD APK latest version.
Conclusion
If you are looking for something new in shooting and action games, Rage Road MOD APK free download is a good choice. Not only it has money and gems feature, which you earn on successful takedown of each enemy wave, but it is also quite engaging too. Download now!