Play the Pocong Adventure game and enjoy an exciting game where you collect fresh fruits to feed the ghost. Avoid monsters because you have limited life and time!
Information of Pocong Adventure
Would you like to immerse yourself in gameplay where you will take up the role of a ghost? Download the Pocong Adventure by LemauDev and be the ghost who goes out to collect all the fruits he loves to eat now! It will not be a walk in the park since there are various challenges that one must complete and several dangers to maneuver on your way. You will need to be crafty and come up with strategies that will help you accomplish your goal as you explore the adventures offered by this amazing game.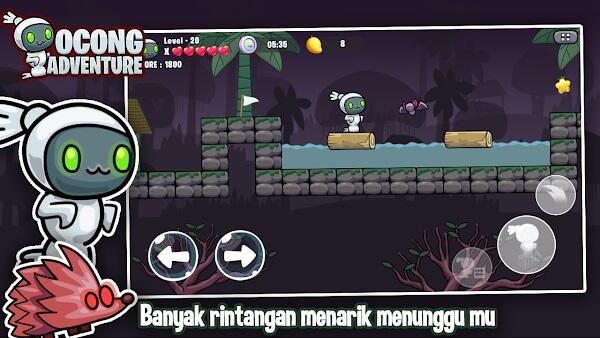 Pocong Adventure is a game that comes with quite a simple gameplay, where the player will is tasked to control their character to collect all the fruits that Pocong love. You will have to through various gates and paths to do that successfully. It will be best for you to avoid bats, wormholes, and other dangerous obstacles like monster goats that will be on the way. The world surrounding Pacong is not entirely creepy! That is because there are flowers that beautify the entire environment. Download this exciting game now and enjoy the adventure it has to offer.
Endless Pocong Adventure
This is one of the latest adventure games that expose gamers to a very dark forest and a cute Pocong ghost. here, the player should wander in the forest and help the character collect a variety of fresh fruits that the ghost loves. You will not only collect fruits but also flowers that must be collected to proceed to the next game level. There are various obstacles and enemies, but you can overcome them with the right strategy. This is the right game if you love playing games with a scary storyline where you need to defeat monsters to win!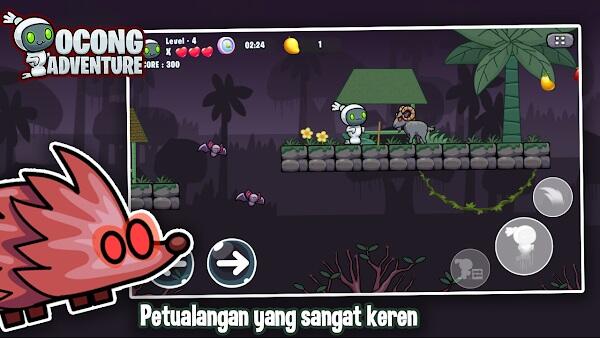 Notably, Pocong Adventure has over 100,000 downloads on Google Play alone and people have not shown any sign of stopping to download the game. It's not hard to see why because of its high-quality graphics and fun gameplay! Download the game now and experience the fun it offers on your mobile device.
Features of the Pocong Adventure
With very attractive 2D graphics, you will be able to play this game with smooth movements. Furthermore, the game has various puzzles players have to solve. Read more features of the game below.
Solve Puzzles and Collect Items – in this adventure game, you have a cute ghost character or Mumu, who should traverse through the dark forest in search of fresh fruits. The player needs the character to go around the forest, fight all enemies, and collect all the fresh fruits that this game offers. Besides, there are flowers that you need to collect to proceed to the next level with ease. Don't forget that the game is easy to play. However, you will face obstacles and puzzles that will need to solve. for instance, there are other monstrous animals like bats, goats, and others.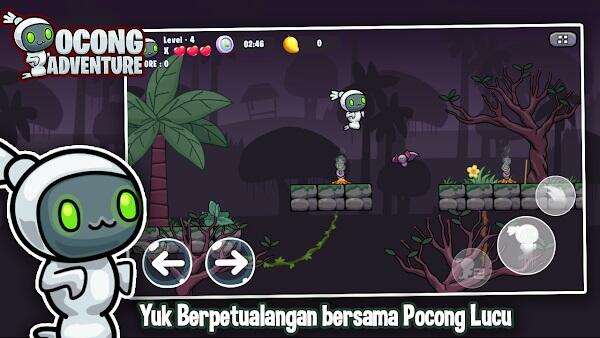 Attractive Graphics – with this epic game, you will not only enjoy story-driven gameplay but also get lost in a beautiful Pocong Adventure's 2D art. The graphics enable the payer to all the shocking details features in the game from character design, every blade of grass, and other items on the screen. That is everything is created meticulously with details and care for your viewing liking.
There is a feeling that one might feel lonely or scared when they first begin playing especially caused by the dark aspects and colors. However, the feeling slowly disappears as you plunge deeper into the adventures that each new level has to offer. The beautiful game environment kind of counters the scary theme of the game with some beautiful sceneries!
Simple Controls – the best thing about this game is that you don't have to memorize the combinations of various controls like many other games. With just a simple touch of the screen, you will be able to control your character to turn right or left as well as jump up. The player can also move backward or forward while jumping too! You can also confront and kill dangers such as bats and hedgehogs by pressing the attack button in the controller.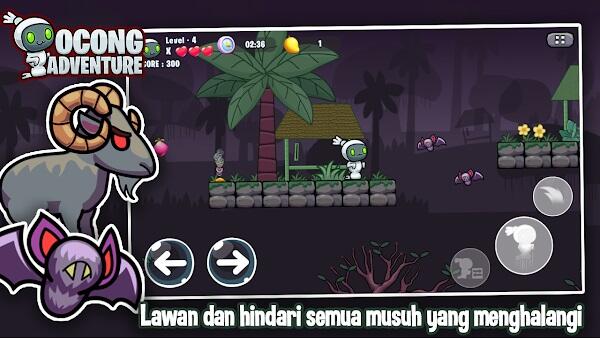 Checkpoints – gamers understand that a game without checkpoints is torture! But this one is different. With the checkpoints feature in this game, you will don't have to worry about repeating anything. Here, there are auto-save features for the moments you die between the gates or do something that may stop your progress! In addition, the autosave milestones help you continue later if you fail in some way.
Limited Time And Lives – in each level of the game, there are a certain number of lives. If you can't pass the stage before the time or your life runs out, you will go back to square one if the checkpoints feature is not active. You will only be lucky to start over from the point you lost the game if the feature was active right from the start. If you fail to think through every single play carefully, then chances are you will not outwit the challenges and you will fail to finish levels before lives or time run out.
Pocong Adventure Mod APK Latest Version – Unlimited Money
Don't hesitate to download the Pocong Adventure Mod APK game and enjoy the exciting action the game provides.