In the Oil Tanker Truck Driving Game Mod APK Unlimited money, you become a big truck trailer transporter who delivers gasoline oil, and gas! Complete your tasks to earn money!
Information of Oil Tanker Truck Driving Game
| | |
| --- | --- |
| Name | Oil Tanker Truck Driving Game |
| Updated | |
| Compatible with | Android 4.4+ |
| Last version | 2.2.29 |
| Size | 65.28 Mb |
| Category | Strategy |
| Developer | TW Games Studios |
| Price | Free |
| Google Play Link | |
| MOD | Unlimited money |
Unlock all level
Unlock all truck
Premium unlock 
About Oil Tanker Truck Driving Game
Do you like playing truck simulator games where you drive huge trucks with trailers? Oil Tanker Truck Driving Game by TW Games Studios is the best trucking simulator you should have on your android device!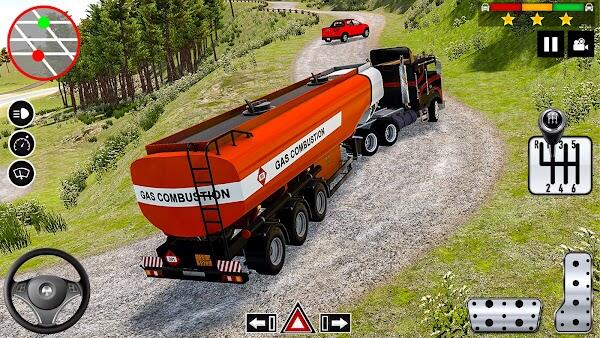 Join over 10 million gamers from around the world who are playing this game right now. This game gives players a realistic truck driving experience, although it is not entirely a simple task. You have to master all the driving rules to drive big trucks from one destination to another. As a pro truck driver, you have to drive a huge oil tanker across tricky and dangerous tracks, off-road tracks of deadly mountains, across cities, and other different locations.
Take part in lots of missions where you drive extremely heavy oil transportation cargo trucks to different locations. The game offers many challenging tasks. Off-road truck driving becomes more intriguing and thrilling. There are also dangerous mountains tracks and excessively hilly environments that you should maneuver
The Ultimate Trucking Experience
Truck simulation games are the favorites for many kids and adults. Today we bring to you the newest game that combines trucking and exploration in one gameplay. Oil Tanker Truck Driving Game is an amazing truck simulator game where you take on various game levels.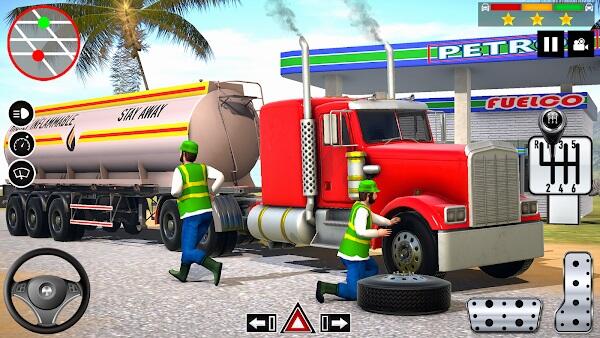 This game is created with exciting and vivid graphics and easy controls that make it a great game in its genre. Notably, this game will test your trucking ability and enhance your skill and experience on the road. You will have to drive huge trucks on risky roads in the mountains. One single mistake could result to a fatal accident!
Be keen and keep an eye on the fuel gauge to ensure that you don't run out of fuel. Remember that you are transporting flammable liquids and take every precaution not to crash the vehicle. This truck simulation game will surely give you a first-class and realistic truck driving experience with cargo transportation.
Oil Tanker Truck Driving Game Highlights
In the Oil Tanker Truck Driving Game, there is nothing like speed racing! You just have to get behind the wheel of a huge truck and deliver gas to various destinations.
Trucking Like a Pro – in this game, you will drive trucks to supply gas from one filling station to another. You will traverse the vast America and Euro maps as you deliver gas to as many destinations as required by the game. The game is filled with numerous challenges where you should drive off roads, across the mountains, driving in heavy traffic, and more.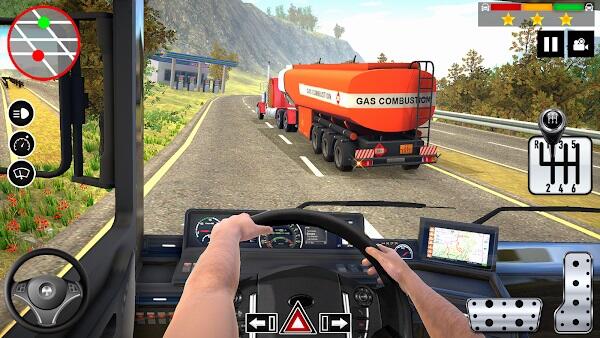 Face and overcome all these challenges and complete every mission to earn amazing rewards. The game also has many huge trucks you can unlock and use in your transportation missions. Each of the trucks has a different look and engine performance from the other. Choose your favorite truck and enjoy driving it across different tracks.
Extreme Transport Missions – become a heavy oil transporter truck driver and immerse yourself in extreme American truck transport adventures. Forget fast driving games and try out this trucking game where your primary mission is one! To deliver oil on time using the most modern trucks. The best thing is that the game offers you powerful 18-wheelers that you should use for every mission.
Drop the gasoline at the outlined destinations and go on to the next transport truck driving missions. As you begin your oil tanker job, you should visit a refinery where the refining process takes place and collect the refined products that are ready for transportation. Ensure that all the gasoline is loaded into the transport truck container before you begin your journey to city fuel stations.
Unlock More Trucks – Oil Tanker Truck Driving offers you a chance to drive a grand oil trailer lorry from one place to another. You can only do this if you are delivering fuel to some desired locations. Therefore, the game unlocks various types of trucks for the gamer.
You will be able to unlock lots of trucks with different looks and performance capacities. Become the king of trucking with this simulator of truck game designed for skilled truck driver gamers who love real trailer driving in open various map locations.
Unique Gaming Modes – the game offers different and unique gameplay modes including parking mode, career mode, stunt mode, free roam, and flying mode. All these modes provide you with interesting gameplay that no other truck driving game offers.
In career mode, you will play on many levels and face off with some new and more challenging tasks. In addition, other modes come with various levels to play and enjoy this trucking game to the fullest!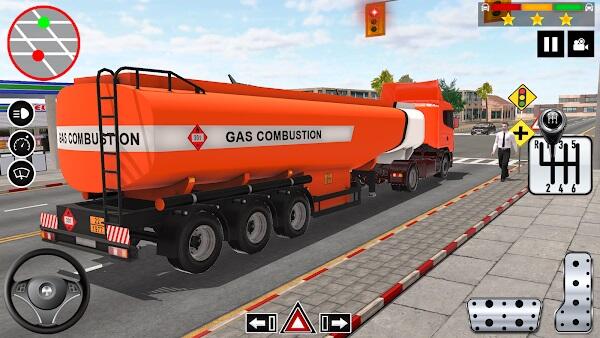 Real HD environment Graphics – this game comes with realistic truck driving physics that excites gamers with realistic 3D graphics quality. The graphics are attractive and presents eye-catching colors that look great from a smartphone display.
You will enjoy real road traffic animations in a realistic 3D city environment. The controls of this game are very simple and similar to controlling real trucks. Controls like steering wheel, gear, acceleration, brake, indicators, speed meter, and more are realistic and a replica of the real truck controls.
Download Oil Tanker Truck Driving Game Mod APK – Unlimited Money
Download the Oil Tanker Truck Driving Game Mod APK and put your trucking skills to the test. Perform stunts with the trucks and drive across many tracks with real realistic physics.