Is the Jeep your dream car? If so, download the Offroad Jeep Driving Parking MOD APK latest version. It lets you drive a powerful jeep as you take on dangerous terrain.
Information of Offroad Jeep Driving Parking
About Offroad Jeep Driving Parking
If you've ever wanted to drive a jeep, this game is for you. It takes you off the beaten path and into dangerous and challenging terrain. You must be careful as you drive your jeep across different landscapes since the slightest mistake can bring your jeep to a grinding halt.
The game offers realistic physics, making the experience more enjoyable. You'll appreciate and feel the power of your jeep as it drives through rocks, mud, and sand. Ensure you stay on track as you navigate the terrain and be careful not to get stuck in tricky areas.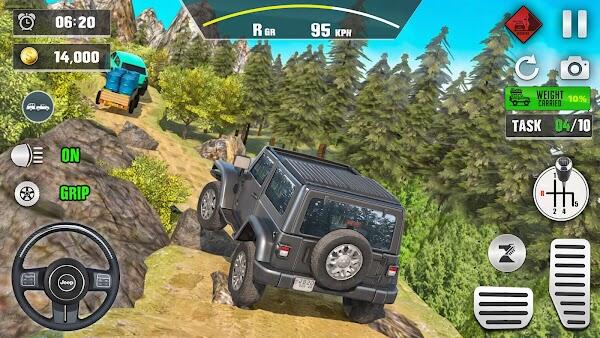 The game also offers a variety of levels to test your driving skills. The levels can be quite challenging, and you should always stay alert or risk crashing your jeep. You can use power-ups to help make the journey easier, such as boosters, extra time, and special abilities.
Even better, the game features parking missions. You'll be tested on your parking skills as you try to fit the jeep in tight spots. Be careful not to damage the jeep, as you don't want to go back to the garage for repairs.
Offroad Jeep Driving Parking APK - Background History
Jeep is a vehicle that has been around since the 1940s. Its roots can be traced back to World War II as it was used by the military due to its great off-road capability.
Today, the Jeep remains one of the most popular vehicles for off-roading and exploration. It has a cult following, with many people choosing it over other vehicles.
With the Offroad Jeep Driving Parking MOD APK for Android, you will experience the power of this iconic vehicle without leaving your home. It simulates the real-life feel of driving a Jeep, especially when taking on dangerous terrain.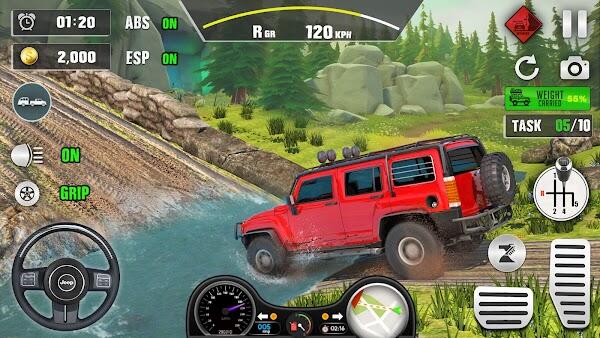 Even better, you can modify your Jeep with upgrades and customizations. This allows you to give it a look of your own. For example, you can make it look more rugged or luxurious. Just ensure your modifications do not affect the performance.
Highly Engaging Gameplay
This game will raise your adrenaline from the start. It features difficult terrains that require precision and skill. You will always be on the edge when driving your Jeep, as one mistake can spell disaster.
In the beginning, you will drive on basic terrains. Nothing too difficult. The developer intentionally makes it easy to get you familiar with the controls. Afterward, you will drive on tricky terrains & carry heavy weights, making it a feast for only skilled drivers.
These include delicate timber bridges, rocky paths, and muddy puddles. You may also find yourself at the edge of a cliff or in a tight turn. Overall, the game is highly unpredictable & you will never know what you'll find next.
Whatever it may be, you will have everything you need to tackle it. The jeep is equipped with a powerful motor and responsive controls, allowing you to make quick turns or stop suddenly.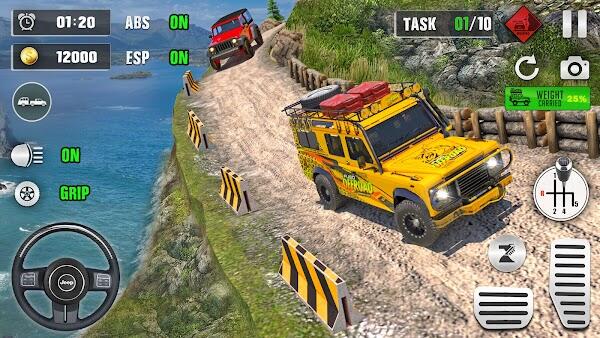 What's more, you can earn money and power-ups as you complete levels. You can use these to upgrade your jeep and make it faster & more powerful. Plus, there are always new tracks being added to the game so you can keep challenging yourself.
But don't forget about the parking missions. These will test your skills as you try to fit a giant jeep in tight spots. Get ready for an exciting ride with Offroad Jeep Driving Parking MOD APK on Android.
Outstanding Features of the Game
4x4 Offroad Jeep Driving. The driving terrain in this game would be impossible without an evenly powered vehicle. Fortunately, your Jeep is designed to tackle all types of off-road terrain. It will drift, hop over obstacles, and circumvent sticky situations with unrivaled ease.
Different Jeep Vehicles. Select from a wide range of Jeeps. Each Jeep has its unique attributes, allowing you to customize your off-roading experience. Whether you want a Jeep Wrangler, Cherokee, Renegade, or Grand Cherokee, you will find it here.
Realistic Physics & Animation. Enjoy realistic graphics and physics that capture the feeling of driving a real jeep over rough terrain. The animation is fluid and smooth, making it look & feel like you are driving a real jeep.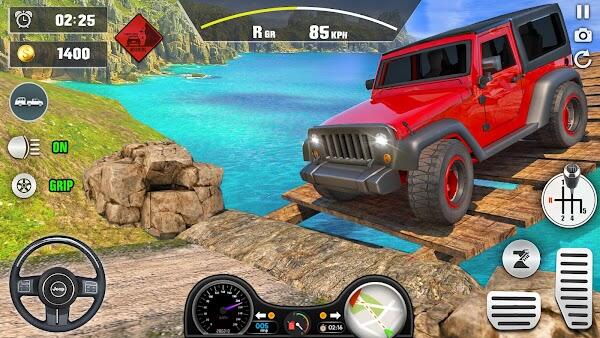 Authentic Weather Effects. The game features realistic weather effects that add to the atmosphere. You will feel like you're driving in the rain or snow as the environment around you changes accordingly.
Mountainous & Hilly Environments. Explore rugged terrains & mountainous environments as you drive through the wilderness. Keep an eye out for surprises that may be lurking in the shadows!
Highly Diverse Missions. This game offers diversified missions designed to test your tenacity, skill, and strategies. It is not just about driving; you'll also have to solve puzzles and circumvent difficult situations. This is particularly critical when undertaking parking missions.
Unrivaled 3D Graphics & Visuals. This game epitomizes amazing 3D graphics & visuals. You will be entranced by the sights & sounds of nature as you drive through the wild. The well-rendered forests, mountains, and valleys will take your breath away.
Simple Controls. The controls are easy to learn & understand. You will quickly master the art of driving a Jeep and have fun exploring the Offroad terrain. Additionally, the user interface is straightforward, offering you all the relevant information, including grip options, speedometer, and fuel indicators.
Compete against Other Players. Participate in tournaments and compete against other players from all around the world to prove your worth. Rise in the ranks and show off your off-roading skills.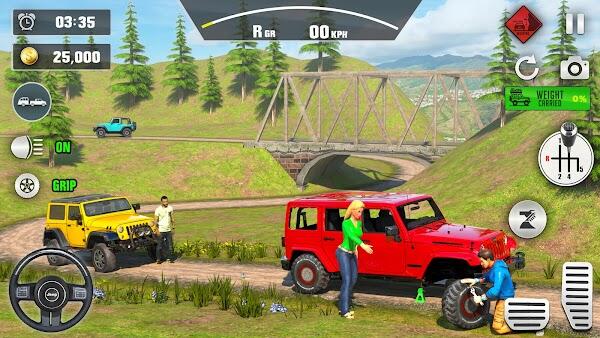 Numerous Customization Options. Customize your Jeep to give it a unique look. Change its colors and wheels & even upgrade its engine for better performance. You can also pick different accessories that would make it more intimidating.
System Requirements & Additional Information
This game is lightweight (approximately 49MB) and will not bog down your phone. It is developed by GamePark and requires Android 5.0 & up to operate flawlessly. Nevertheless, the game is optimized for lag-free play.
Even better, the game is 100% free. However, there are in-app purchases ($9.99 – $199.99 per item) to enable you to progress faster. You can also use them to disable ads, ensuring an uninterrupted gaming experience.
Overall, Offroad Jeep Driving Parking MOD APK download is an incredible game that allows you to explore beautiful landscapes in a powerful jeep. Test your driving & parking skills and compete against other players as you rise through the ranks.
How to Enjoy this Game Maximally?
Before you start playing the game, take time to develop a strategy. Think about how you want to tackle the environment & obstacles ahead of you. You can then select the vehicle that best suits your style & preferences and customize it accordingly.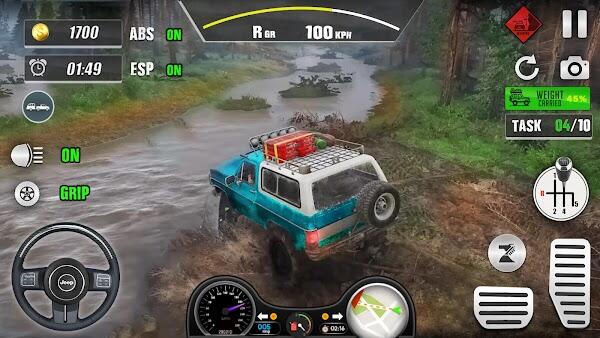 You can also explore different gripping options like snow, mud, and gravel for greater control over your vehicle. This will make it easier for you to navigate the terrain and maneuver obstacles.
Additionally, practice different parking techniques to easily complete missions quickly & efficiently. Make sure to pay attention to your fuel consumption as well – running out of fuel could cost you the mission.
Finally, don't forget to measure your performance against others by participating in tournaments. The leaderboards are the best way to check your progress and see how you compare with other players.
Conclusion
Offroad Jeep Driving Parking MOD APK download offers an excellent way to explore the off-road terrain in a powerful jeep. Gather your wits, devise strategies & take on challenging missions.
The game boasts breathtaking 3D graphics & visuals that will leave you enthralled. It also has simple controls, highly diversified missions, and numerous customization options for your Jeep.
You can also compete against other players & rise through the ranks to prove your worth. Download it and put your driving & parking skills to the ultimate test.