Are you obsessed with gaining amazing muscles? In the game Muscle Rush Mod APK, you can get big by running in obstacle races and picking up whey and many more!
Information of Muscle Rush
Do you dream of a body that you see on weightlifting competitions or bodybuilding ones? A lot of people are exercising regularly today so they can achieve the body that they're dreaming off. The dream of nice six pack abs and incredible muscles on your legs and arms is nice. In Muscle Rush, you can easily get these by getting all the protein shakes as you go through obstacle races today. Destroy many walls and swat criminals away!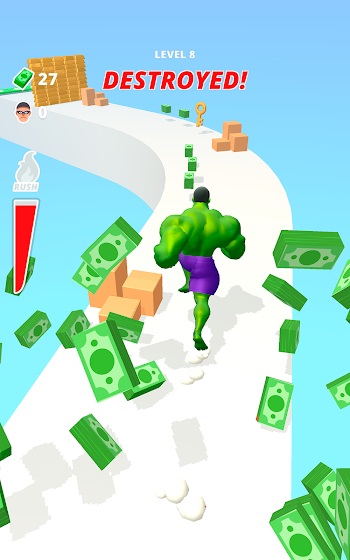 Published by SayGames, this is a fun obstacle course game that lets you go through many levels of relying only on your pure muscles! Here, you'll start off in a moderately average body but you'll grow instantly throughout. You just need to pick up all the protein shakes and cash along the way and break many obstacles today! But you need to be careful of certain obstacles that can electrocute you, can make you slow down and can stop you. Do you have the muscles to break through everything?
Muscle Your War Through
We all have muscles but some have it big while others look wimpy. But if you exercise regularly and maintain a healthy lifestyle, you can definitely achieve the body of a bodybuilder. There are many people today that look like hulks with their enormous body full of muscles. If you want to get those too easily, you'll need to play Muscle Rush today. In this unique obstacle course game, your victory relies on your muscles literally!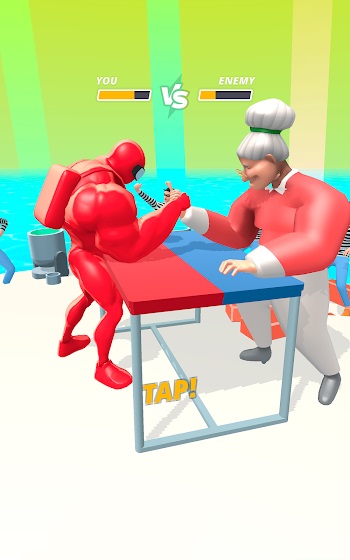 You'll need incredible muscles to power your way through different obstacles today. In each obstacle, you'll face many traps and obstacles such as bricks, wood, boxes, and even people! But the good news is that you can power through them as long as you pick up all the protein bars and cash you can get. The more levels you complete, the more characters you can unlock today such as the hulk, a policeman, a red hero, and many more. You can also unlock funny and incredible hats!
Most importantly, you can level up your punch and rewards that you can get. Go through many obstacles now and enjoy your overwhelming strength.
Muscle Rush Features
There are many people who wish they have a body of a bodybuilder. But in Muscle Rush, you can easily get that while going through obstacles.
Beat the Obstacles – Many people dream of the perfect body which is a six-pack abs, enormous arms, strong legs and fast reflexes. There are so many obstacles that you'll face even if you're strong but you can just use your overwhelming strength to power through them. In Muscle Rush, you'll get to enjoy a variety of obstacle races today. Here, you can use your body as you collect more protein shakes so that you can become bigger. Here, you'll face many obstacles along the way and even people.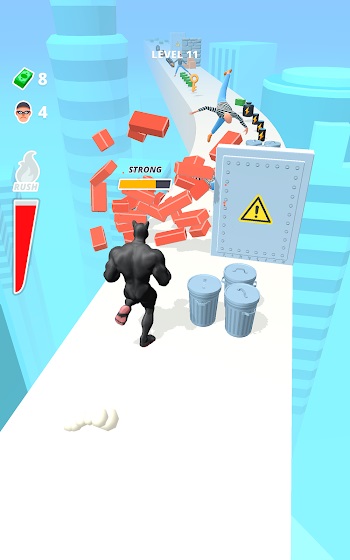 But you don't need to be afraid as you can just punch and storm through them the bigger you get. But don't forget to pick up the cash along the way as well and get as big as you can. At the end, there's a big boss and a surprise waiting for you such as a big safe, a match and more. But you can also enjoy unlocking heroes and hats today!
Complete the levels – There are so many levels to face today that you can complete. In each level you'll face many obstacles such as bricks, woods and plenty of inmates. You must overwhelm them with your strength today to finish the levels and get plenty of cash. Don't forget to pick up the protein shakes along the way and the money so you can get more rewards.
Unlock heroes and hats – In Muscle Rush, you can unlock many heroes and hats today. The more levels you complete, the more heroes you can unlock which range from the hulk to a caveman, to a policeman and many more. Here, you can unlock many hats as well that ranges from a native one to many funny ones. You can unlock them all by completing more levels today!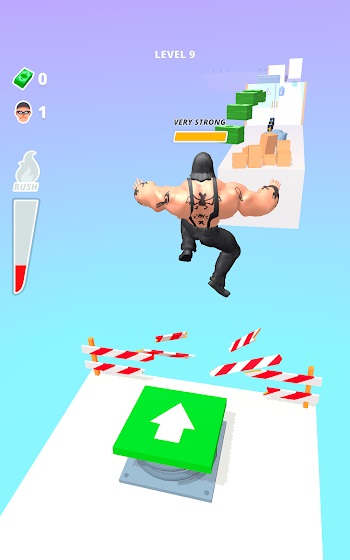 Upgrade your hero – You can also have fun upgrading your hero right now. The more cash you have on you, the more you can upgrade your hero's punching power. Aside from that, you can upgrade the cash rewards you can get today and enjoy many more rewards. This game lets you upgrade many things today!
3D fun graphics – In this game, you'll enjoy fun graphics in which you'll be able to move your character sideways to avoid the obstacles. Enjoy physically enhancing your character now.
Download Muscle Rush APK – Unlimited money
If you enjoy muscles, download Muscle Rush today. Power through various obstacles now using your muscles.