Would you want to play a game where you help your avatar gain immeasurable muscles? Download the Muscle Race 3D latest version now and gain toughness muscles!
Information of Muscle Race 3D
| | |
| --- | --- |
| Name | Muscle Race 3D |
| Updated | |
| Compatible with | Android 5.0+ |
| Last version | 1.2.0 |
| Size | 50.21 Mb |
| Category | Racing |
| Developer | GOODROID,Inc. |
| Price | Free |
| Google Play Link | |
| MOD | Unlimited money |
If you have been wanting to become a world's renowned bodybuilder, this is a perfect time! With the Muscle Race 3D game, you will become the biggest and swiftest athlete. This is an action and racing game created by GOODROID, Inc and can be downloaded and installed on Android and iOS devices. In addition, the game is also compatible with Windows PC.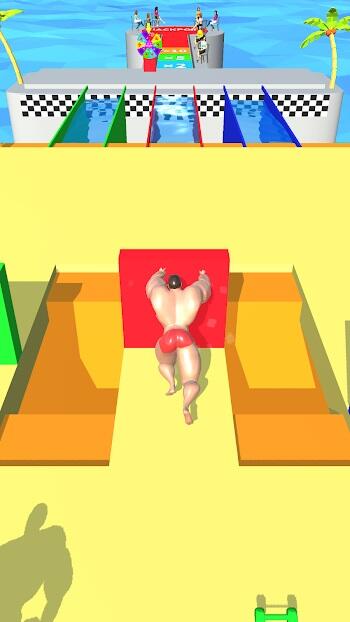 The gameplay of the game requires the gamer to work out with a character, collect color dumbbells ad build their body! Just like in real life, it will now be a walk in the park. You will need to break through some gimmicks to fulfill your goal of gaining toughness muscles. To make the game more interesting, the developer included hints and tricks that you should perfect in the gameplay. Download the Muscle Race 3D game and join the game community that is looking forward to being the best bodybuilders of all time!
No Muscle Gain, No Life!
Muscle Race 3D is all about gaining enormous muscles and using them to push, pedal, or swim to victory. The gameplay includes a runway where the character should collect colored dumbbells to exercise and acquire the best body shape ever! Notably, you should consider putting more effort to cross the finish line fast, but gigantic!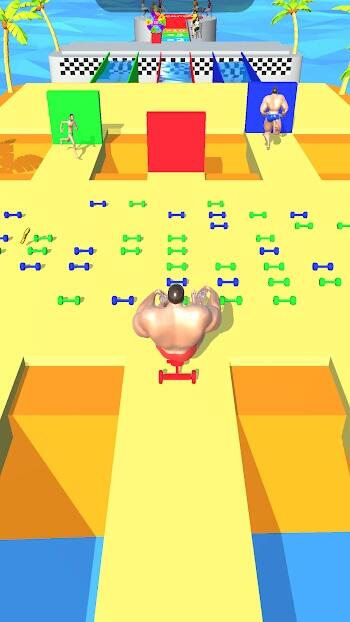 The robust setting of the game allows you to strive for excellence in bodybuilding sport. With the variety of the actions here, you will need to become a muscle-wreathed maniac for some time. Get started on your mad gains journey now and find activities and challenges that will make you even stronger. Defy all odds to complete all game levels and overcome all obstacles. There is no running away from the exhausting yet thrilling action in Muscle Race 3D.
Muscle Race 3D Features
The game offers a variety of levels for players to sail through a range of fatiguing challenges. However, you must remain objective to win and be the huge guy with massive muscles. More to that, here are some of the features that you will experience while playing the game.
Easy Controls – the game has easy controls that do not need players to be pro gamers. You only need to control the character to be in the right lane, collect dumbbells to gain enormous muscles. In case, you are not sure of the lane you need to be on, follow the flashing arrow. For the most part during gameplay, you will tell if you are on the right track by the color of the item on a specific lane. However, sometimes that may not the case and you will be required to crisscross and aim to collect any object on the runway. Anyway, always head for the arrow if in doubt.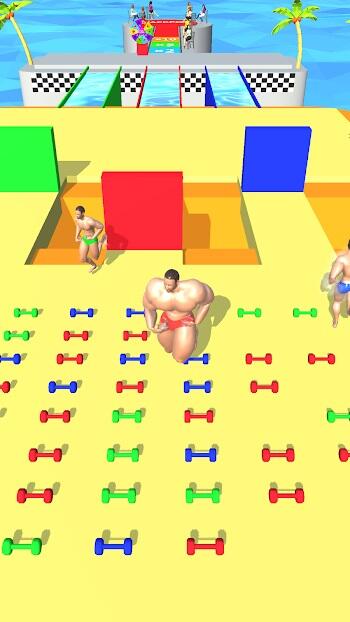 Unlimited Money – gamers are given a chance to make unlimited money in form of coins. The collected money can be utilized in unlocking new skins, to change your muscle-bound hero! Every purchasable item in the game can be found in the store at the start of every level. To buy skins or any other item, you just need to visit the store. You can multiply your coins by watching videos.
Gain Weediest Size – acquire an extra-large body size and become a bully with muscles. Let the cruel action of the game give you something in return – a fantastic body size! When you get bigger than your opponents, you will easily knock them to the ground. When you grab many dumbbells, you get in a better position to win. You simply should not settle for anything except massive muscles. Just attempt to pick up dumbbells until you cannot collect anymore!
PC Compatibility – it is understandable that there are gamers who desire to play this stimulating game on a larger screen. Well, the good news is that it is possible to download, install and play this game on their Windows PC. With emulator applications such as MEmu, you can easily overcome the limitations of the mobile device battery, disturbing calls, and the tiny screen of your smartphone to play this game on a larger screen today. Won't it be interesting to play like a pro, with a keyboard and mouse?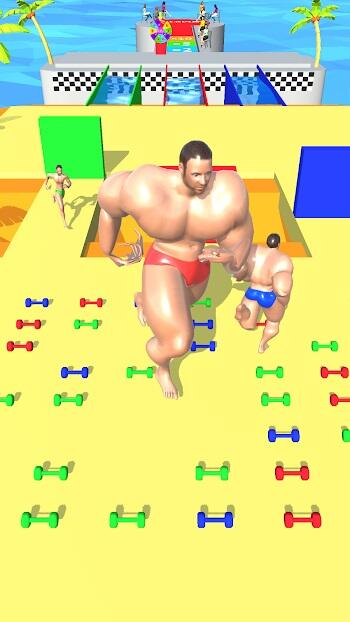 Use Your Time Wisely – with the amount of time available in mind, you should try to finish every level fast but with a huge body size. The main aim of the game is to move fast and promptly grab as many dumbbells as possible. Download the Muscle Race 3D game and run against time to acquire a Hulk-like body!
Simplistic 3D Graphics – the game comes with fine graphics that make the entire game action smooth and realistic. The graphics used here brings out new visual experiences that make this game interesting.
Download Muscle Race 3D Mod APK – Unlimited Money
With the Muscle Race 3D Mod APK, you can make more unlimited money and unlock various skins. Download Muscle Race 3D Mod APK Latest Version now and enjoy great gameplay!