If you love playing arcade games, Muscle Land Mod APK is the best game for you! Experience the entire adventure where you make calories and gain immense muscles!
Information of Muscle Land
No ads
Unlimited calorie
Unlimited energy
The muscle land game by Panteon is an arcade game that welcomes you to a virtual world where you start your new adventures. Here, you will have a vast space where you will need to expand land and create vital facilities like storage rooms, gardens, animal feeding areas, gym sections, and more. Once you start the action in this game, you will need to ensure that you are growing crops rich in calories in the garden to boost your energy levels.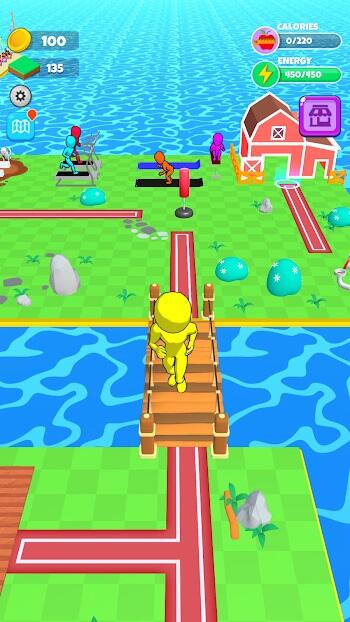 You will be performing other duties in the game such as gathering meat from animals, farming in the gardens, collecting sweet gummy bears from trees, practicing at the gym section, and more. Just make sure that you build your character into an amazing muscle man with optimum agility to continue building a fascinating world in Muscle land! Download the game now and join over 50 thousand gamers who are enjoying playing it around the world.
Make Some Serious Muscle Gains
Immerse yourself in a virtual world where you will do various activities to gain more muscles. Muscle Land gives you the chance to taste the ultimate arcade experience doing anything you want across the massive track of land. It is addictive and fun and offers players a mind relaxing gameplay full of many actions. Rear animals and do not forget to give food and water! go on to grow foods rich in calories in the gardens, shake sweet trees and pick up gummy bears, expand more land and eventually create a storage facility for your calories gain spend it later! Get the game now, grow your muscles, and enjoy making some gains!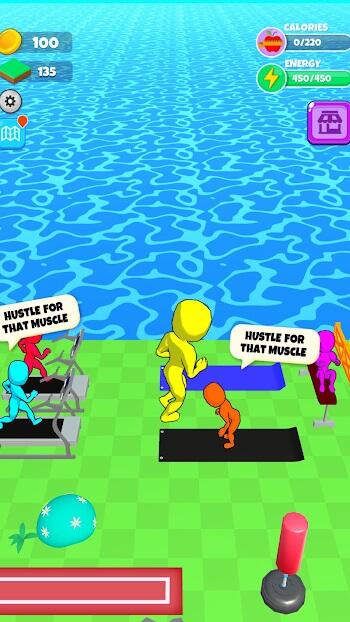 At the begging of the game, you will start with a small space you will continually unlock other areas and expand your territory in the vast lands. As you continue playing, you will be able to instantly discover various facilities like the gym area, homes, a garden, and more. besides, you will be able to do a lot of things at random like growing food, rearing animals and feeding them, going for fitness sessions, and more. Enjoy the simple gameplay where you get the lead to what you should do next from a red arrow. Always go to the direction indicated by the arrow to expand and discover other essential facilities.
Features of the Muscle Land Game
Without a doubt, you will not get bored playing this game. Because of its exciting gameplay and outstanding features, you may end up playing for long hours.
Boost Your Calories – note that the muscle land character should have enough energy to do the various things that will complete each level of the game. Notably, the game interface vividly displays the calories and energy levels of that character. Ensure that you don't outdo the characters' energy levels because he will not be able to perform many of the required tasks. The most interesting thing is that you will be able to grow crops that will give you more calories from gardens provided by the game.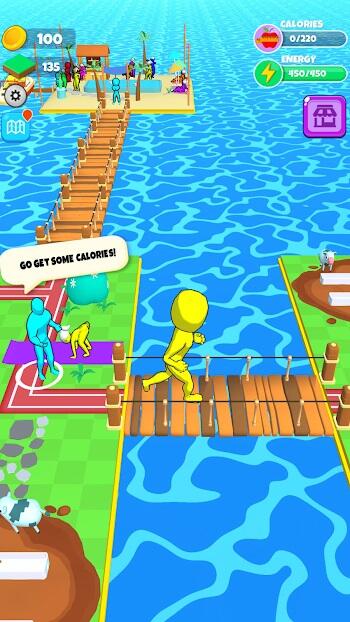 Simple Controls – this is one of the fewest arcade games that give gamers easy controls. To move the character, you just need to swap the screen to the desired direction. To know where you need to move the character next, follow the lead given by the red arrow that appears ahead of him. Moreover, more instructions on what to do will also be displayed on the screen as you continue playing. For example, you will only need to tap the screen to make the character perform various moves in the gym section.
Hire Workers – this game allows you to have various workers in the background who will actively help you to do various things in the background. You will have to upgrade the worker to enhance their capacity as workers in the muscle land.
Unlimited Coins – most of the successfully completed actions will earn you unlimited money. In fact, you can be able to make unlimited money for unlocking more land and performing more activities that will help the character in the game grow more agile. With that unlimited money, you can easily upgrade the workers' ability as well as buy more in-game items to make the game interesting. You can also upgrade and expand your storage capacity with sufficient coins.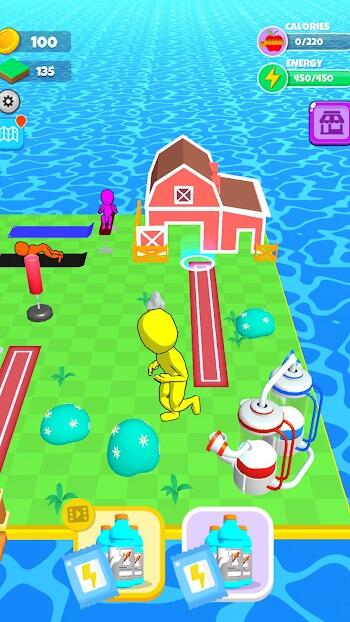 Intriguing 3D Graphics – this game comes with 3D graphics that offer the best sceneries throughout the game environment. As you move around the massive land that you have created, the movement and reflexes of the characters are very realistic. The simulation of various things is lifelike and you will actually appear as if you are on a real farm doing real things!
Download Muscle Land Mod APK - Unlimited Money, Free Shopping
With Muscle Land Mod APK, you will expand your land collect calories from sweet trees, and plant crops rich in calories to get unlimited energy!