Transform your life from rags to riches in the Money Run 3D Mod APK - unlimited money game now! Collect all the money there is on the runway and gain a higher social status!
Information of Money Run 3D
| | |
| --- | --- |
| Name | Money Run 3D |
| Updated | |
| Compatible with | Android 5.1+ |
| Last version | 3.1.6 |
| Size | 126.08 Mb |
| Category | Racing |
| Developer | SPACESHIP STUDIO |
| Price | Free |
| Google Play Link | |
| MOD | Unlimited money, diamond, gems |
If you would want to play a game where you transform yourself from a hobo to a billionaire, this is the game should play. Money Run 3D by Spaceship Studio is an obstacle race where the player has to collect and accumulate as much money as possible and grow from rags to riches! There are many obstacles that the player should get past while spending the bare minimum.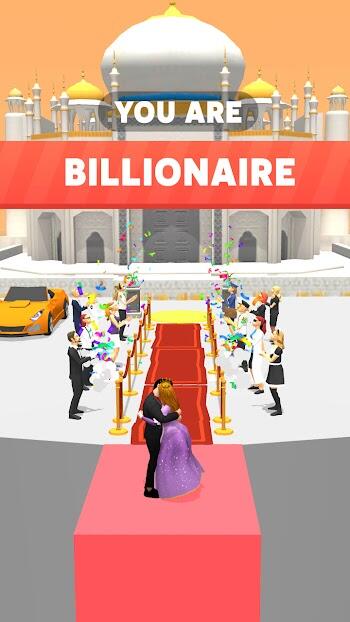 Endure the various categorizations of the character as a hobo, poor, decent, or rich person! You will be the one to determine what category you will be. At one level, you can even transform yourself into a rich billionaire!
Collect all the money there is to make a real change in your livelihood. All the same, you will be able to get past the barriers we encounter in our path by creating staircases literally made of money (notes). That is the primary aim of the game! Don't search for the best run race 3D game any further! Download Money Run 3D and experience how it is to change your life from a poor and homeless man in ragged clothes to become a billionaire!
Let Your Money Take You Places!
Spend your money on building green staircases made of notes and move around obstacles. You will also be able to attain a better social status with a sufficient amount of money. The game is simple and interesting at the same time. Here, you will be able to control the character while picking up all the bundles of notes along the runway.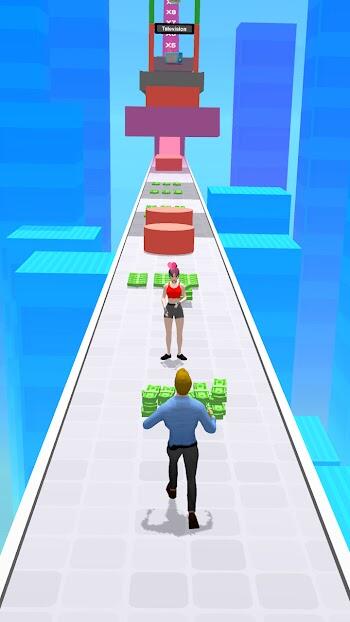 With the accumulated money, you will boost your purchasing power and go a level high in the social status hierarchy. To get past the obstacles, you need to use the money in building staircases. However, there are two things to watch out for. First, you should not run out of cash! second, you mustn't spend more than you can afford.
If the gamer runs out of cash, then he or she will crash into obstacles. If all the money is squandered, the player will go bankrupt and finish the game a poor man. So, if the player does too much of one thing or not enough of the other, they will end up falling into abject poverty continue living a disappointing poor life.
Money Run 3D Features
If you have ever wanted to know how it feels transforming life from a poor man to a billionaire, download the Money Run 3D game now. Enjoy the features below!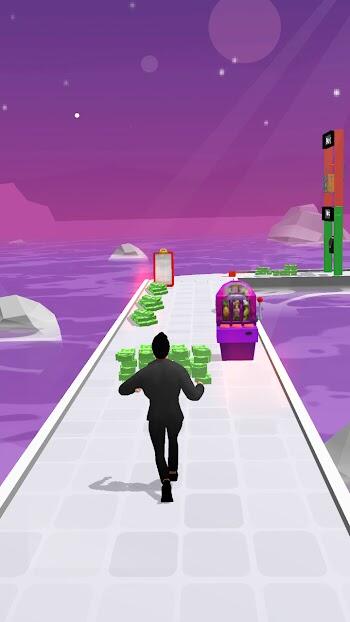 Amazing Moneymaker Gameplay – you will start the game as a homeless person. Here, your mission is to collect all the money there is, study, buy flashy things, and work to become rich. However, you need to pay attention to overcome obstacles by building a staircase using your money. Make sure that your maneuver all obstacles because these are the things that will make you go bankrupt.
Depending on how fast you collect the money, you can become a billionaire and finish every level in riches. Here, you cannot change from poor to rich immediately. The process is gradual! Amid all the obstacles, grow a saving habit to acquire a house and other forms of assets. Becoming a millionaire today and acquire queen or king's outfits and live a dream life.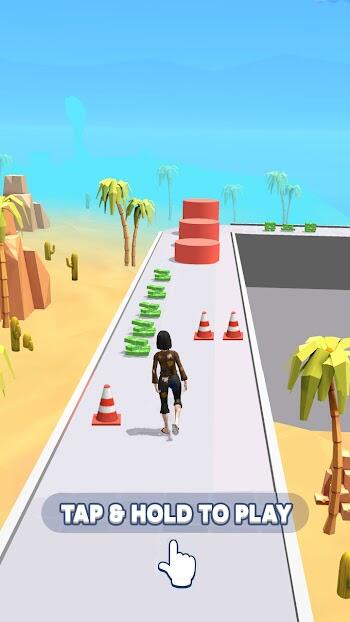 At the end of every level, we will be rewarded by rising on that social ladder depending on how much money we have managed to keep. Download the Money Run 3D for Android and taste a great livelihood!
Unique challenging levels – Money Run 3D comes with various levels that have different challenges. In various game levels, you will have different characters, either male or female. However, despite the change in gender, the gameplay remains the same. You have to collect as much money as you can to ensure that you get to the finish line as a rich person.
Each level comes with unique obstacles that will keep taking you down and making you poorer. You need to maneuver these are an obstacle to attain greatness and win the game! Use your money to create staircases and go around the obstacles effortlessly! However, the challenge is spending the money in moderation because you might go home the same way you were at the start of the game!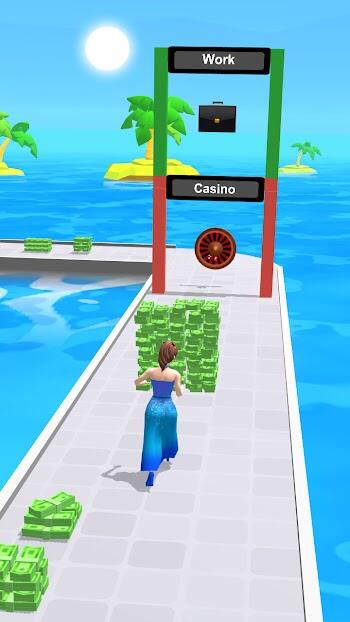 Simple and Smooth Controls – this game comes with simple tap-to-play controls that start the game. Then, you should control the character to collect all the money there is on the runway. Tap on the screen once to create a staircase with notes to avoid ramming into obstacles. Otherwise, the game will end and you will have to restart all over again!
Vivid Design & Bright 3D Graphics – if you are looking for a fun run race 3D game to help relieve stress, download and install the Money Run 3D game. This game has colorful and bright graphics that bring out the game environment and activities in a smooth and vivid manner! The game simulates the path to success – from a poor background to billionaire riches!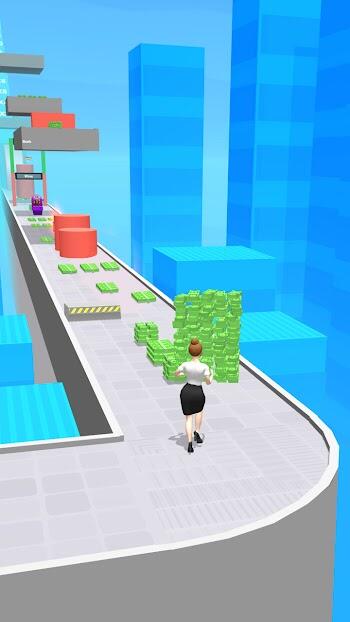 Unlimited Money – this game is definitely one of the greatest run race 3D games that you cannot miss. Here, you will be able to make lots of money, avoid obstacles, and make yourself a billionaire! Moreover, the reward for winning every level is more and more gold coins.
Download Money Run 3D Mod APK – Unlimited Money & Gems
Earn unlimited money and gems in the Money Run 3D Mod APK as you try to build your billionaire empire! Collect all the money there is and transform your life!