If you ever wondered how underground railway systems are constructed, get the Mini Metro game today. Learn as you enjoy an exciting simulation gameplay now!
Information of Mini Metro
| | |
| --- | --- |
| Name | Mini Metro |
| Updated | |
| Compatible with | Android 4.3+ |
| Last version | 2.53.1 |
| Size | 75.70 Mb |
| Category | Simulation |
| Developer | Dinosaur Polo Club |
| Price | $0.99 |
| Google Play Link | |
| MOD | Unlock All Cards |
Mini Metro is a simulation game developed by Dinosaur Polo Club where the player creates subway maps. Here, you need to take the reins of the underground cities in the world and join them with the most sophisticated rail ever seen. You will get a chance to create a fast public transport system that will serve the entire population in the cities. Ideally, the gameplay involves constructing a well-functioning urban underground transport system. To help you attain your goals, you will have several metro lines and gradually expand the network as you advance in-game levels.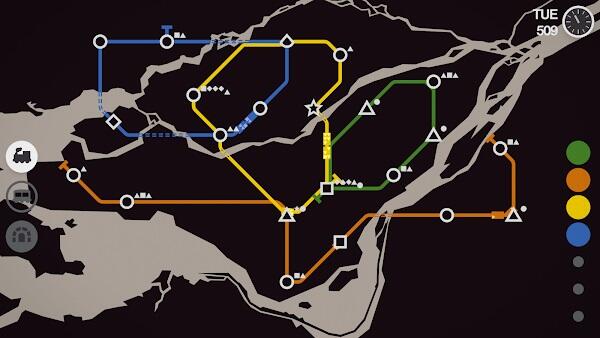 This premium game makes you the ultimate city engineer. You will use most of your time laying out and building tracks to reach every station. Even so, it is worth noting that you will have no control over the location of some stations. You will notice that they simply pop up as you progress in-game levels. The only thing you need to do is to adjust and expand the tracks to link them to the existing network. Download the game now and join over 1 million players who are constructing new rails, adding new trains and carriages to support commuters.
Build Rails To Connect Stations
This subway-making game involves connecting various underground stations with simple routes. In the beginning, you will start with just a few stations that you connect with colorful tracks. More stations pop up over time as you get to more advanced levels. The mains goal of the player is to keep things running flawlessly even when the underground public transport channels are expanding.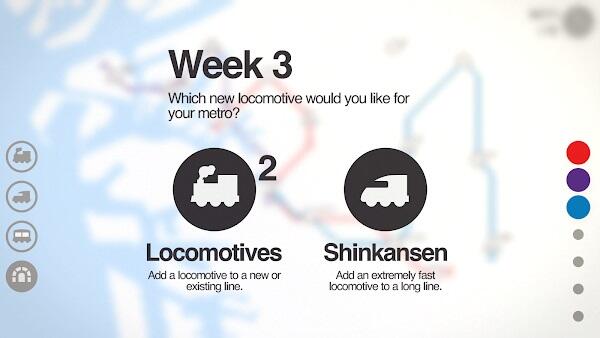 You need to understand where you need to lay the next underground stretch to help the passengers reach their destinations fast. You need to know their needs and to be guided during the construction. Otherwise, the loss will not be far off. Also, you should be aware of the scarcity in the number of trains and the viable options for laying tracks. Be keen to make spacious stations that can't overflow. The game is compatible with Windows PC, meaning that you can play it on a larger screen. The latest version comes with minimalist graphics and unlimited underground maps.
Mini Metro Features
If you are looking for a game to pass time and relax your mind, then this is the perfect game for you! Download this game and enjoy building your metro system. Here are some of the exciting features that make the game interesting.
Amazing Strategy Game – a majority of gamers consider Mini Metro as a strategy game. Well, it is! Here, a player must strategize and be able to build metros for numerous cities. The main task of the player is to connect the stations with simple routes and vivid colors. Although strategy and construction simulation games are considered complex, this one is simple and entertaining.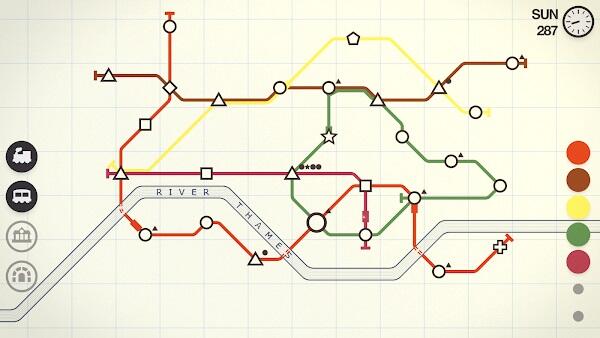 During the gameplay, players need to be wise, creative, and keen in coping with all the challenges that come up in each game level. Also, they must give the best results in engineering and mapping excellent and workable city metros. Acquire and use various objects, build trains, and underground railway lines that meet the travel need of everyone!
You will find yourself playing in multiple cities with more than 20 metropolises across the world. As such, you will need to come up with unique strategies for every city. Get this game today and have fun with the simple yet extremely remarkable gameplay of Mini Metro.
Unique Puzzle-Solving Gameplay – with this game, players are exposed to unique, simple, and fun gameplay of stimulating simulation and puzzle solving. Besides, the game introduces a rather refreshing and new concept, in which, players become the builder and designers of the city's metro system. However, there are various puzzles to solve in making simple routes. There are also challenges as you attempt to construct the most effective and safe railway system in most cities.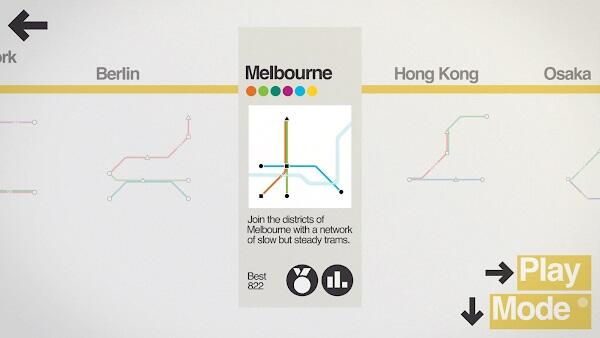 Play In Real-Life Locations – different game levels offer players real-life experiences of a variety of actual locations around the world. A player can build railway systems in major metropolises across the globe like Tokyo, Hong Kong, Guangzhou, Osaka, Melbourne, Berlin, London, New York, and others. In each of these locations, there are new spectacular levels and challenges for you to enjoy. Furthermore, these locations will have varying terrains and zonings that will make the gameplay more dynamic and enjoyable.
Various Upgrade Options – Mini Metro introduces players to an upgrade system that assists them to build the metro more economically and efficiently. When gamers complete all the available challenges of the game, they receive rewards. Then, they can use these rewards to increase the upgrade system options in the game. Through this system, players enhance the level of efficiency during the building of the metro and the construction cost will considerably reduce. As a result, the construction of the metro will be done smoothly and players can build countless routes without breaking a sweat!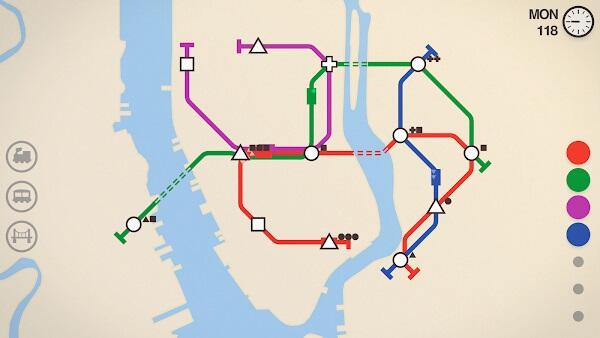 Excellent Visual and Sound Quality – the graphics of the game makes the player dive into a vast yet simplistic game environment. As you design your mini metro, with dots and lines, you are exposed to colorful designs, smooth animations, and an intriguing interface. All these features make the game more enjoyable. The game also features electrifying sound effects. You can play the game all you want with incredible melodies motivating you to go on!
Download Mini Metro Mod APK Latest Version – Unlock All Cards
Mini Metro Mod APK comes with modified and unlocked features, objects, and even maps. Download the latest version now and enjoy the sensational in-game experiences now!