Download Life in Adventure MOD APK unlimited gems latest version and become an adventurer. You'll choose an event that you can explore, conquer, and have crazy fun while at it.
Information of Life in Adventure
| | |
| --- | --- |
| Name | Life in Adventure |
| Updated | |
| Compatible with | Android 5.0+ |
| Last version | 1.2.5 |
| Size | 95.10 Mb |
| Category | Simulation |
| Developer | Studio Wheel |
| Price | Free |
| Google Play Link | |
| MOD | Unlimited money |
Life in Adventure is a simulation game created by Studio Wheel. It incorporates realistic game physics and outstanding graphics to ensure that you enjoy a near-real adventurous experience.
When you join the game, your primary challenge will be to choose a route that you'll follow in your adventure escapades. You must have certain goals from the beginning!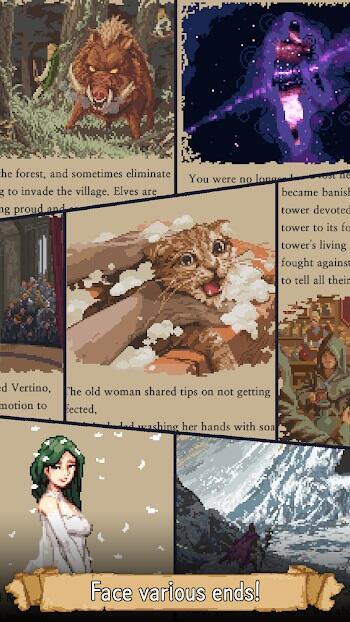 As such, you'll be obliged to make every decision based on your needs and goals. Will you achieve your goals at the end of your adventurous course? Download Life in Adventure for Android and pursue the journey at the comfort of your smartphone.
An Interesting Plot
This game boasts a highly engaging plot that will leave you awestricken. It starts with a story-telling module where you'll get a brief of what your adventure is all about.
Your adventure will begin with a king's decree. The ruler of the land will blow a trumpet to signal the start of the adventure. You should ensure that your adventurous journey will be remembered by generations to come.
Out of determination, you set out for the journey. When you get to a small town to refill your food baskets, you're caught up in an ugly situation.
The village is under siege!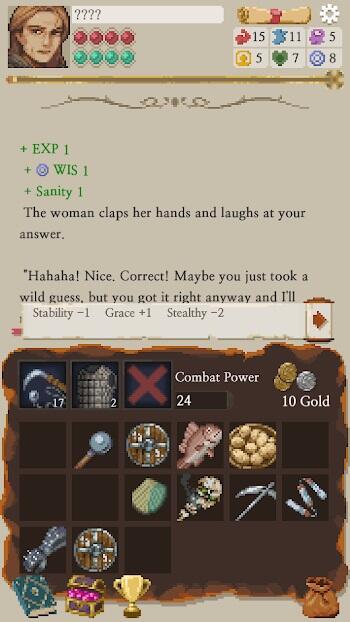 Houses are burning and attackers are surrounding the village to kill everyone who escapes from their houses. You can choose to enter the village and save it or choose a different route.
If you save the village, you'll be crowned and earn numerous treasures. Are you ready to overcome as many difficulties as possible to become a hero and a great adventurer? Download this game and find out for yourself.
An Immersive Gameplay
Life in Adventure offers an immersive game with Dungeons and Dragon (D&D) RPG gameplay where you'll be required to explore the land, overcome challenges, and win the crown of being the best adventurer.
You'll be encountered with various options to make. You must be careful when choosing which event to pursue since it'll directly affect your chances of completing the journey.
Some of the events and options that you'll encounter include choosing your abilities, assets, and routes to follow among others. The game's ending will be influenced by your choices with a little bit of luck element in it.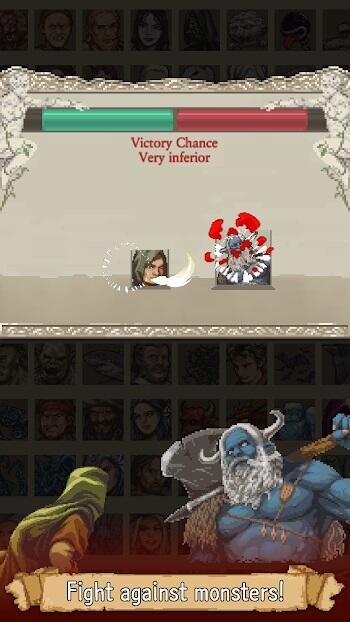 Additionally, the game is characterized by various challenges, including:
Combat System. In this challenge, you'll be required to face your enemies head-on and defeat them in fierce battles. As such, you must have sturdy weapons. Ensure that you unlock some of the most sophisticated weapons in the game store to increase your chances of overcoming the adversary.
Pixel Art. This is an important component of the game that allows you to express yourself through emotional pixel art. Ensure that you win points for being extraordinary in this sector.
Engaging Epilogues. The game comes with various epilogues for your consideration. Always remember that your choices will affect the ending. Choose wisely!
An Up-to-Date Rank System. Whenever you complete a mission, you'll earn points. This will help you to rank high in the game's in-built leadership board.
Unique Diagram System. This game offers you the rare opportunity to collect different epilogues, items, and monsters in a diagrammatic way.
Overall, this game tests your skills, intelligence, and requires determination to achieve success. You must showcase your wits when facing complicated situations that require urgent solutions.
Superior Graphics and Realistic Sound Systems
Life in Adventure offers the best of both worlds – breathtaking graphics and realistic sound systems. You'll be completely absorbed into the realm of this game as it is characterized by colorful textures and beautiful landscapes that will make you feel part of the world.
Additionally, each event will come with its unique sound effects, including:
Monster attacks
Player movements
Explosions and other sounds that'll help you to immerse yourself in the game
Straightforward Controls
There's no need for you to worry about navigation and controls since each system is completely easy-to-follow. With just a few taps, you'll be able to maneuver through the game smoothly and swiftly.
Some of the controls include:
Basic controls that help you navigate between buildings, fight enemies and manage your inventory.
Interactive controls that you can use to interact with objects and other characters in the game.
Relaxing Sounds of Nature
The game is characterized by background music that resembles actual sounds of nature, including waterfalls, rainstorms, lightning strikes, birds chirping among others. This allows you to feel as if you are in the real world. Even better, the game is updated periodically, providing players with new features to embrace.
Life in Adventure MOD APK Free Download
The modded version of the game comes with all its features unlocked. This allows you to enjoy the game without limits. Some of its unique features include: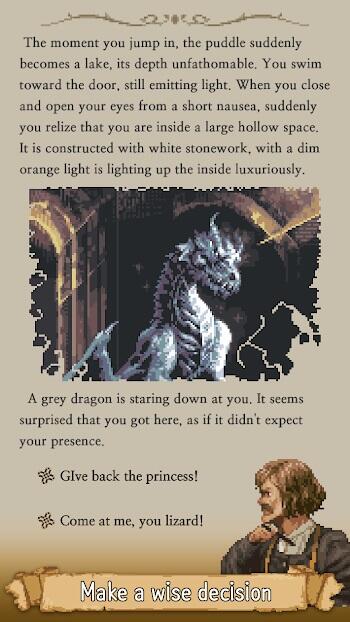 Life in Adventure MOD APK Unlimited Diamonds. This version offers unlimited diamonds. This is an important component of the game as it allows you to buy various items and unlock new abilities during combat.
Life in Adventure MOD APK Unlimited Energy. The modded version offers unlimited energy which allows you to play the game at your preferred time and pace without having to worry about energy restrictions.
Life in Adventure MOD APK Unlimited Gems. This version is characterized by unlimited diamonds and energy, allowing you to make effective progress through the game.
No Ads. This version comes with no ads, eliminating the need for you to play ads to earn prizes.
Conclusion
Life in Adventure mod apk Unlimited Diamods is a highly interactive mobile role-playing game that requires you to maximize your skills and knowledge. This way, you can unlock new abilities and enjoy the various features on offer by this app.
It comes with a highly interactive user interface, allowing you to navigate through the game effortlessly. Additionally, it comes with a realistic sound system, which guarantees an unforgettable gaming experience.