Download Legend of Slime Mod APK Unlimited money and gems Latest version and control dangerous slimes to defeat human enemies. It features numerous missions & highly advanced game mechanics.
Information of Legend of Slime
| | |
| --- | --- |
| Name | Legend of Slime |
| Updated | |
| Compatible with | Android 5.1+ |
| Last version | 2.5.0 |
| Size | 191.64 Mb |
| Category | Adventure |
| Developer | LoadComplete |
| Price | Free |
| Google Play Link | |
| MOD | Unlimited money and gems |
Legend of Slime Idle RPG by LoadComplete is a thrilling online role-playing game that challenges players to become masters of legendary slimes. In this action-packed adventure, you will follow the story of the brave slimes and their heroic deeds as they battle countless enemies and explore vast dungeons.
The game is set in a colorful fantasy world with strong influences from Japanese RPGs. The main objective is to build, upgrade, and assemble teams of heroic characters to defeat powerful enemies and liberate the kingdom from evil forces.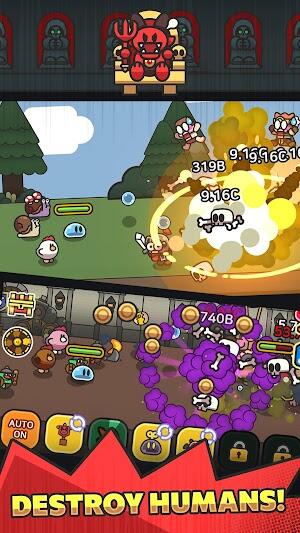 However, this will not be a simple assignment since the mysterious human enemies are highly skilled in combat, making them formidable foes. You will need to strategically develop and upgrade different skills for each character lest you be overwhelmed by their attacks.
In addition to combat, you will also need to manage your team carefully and make decisions that will influence the outcome of each battle. Collect powerful equipment to boost your character's strength, and work with other players to dominate all areas of the kingdom.
If you are a fan of thrilling RPGs & epic adventures, then Legend of Slime: Idle RPG is the perfect game for you. Download it now and join the brave slimes in their quest to reign supreme.
Legend of Slime APK - Background History
Legends of Slime was first released in 2023 by LoadComplete. It has since received multiple updates making it one of the most popular mobile idle games available on iOS and Android devices (with up to a million downloads on the Google Play Store).
It starts after bad humans invade a peaceful monster forest and capture the legendary slimes, threatening the stability of the entire kingdom. Everything has become unimaginably chaotic and dangerous.
With nowhere else to turn, a group of brave slimes bands together to rescue their friends and embark on an epic journey to liberate the kingdom from evil. This is a journey of vengeance, and you must not relent until the humans are defeated & the kingdom restored to its former glory.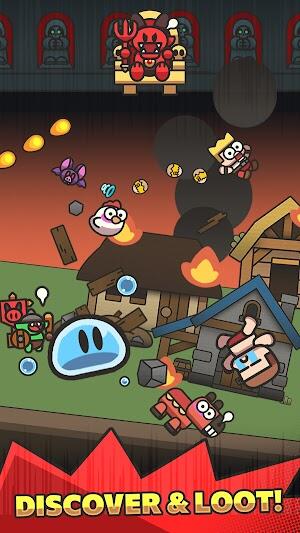 Fortunately, the game has mines where you can find treasures. These unique minerals & items will come in handy when facing powerful enemies and can help boost your character's strength, speed, and other attributes.
Overall, this game is optimized for players of all skill levels. You'll never struggle to level up, advance in the game, or defeat enemies if you form a strong and strategic team. Download it and test your combat skills today.
Highly Intense Gameplay & Advanced Game Mechanics
Legend of Slime will keep you on the edge of your seat with its fast-paced and highly intense gameplay. Each mission is full of exciting challenges and potential dangers, requiring you to carefully plan your decisions and actions.
You start with a team of only a few characters, but you will quickly unlock and recruit more as you progress through the game. Always ensure your team is well-equipped with recent equipment and weapons, as this will give you an edge in combat.
In addition to the action-packed battles, Legend of Slime also features advanced game mechanics that add even more strategic depth to the gameplay. You'll need to carefully manage your characters and make decisions based on the current situation.
The upgrading system and character development are also quite impressive, giving you ultimate control over the growth and progression of your team. You can choose the qualities to enhance, ensuring you build a well-balanced and effective team.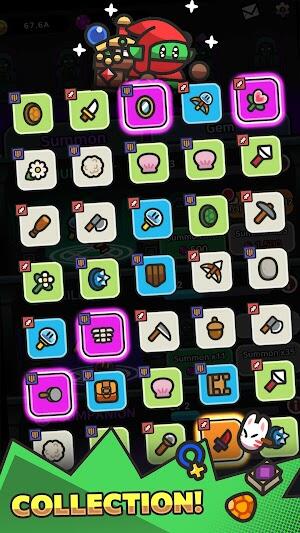 With a combination of intense action and strategic planning, Legend of Slime is truly one of the best idle RPG games available today. It will test your agility, decision-making skills, and combat prowess.
Other Exceptional Features of Legend of Slime APK
Defeat Humans & Grind their Belongings. This game features numerous human beings with varying levels of strength, but you can defeat them with your powerful team and strategic skills. Once you do, collect their belongings and use them to upgrade your characters.
Unlock Unique Skills. How would it feel to battle hordes of enemies with the same skills repeatedly? Not exciting, right? Well, Legend of Slime features unique skills that boost your team's power, making it easier to defeat powerful foes.
Mine Valuable Treasures. The game has widespread maps with mines scattered throughout. Exploring these mines is a great way to find treasure, rare items, and powerful equipment. This way, you can keep your team strong, which is essential for defeating the strongest humans.
Collect Companions. This game has unique companions to keep your team company and help you fight off enemies. They have their spells and abilities, giving you the edge in combat. For example, you will have egg-throwing chicken or snail companion to help you. You can also unlock a cat to keep you company and eliminate boredom.
Idle Gameplay. This game is also special because it features an idle gameplay mode. This means you can reap all the rewards without necessarily being present for the action. Simply set your characters to idle mode and watch as they defeat enemies, collect items, and level up on their own.
Supports Offline Progression. Unlike many other RPG games, Legend of Slime is fully optimized for players who want to enjoy the game offline. You can continue playing even if you are not connected to the internet, making it easier for you to progress hassle-free.
Simple Controls. The controls are simple and easy to master, giving you the ultimate control over your team. You can use your fingertips to move, attack, and upgrade your characters with ease.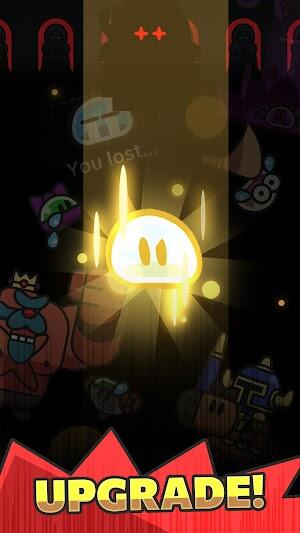 Beautiful Graphics & Visuals. This game will give you a visual treat with its stunning graphics and detailed world. You will also be impressed with the fluid animations and exciting effects, all of which are optimized for mobile devices.
System Requirements & Additional Information
This game is approximately 100MB and requires Android 5.1 or later to run smoothly. It is compatible with most newer devices, including smartphones and tablets. In addition, it supports high-resolution graphics for the best experience possible.
The game also has in-app purchases ($1.99 - $99.99 per item) to help unlock new features, equipment, and other bonuses. But these purchases are optional, and you can still enjoy the game without spending any real money.
Overall, Legend of Slime is highly responsive and optimized for beginners, ensuring you can enjoy the game without lags or choppy controls. Download it & enjoy highly hypnotic gameplay today.
Proven Tips for Playing Legend of Slime APK
Take your time and learn the basics of the game, including the different types of skills and items that are available. This will help you to better understand how to strategically progress through the game and maximize your results.
Be patient and consistent in your efforts. The game is not linear or one-dimensional, and it may take time to master the different elements and progress through the various levels.
Explore the different maps and mine for valuable treasures, which can be used to upgrade your characters and unlock new skills. This will give you an edge in combat, helping you to defeat stronger enemies more easily.
Consider investing in in-app purchases to get additional items and bonuses. This can be a great way to quickly level up your team and take on the more challenging levels with greater ease.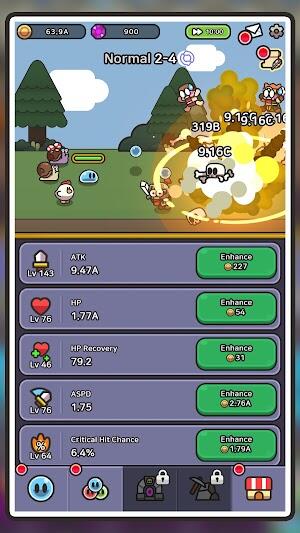 Don't be afraid to experiment! Whether it's trying a different character class, teaming up with a different buddy, or upgrading your equipment, there are many ways to improve your performance in the game. Just be sure to take things slowly and not get overwhelmed.
Legend of Slime MOD APK Download
The Legend of Slime MOD APK for Android is an advanced version of the original game. It features several improvements, including:
Legend of Slime MOD APK Unlimited Money and Gems. This game gives unlimited access to all in-game resources and items, allowing you to quickly progress through the levels without using real money.
All Levels Are Unlocked. With this mod, you can access all levels and challenges in the game without completing previous stages. This allows you to quickly master the different gameplay elements and improve your skills.
No Ads. Nothing is more frustrating than being constantly bombarded with ads when you're trying to level up and progress through the game. With this mod, you can enjoy a completely ad-free experience without interruptions or distractions.
Conclusion
If you love strategic RPGs and want a game that offers endless replayability, Legend of Slime is a perfect choice. It challenges you to fight humans hell-bent on destroying the world. You must use your wits and skills to beat powerful bosses.
Besides, you can download its MOD version to get unlimited access to all game resources. This way, you can progress through the levels and unlock new items, equipment, skills, and characters without spending real money.