Download the Laser Beam 3D game and eliminate all the enemies by launching a laser beam from your finger. Earn unlimited coins and unlock various laser beams.
Information of Laser Beam 3D
| | |
| --- | --- |
| Name | Laser Beam 3D |
| Updated | |
| Compatible with | Android 5.0+ |
| Last version | 1.1.7 |
| Size | 81.65 Mb |
| Category | Puzzle |
| Developer | GOODROID,Inc. |
| Price | Free |
| Google Play Link | |
| MOD | Unlimited money |
When we were growing up, we all loved to watch superman action movies because of his powers and the destructive lasers he would produce from his eyes. Well, this game offers the same kind of excitement, only in a different way. Here, the character's finger will be producing the laser beam and the player will have to control it and destroy enemies. The Laser Beam 3D is a first-person puzzle game by GOODROID, Inc. that comes with a range of challenges that you need to complete to unlock various levels.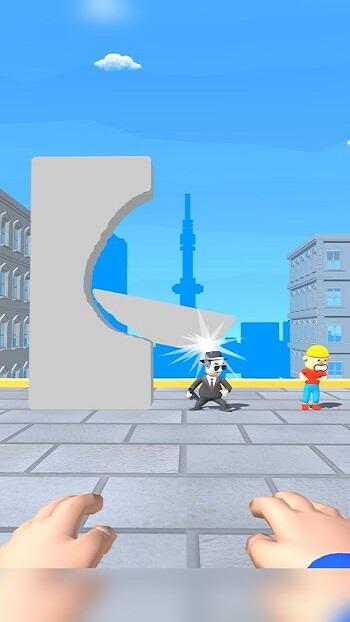 The most exciting thing is that there is unlimited money for you! You can use it to unlock various styles of laser beams as well as new characters. In Laser Beam 3D, the goal is attempting to try to kill all enemies by shooting a laser beam using your finger. You have the power in your hands! To aim properly, you can support the hand producing the laser beam with the other and be stable. However, you will note that you can't shoot at the enemies directly. You can only destroy the concrete blocks above them to fall on them and eliminate them. Download this game and use your intelligence and dexterity to be victorious.
Shoot a Laser Beam to Eliminate Enemies
Without a doubt, downloading Laser Beam 3D will immerse you into a lighthearted first-person puzzle and shooter game with curious gameplay. The objective is to destroy all the enemies at every level. However, we can't aim at them directly. We have to use the laser beam with the index finger to cut concrete blocks. The pieces cut will land on the heads of the enemies and eliminate them. Each level has a challenge of how you cut the blocks to kill the bad guys and avoid hitting innocent people. You need to use a strategy to overcome every game level.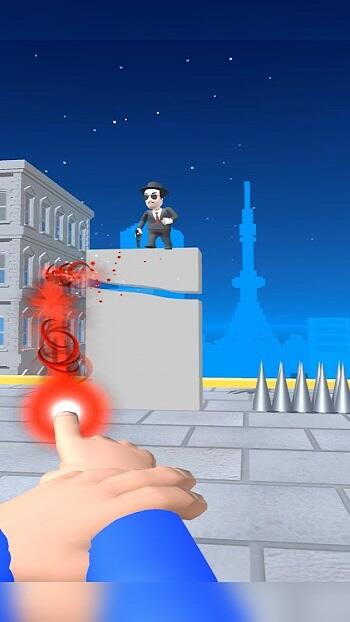 With game will make you a laser master. As you progress, you will be able to make sufficient money to purchase new beams as well as unlock new characters. With new cool lasers and new characters, you will be able to solve new challenges easily and effectively. Download the Laser Beam 3D game now and enjoy the exciting action and minimalistic yet intriguing graphics!
Features Laser Beam 3D
This game comes with fascinating features that make it enjoyable and engaging. The graphics are smooth and make movements and reflexes realistic. Here is a highlight of some of the most outstanding features.
Addictive Gameplay – the Goodroid studio has given lovers of puzzle games a reason to smile with the release of the Laser Beam 3D game. Here, you control a laser beam with a finger to destroy all enemies. However, your strategic thinking ability is provoked since you will not have to kill enemies using the laser beam. Rather, you will need to strategize on how you will cut concrete blocks that will in turn fall and kill the enemies.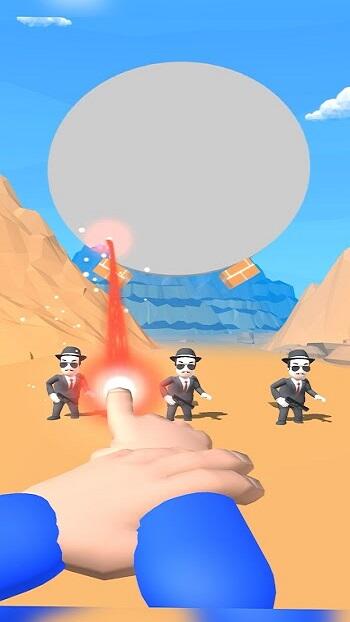 There are various challenges that you need to complete to be successful in this game. For example, there is a level you need to help an abducted person from the evil guys! Just launch a laser beam and cleverly cut the concrete blocks to eliminate the enemy. Keep playing and defeat all bad guys who have a gun and other weapons. Get the game now and play one of the latest and interesting games on your android device now!
Cool Graphics – overall, this is a lot of fun in this shooter game. The minimalist graphics bring out the entire game environment in an explicit way. Of course, even without sound effects, players are still stimulated to play the endless laser-shooting action by the stunning graphics. Download the game now and enjoy the simulation action herein.
Unlock Laser Beams – since your only weapon in this game is a laser beam, the game allows you to unlock more cool beams. However, you must have sufficient in-game money. You will need to purchase and unlock the most lethal laser beams that will help you eliminate enemies without hesitation. Become a laser master with a variety of beams!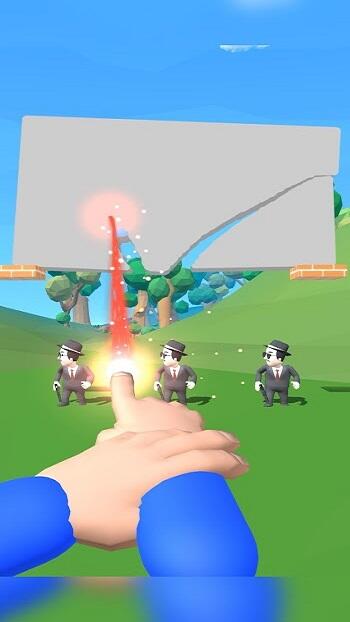 Unlock Characters – the game has some special characters that you can unlock. Every character will have unique skills that will help you defeat the enemies easily and faster!
Unlimited Gold Coins – you earn unlimited money with every set of enemies you destroy. With this unlimited money, you can unlock various laser beams and new characters.
Download Laser Beam 3D Mod APK Unlimited Money
With Laser Beam 3D Mod APK, you will defeat enemies using a laser beam. You will get unlimited coins and unlock various game items.