Do you love reading comics? If yes, download the Komiku app and enjoy a variety of comics in soft copy. Form a new reading habit with this great app.
| | |
| --- | --- |
| Name | Komiku |
| Updated | |
| Compatible with | Android 5.0+ |
| Last version | 1.6.2 |
| Size | 16.38 Mb |
| Category | Entertainment |
| Developer | Komiku.co.id |
| Price | Free |
| Google Play Link | |
| MOD | Premium unlocked |
If you are a fan of comics, here is the best app that offers many exciting comics and stories. Here, you will immerse yourself in the world of cartoons ad anime and enjoy epic reading sessions. Komiku premium app now comes with the latest comic books and short stories for Indonesians. With Indonesia being among the 10 countries that have lost interest in reading, the people in this oceanic nation now has something to smile about. This app has a simple interface that brings out the best aspects of reading and is compatible with mobile devices.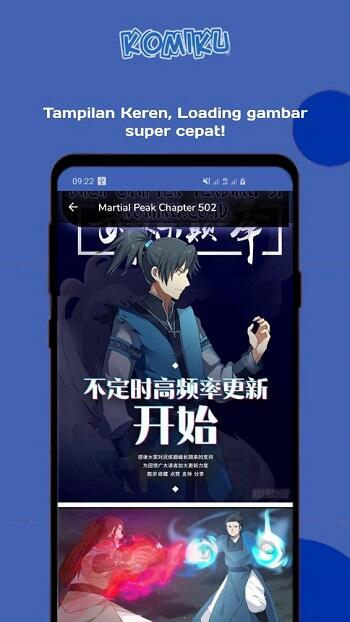 This app revitalizes people's interest in reading with cartoonish, anime characters and great graphics. If you don't love reading normal white pages with black endless texts, you better try this app with comics books. It offers stories and a series of episodes with cartoon characters. Their dialogue is in form of texts captures in speech boxes. Here, you can easily and enjoyably follow an entire story and read even more. The most interesting thing about the app is that you can download the content and read it offline.
Form a New Reading Habit
If you would like to form a new habit of reading more, download the Komiku app now. This is a new breakthrough to change or even improve the reading behaviors of kids or adults. Usually, comics create a visual picture of the world/scenes that a story might aim at bringing out! However, if we are reading a comic book, we probably borrowed it from a friend, school library, or even buying them from a bookstore. You don't have to go through all that to read one! Just download the app now and enjoy a library of comic books here.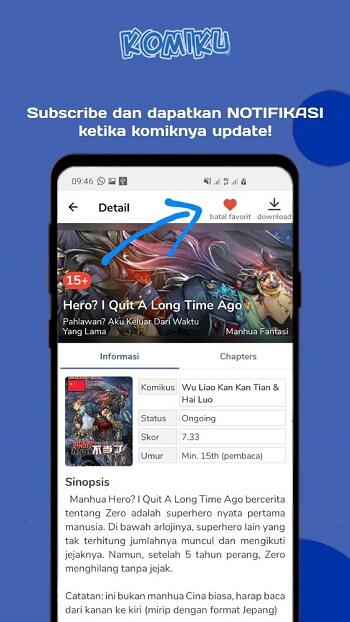 The beauty of using this app is that you can read everything from the comfort of your smartphone. Well, what else would you expect from the latest reading application? Notably, this app offers over 2,000 comic titles from different genres like manhwa, webtoon, and manga. It is also good to note that this application is also equipped with the Indonesian language to make it easy for the natives to read and comprehend everything. For a better reading experience during the night, the application comes with a dark reading mode, which is comfortable to the eyes. Get the app now and read a range of comics for free.
Features of the Komiku App
Before you want to attempt to have a new habit and hobby of reading comics with this app, you will notice the following features.
Detailed Information – reading content that has unconfirmed and biased information is disheartening. Sometimes, it also makes you keep on confirming with other sources, which will ultimately waste your time. However, you don't have to worry about reading the comics that Komiku has to offer. That is because the stories herein are well researched and have the right information. The application has a history feature that traces the chapters you have read so that you just go directly to the unread one the next time you are reading.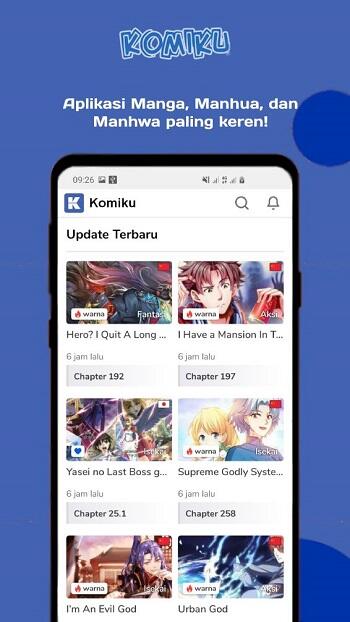 The pictures of the characters in the comic stories are not scary and therefore the content can be ready by anyone, including kids. With the funny and entreating content of the comics featured in this app, you can continue reading endlessly.
Offline Comics – this feature allows users to download comics and read them offline. If you have internet connection problems, you can download the desired chapters or episodes and read them later. That implies that you can have copies on your smartphone device that you can read afterward without requiring internet. Moreover, you will still have a source of entertainment even after running out of data.
Dark Theme – this is a comfortable reading mode that saves the battery and makes the user's eyes calm when looking at the screen. It is mainly helpful to people who feel annoyed and disturbed by the sheer intensity of the light produced by the screen. As much as you will read for many hours, it is also prudent to take care of your eye health.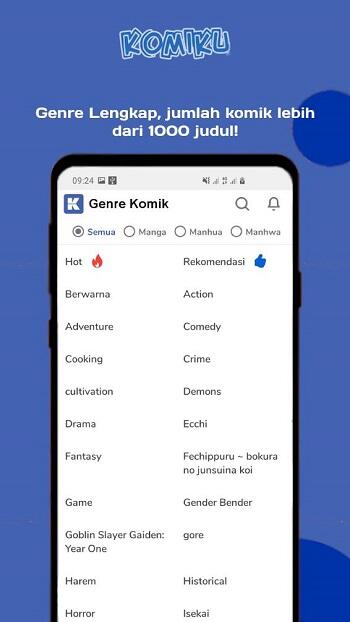 Favorites Feature – users utilize this feature when saving their favorite comics. If you have found an interesting comic but don't have the time to read it instantly, you can just place it in the favorites section. This way, you will not have to waste time looking for it later. You will also get notifications if there are any updates in your favorite comic.
Comments, Replies & Responses – this app offers the users an outstanding feature that allows comments on comics. That can be either comment about the entire plot or any suggestions that you may want to make bot the comic. Moreover, you can also exchange reactions with other readers through this feature.
Get Komiku Pro Mod APK Free Download For Android
With the Komiku Pro Mod APK, users can enjoy reading comics at any time. Experience the joy of reading a range of comics on your smartphone.