Download Kingdom Rush Vengeance Mod APK All heroes unlocked Latest version and annihilate your enemies in fast-paced battles. You'll have 14+ heroes and 28+ challenging levels.
Information of Kingdom Rush Vengeance
| | |
| --- | --- |
| Name | Kingdom Rush Vengeance |
| Updated | |
| Compatible with | Android 4.4+ |
| Last version | 1.14.4 |
| Size | 4.28 Mb |
| Category | Strategy |
| Developer | Ironhide Games |
| Price | $2.99 |
| Google Play Link | |
| MOD | All heroes unlocked |
About Kingdom Rush Vengeance
Kingdom Rush Vengeance APK is an action-packed battle game offered by Ironhide Games. It boasts 3D graphics & stunning visual effects.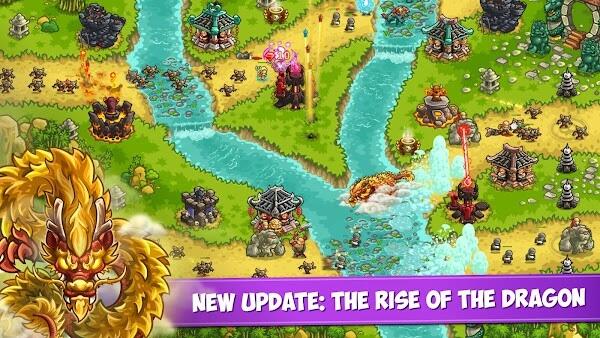 This game is set in a medieval kingdom where you'll have to protect your kingdom from evil forces. You must build towers & deploy your troops strategically to stop enemy waves.
Kingdom Rush Vengeance offers 14+ heroes with unique abilities. You can upgrade your heroes & towers to make them more powerful. The many power-ups will keep the game fresh and exciting.
An Exhilarating Gameplay
Kingdom Rush Vengeance has powerful adversaries that will push your defenses to the limit. It requires intensely strategic thinking and planning. You must position your towers & troops carefully to create an impenetrable defensive line.
This game starts with simple challenges but quickly ramps up the difficulty. The allowance is to allow you to acclimatize with the controls as you get used to the gameplay. This way, you're not overwhelmed by the later, more difficult levels.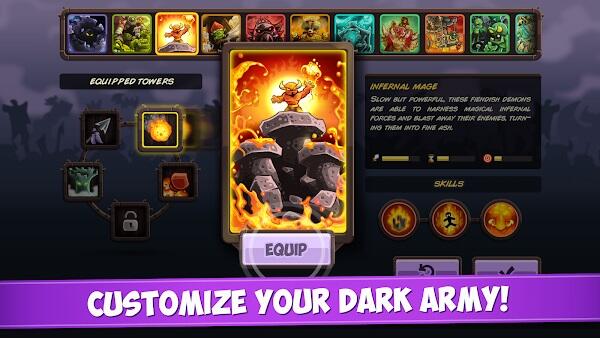 Additionally, the game gives a fair share of upgrades to keep up with the increasing demands. You can use coins that you've earned to purchase sophisticated heroes & towers. These will give you an edge in battle and help you progress through the game.
Uniquely Designed Tower Defense Game
Kingdom Rush Vengeance is a refreshing take on the classic tower defense genre. It's designed with colorful graphics and awesome visual effects. The game is also easy to grasp but difficult to master.
It has 28 stages that gradually increase in difficulty. You'll also have access to bonus stages that help you collect extra coins. The game is designed to provide an intense and rewarding experience.
Its 6 dynamic realms are filled with different towers, troops, and enemies. You'll have to strategize carefully to progress through the game. Ensure you explore all the maps while collecting treasures and vanquishing evil.
Different Difficulty Levels
This game has different difficulties that make it suitable for all types of players. The 4 difficulty levels include: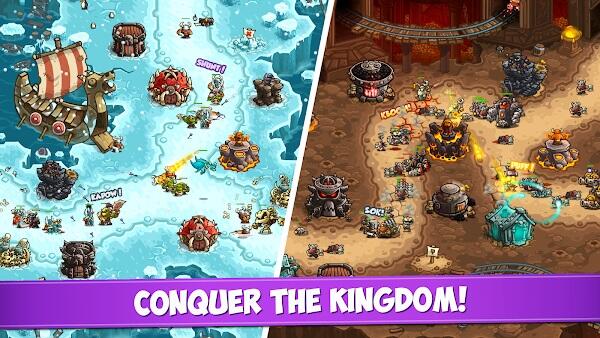 Casual. This is the easiest difficulty and is recommended for first-time players. It involves fewer enemy waves with lower HP.
Normal. This is a moderate difficulty that's perfect for players who want a challenge. The enemies have higher HP but the number of waves is manageable.
Veteran. This is the hardest difficulty and is only recommended for expert players. It includes more enemy waves with high HP.
Impossible. As the name suggests, this difficulty is impossible to beat. It's only for the most hardcore players who want the ultimate challenge.
You can unlock iron & heroic challenges after completing the game. These are designed to test your skills and give you a tougher challenge. If you are up to an impossible challenge, you can keep summoning enemy waves! This will earn you additional gold.
Other Unique Features of the Game
60+ Achievements. This game has lots of hidden secrets and achievements. It encourages you to explore the game and discover all its features. Once you complete missions, you will earn medals that will help you unlock new stages.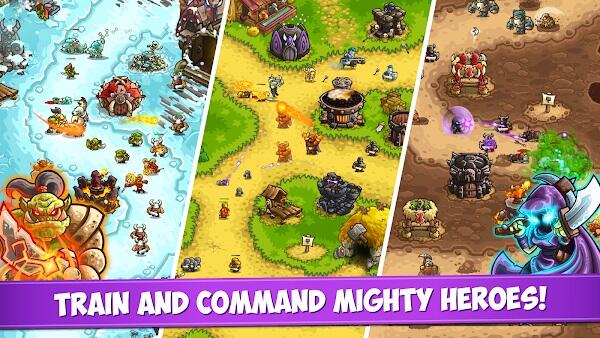 Premium Content. You can purchase premium content with real money. This includes unique heroes, powerful towers, and other game items. The prices are reasonable ($0.99 - $99.99 per item), and the content is worth it.
14+ Heroes. This game has a large roster of heroes with unique abilities. You can upgrade their skills as you progress through the game. Ensure that your team comprises courageous archers, powerful sorcerers, and masterful builders.
Regularly Level Up Your Heroes. With this game, you can level up your heroes as you use them in battle. Their stats will increase, and they'll learn new abilities. This makes them more powerful and useful in combat.
10+ Artefacts & Trinkets. These game items provide extra bonuses and abilities. You can use them to equip your heroes and strengthen your towers. The artefacts are rare and hard to find, but they're worth the effort.
60+ Unforgiving Enemies. Any Tower Defense game is only as good as its enemies. This game includes 60+ different types of enemies. Each has its unique abilities, AI, and behaviors. You'll have to use all your resources to defeat them.
Epic Defenses. Kingdom Rush Vengeance includes 25+ different types of defenses. These include archer towers, artillery towers, and mage towers. Each has unique abilities that you can upgrade. You'll have to strategize carefully to utilize them effectively.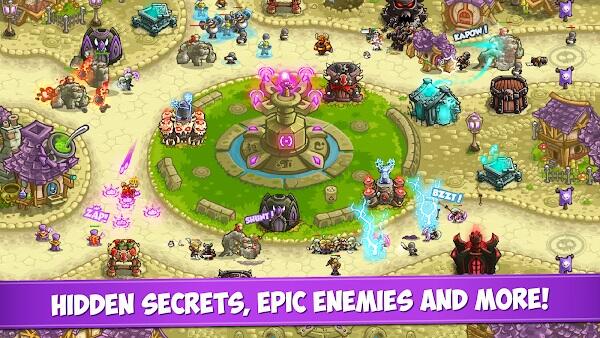 6 Unique Bosses. This game includes powerful bosses that will put your skills to the test. They have high HP and deal lots of damage. You must invest all your energy in defeating them to earn irresistible rewards.
Dynamic Environments. The game environment is constantly changing. You'll have to adapt your strategy as the weather, terrain, and other conditions change. This makes the game more challenging and exciting.
30+ Upgrades & Reinforcements. This game has lots of upgrades and reinforcements. You can use them to improve your towers, defenses, and heroes. With these upgrades, you'll be able to take on the most difficult challenges.
19 New Towers. Kingdom Rush Vengeance includes 19 new towers that you can use in combat. These include the Ice Tower, the Lightning Tower, and the Fire Tower. Each has unique abilities that will help you win battles.
Intense Sound Effects & Music. This game has excellent sound effects and music. They add to the excitement and suspense of the game. You'll be on the edge of your seat as you battle wave after wave of enemies.
Offline Gameplay. This game can be played offline. You don't need an internet connection to enjoy it. This is especially useful when you're traveling or in areas with poor internet reception.
Kingdom Rush Vengeance MOD APK OBB Download
If you want all the features free of charge, download Kingdom Rush Vengeance MOD APK for Android. This MOD is optimized to offer the best gaming experience.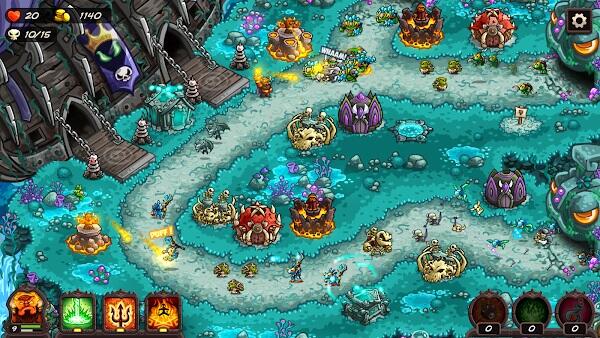 To achieve this, the Kingdom Rush Vengeance MOD APK 2023 includes all the premium content and doesn't have any ads or in-game purchases. This way, you can focus on the gameplay and strategy without distractions.
The Kingdom Rush Vengeance MOD APK MOD all heroes unlocked will give you an edge in battle as you can choose any hero you want. They all have unique abilities that can help you win battles.
With this MOD, you'll also get unlimited money. You can use this to buy premium content and upgrades. This will make the game easier and more enjoyable. Download it today & enjoy!
Conclusion
Kingdom Rush Vengeance is an excellent Tower Defense game. It has beautiful graphics, intense gameplay, and a large roster of heroes. With the MOD APK, you'll get all the premium content for free. Download it today for an irresistible gaming experience.