If your webcam is outdated and failing you, don't buy another one yet! Download the iVCam Pro Version APK now and use the camera on your smartphone as a webcam!
Why should you incur the cost of buying another webcam while you already have a Mobile Phone, iPad, or tablet? Spare that money for another important thing because you can enjoy an HD webcam for PC using your phone! Yes! It sounds unbelievable but it's true. The iVCam Webcam app by e2eSoft turns your smartphone/Pad into an HD webcam compatible with Windows PC.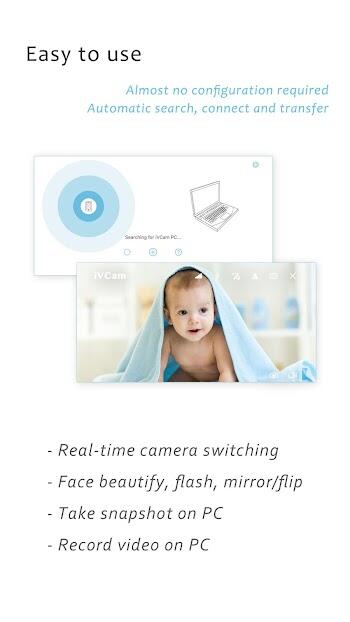 Obviously, this will be much better quality than most webcams. It is compatible with all webcam-enabled apps. With this app, you can replace your USB webcam now and use the camera on Phone/Pad as a wireless webcam! It's perfect for baby monitoring, spy-cam, pet-cam, and as a security camera. With over 1 million users, you can
Top-Notch Wireless Webcam
iVCam Webcam app is an excellent app for anyone who requires a webcam for a desktop computer. It comes in handy especially when your integrated webcam is not working or when you don't want to buy another permanent USB webcam. This app turns your smartphone gadget into a digital and HD webcam for all purposes like online calling, meetings, and much more.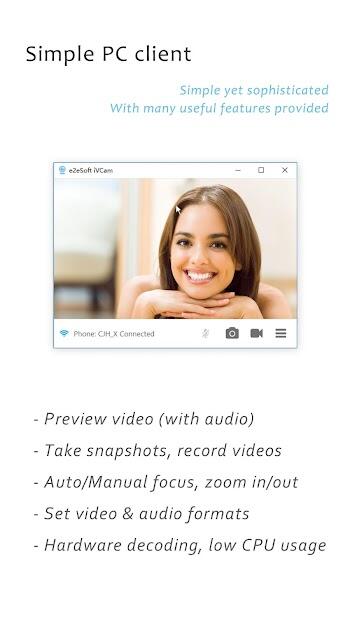 With this app, you can also record video content into the internal memory of your mobile device. If the device doesn't have sufficient space, iVCam can record the videos directly to your PC. Setting up this application is very simple. You simply download and install the client software on your PC and the android version on your mobile device. Then, you are ready to go! The connection between the apps is fully automatic and needs no manual configuration.
iVCam Pro Apk Features
If the existing webcam on your PC has continually failed you or it is outdated, download the app now iVCam app now and enjoy its capabilities.
Replace USB Webcam – this app completely replaces the integrated or USB webcam to make use of the all-time clear and reliable phone camera. The best thing about this app is that is it compatible with most apps that use a webcam. With the app, you can enjoy record video files, preview videos, and even take pictures with your Windows PC.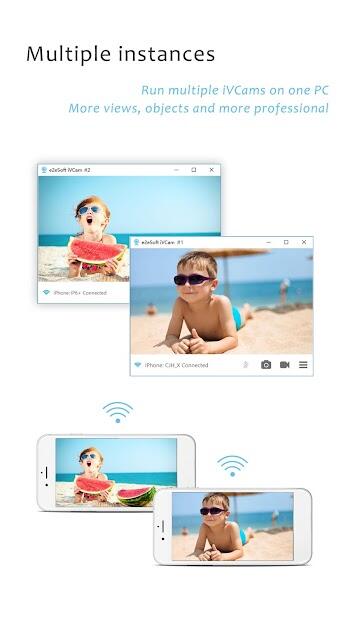 This app works amazingly great with PCs to give the user the best experience of video calling. You can use the portrait or landscape mode, with is hand to do with the normal webcam. The app offers probably the best quality of video that any PC webcam. As we know, mobile device cameras have been taken a notch higher, with most being up to 64MP. It is free and will give you a webcam quality you have never seen!
Very Simple Set Up – the iVCam app is fast, simple, and doesn't have any unnecessary difficulties in setting up. It is easy to set various standard parameters and even define the operating mode. Moreover, you can easily use it for work, casual dialogs, and perform all other possible actions that are meant for a PC webcam.
Just download and install the client software on your PC and make sure that you have the app installed on your android device too. Then, you're ready to go! The connection doesn't require any manual configuration since it is fully automatic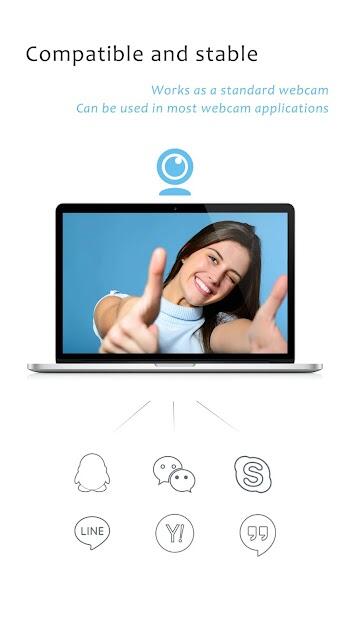 High-Quality Webcam – the app comes with real-time video capturing, fast speed, and low latency. The app's connection is automatic via Wi-Fi. It is easy to use and runs in the background to avoid affecting the use of other apps. The most interesting thing about this app is that you can connect several devices to one PC simultaneously.
Various Qualities of Video Outputs – this app supports common video qualities such as 360p, 480p, 720p, 1080p, 4K, etc. notably, the camera has advanced settings like AE/AF, EC, ISO, WB, and Zooming, all purposed to make your webcam experience better and enjoyable. In the app, you also get configurable settings for video encoder, quality, and frame rate. Due to the fact that modern smartphones have a front and rear camera, this app can use any and in real-time switching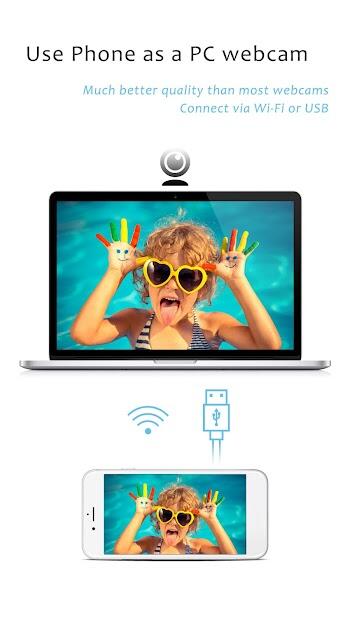 Audio Supported – this app has features that support using your smartphone as a wireless microphone for a PC. When using this app, you will not need to use an additional mic.
PC Compatibility – PC compatibility is what makes that app usable on PC without troubles. If you are having trouble installing the app on the PC, involve an Android emulator. The installation will be smooth and perfect!
Download iVCam Pro APK – Full version
Enjoy unlimited webcam services from the camera of your mobile device using the iVCam Pro APK. The iVCam Full Version has unlocked premium features, all for you!