Download Idle Monster Go MOD APK Unlimited money and gems latest version and collect pets, train them, and evolve them to build a formidable team. It boasts fierce battles and generous rewards.
Information of Idle Monster GO
| | |
| --- | --- |
| Name | Idle Monster GO |
| Updated | |
| Compatible with | Android 5.0+ |
| Last version | 1.0.7 |
| Size | 91.62 Mb |
| Category | Role playing |
| Developer | MagicTech Games |
| Price | Free |
| Google Play Link | |
| MOD | Unlimited money, gems |
Idle Monster Go APK is a strategy & role-playing game offered by MagicTech Games. It challenges you to consolidate powerful pets and engage in the ultimate battle.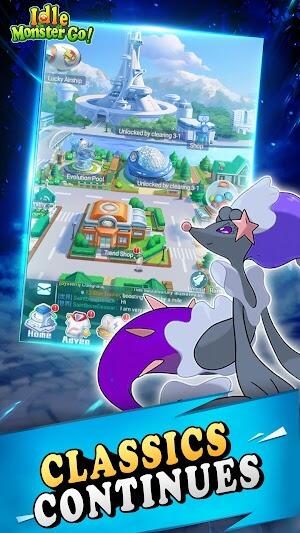 You will have to take care of their pets by feeding them, training them, and giving them a place to live. You will also ensure that your team is well-equipped before the battle.
Its simplistic controls, attractive graphics, and easy-to-understand gameplay make it one of the best games in its genre. Download it now and start your pet-collecting journey!
An Unforgettable Gaming Experience
Interacting with pets is fascinating, and it is one of the main reasons why gamers download Idle Monsters Go APK for Android. It provides an opportunity to build a strong bond with your furry friends.
You can even train them to participate in battles and help you win rewards. The more powerful your team is, the higher the chances of success in the battle.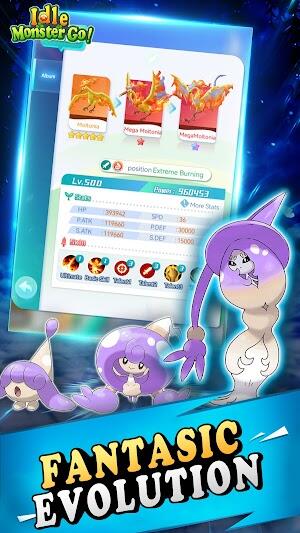 Once your team is fully equipped, you will enter super exciting multiplayer real-time battles. Here, you will be pitted against other players from all over the world. The winner takes it all in these clashes.
However, these quests are not just about winning battles; they also include tasks such as collecting items and exploring the map. This way, you will make them even more powerful and better equipped to take on future challenges.
Build a Sturdy Team
Your success in this game depends on how well you build your team. You will select the pets wisely and train them to be the best fighters.
There are different types of pets, each with unique skills and abilities. You will have to strategize and select those that complement each other's strengths. This way, you can create a well-rounded and powerful team.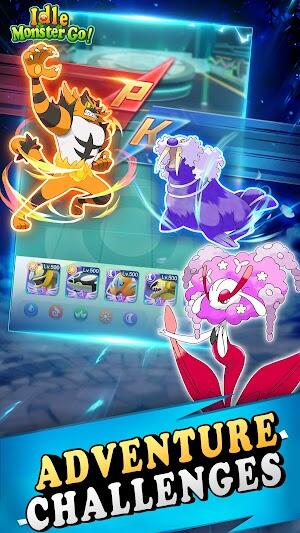 Once you have selected the pets, it is time to train them. You will have to put in the effort to ensure they are ready for the battle.
The good news is that the training process is quite rewarding. Ensure you impart the necessary skills to your team before taking them into the battle.
Unlock Items & Upgrade!
This game features an extensive list of items you can use to upgrade your pets. You will have to battle and explore the map to find these treasures.
The rewards will help you make your team even more powerful. Collect as many items as possible to enhance your chances of winning future battles.
Even better, the game has an idle system! This means you can continue collecting rewards even when you are not playing the game. The game will keep working in the background, and you will get rewards based on your progress.
Exceptional Features of Idle Monster Go APK
Highly Dynamic Adventures. This game is endless & unpredictable. This dynamism ensures that you enjoy freshness with each new battle. This way, you will get weary of playing the game.
Frequent Events & Tournaments. The game hosts regular events and tournaments. They come with different objectives and provide an opportunity to win exclusive rewards. This way, you will have something to look forward to even after playing the game for a long time.
1 vs. 1 Gameplay. This game offers an intense and challenging 1 vs. 1 gameplay. You will have to put your best foot forward to win these battles. This way, you can beat the best trainers for an unmatched sense of satisfaction.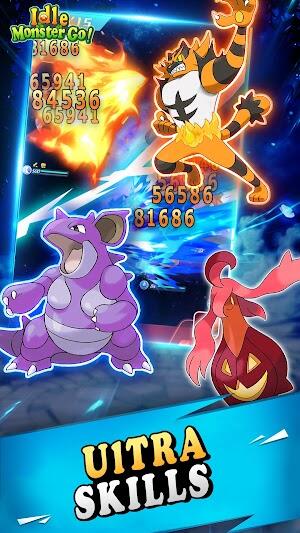 Fight Bosses! This game features a boss fight mode. Here, you will have to take on formidable opponents and come out victorious. The bosses are quite tough, and you will have to use your skills to defeat them.
Improve Your Power Ranking. The game has a power ranking system. This way, you can track your progress and ensure that you are among the best trainers in the world. This is a great motivator and will keep you hooked on the game for a long time.
Different Pet Combinations & Strategies. This game allows you to experiment with different pet combinations and strategies. You can keep trying new things until you find the perfect strategy for your team.
Join a Guild. This game has a guild system. You can join forces with other trainers and take on difficult challenges. This is a great way to make friends and progress in the game.
Simplistic Graphics & Immersive Sound Systems
The graphics of this game are quite simplistic. However, they are well-crafted and complement the gameplay perfectly. You will see a lot of color in the game and is quite pleasing to the eye.
The evolution system is quite fascinating too! You will see your pets develop into monsters that are very powerful.
The sound system is also top-notch. You'll enjoy the sound effects. They add a lot of flavor to the game and make it even more enjoyable.
Idle Monster Go MOD APK Download
You can enjoy playing premium Idle Monster Go without spending money by downloading the Idle Monster Go MOD APK for Android. This will give you access to all the game's features without limitations. Here are its other features:
Idle Monster Go MOD APK Unlimited Money and Gems. When you download the MOD APK, you will get an unlimited supply of resources. You can use these resources to buy the best items for your team.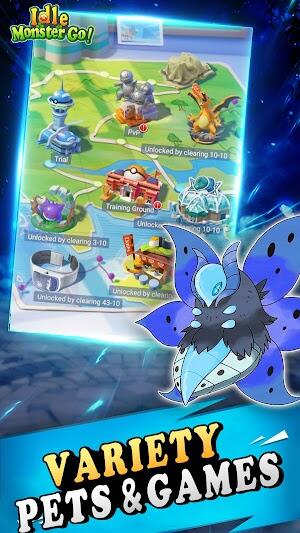 No Ads. This game is free from annoying ads. You can enjoy playing it without having to watch irrelevant commercials.
No Root Required. You can install this game on your Android device without rooting it. This makes for an easy-peasy installation process.
Conclusion
Idle Monster Go challenges you to build the best team of monsters and take on formidable opponents. The game is highly dynamic and keeps you hooked for a long time.
You can download the Idle Monster Go MOD APK for Android to enjoy an enhanced gaming experience. It has unlimited money and gems you can use to get the best items for your team.