Download Gamer Cafe Mod APK unlocked all now and manage your own internet café business. Hire employees, build a gaming house, upgrade equipment, and grow your business.
Information of Gamer Cafe
| | |
| --- | --- |
| Name | Gamer Cafe |
| Updated | |
| Compatible with | Android 5.0+ |
| Last version | 1.1.29 |
| Size | 167.72 Mb |
| Category | Simulation |
| Developer | 成都品游科技有限公司(PapaBox) |
| Price | Free |
| Google Play Link | |
| MOD | Unlimited money |
If you're looking for a unique game to play, then you should download Gamer Café by Papabox and enjoy gameplay that puts you at the helm of a cyber café business. Here, you become a manager of your own internet cafe business.
Ideally, an internet cafe is a business where owners rent out computers to customers to play games, search the web, and enjoy other things on the internet. This type of business is widespread in many parts of the world, where people can't afford expensive computer units.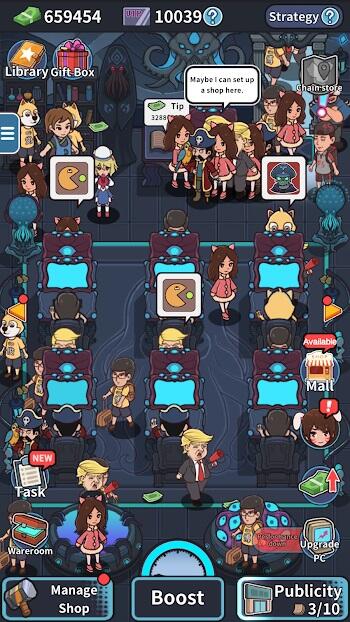 In the Gamer Café, gamers realize the dreams of running an in-game cyber café business. Players will want to play this game every day, serve customers, and make more money. In this internet cafe, everything is exactly like the real thing.
The graphics make things realistic so that you can easily relate to the experience and emotions that the game brings. Download the game now, become the boss, and develop everything from scratch.
Run Your Own Internet Cafe Business
In this era, we can venture into many businesses and make a living! One of the most common in cities is the cyber café business where business owners have many computers that they allow customers to use and pay a certain amount. Well, the gameplay in the Gamer Café APK is based on this kind of operation.
Here, you will manage your own internet cafe business and slowly expand it to meet your desires. You can purchase more desks, computers, and even recruit employees. Carry out promotional activities for your store by handing out flyers to passersby. Then, you can upgrade your facilities to encourage more customers to come to your business!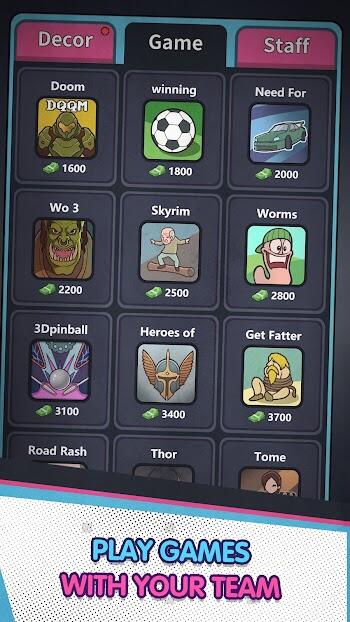 If you love simulation games where you run your own business, then you should try the Gamer Cafe today. Take on the challenge of managing your own internet cafe business from scratch.
Gamer Cafe Features
Run your own internet cafe business and begin the journey to creating your empire! Here are the features that make Game café interesting!
Harness Your Management Skills – Game Café presents management skills vividly and intuitively. First, you will get an old internet shop handed over by the previous owner. In fact, it will not have any special features at all. It is a complete failure and you will be tasked with its turnover. The appearance is dilapidated and you have to do the makeover!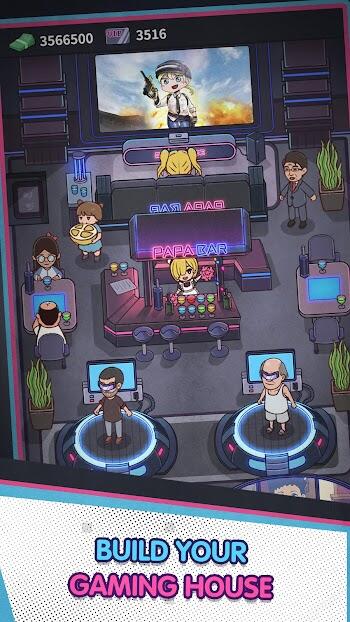 Apart from that, you will have to put your passion and confidence in the management of businesses will the ultimate test in this game! You will have to purchase various items for the business as well as get employees to help you with numerous activities.
Continue developing the business to earn as you can earn. Setting goals, writing down a plan, and maximizing your earnings will only be a matter of time.
Too Many Enjoyable Activities – operating an internet shop is not an easy thing. It will require you to do various things that need ample time and persistence. For example, you should put some effort into enhancing your brand value by advertising, hiring workers, and much more.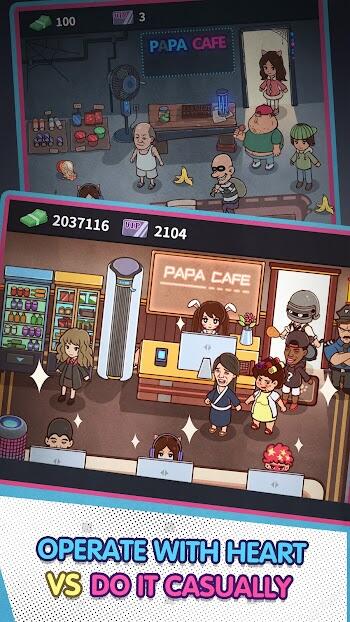 You need to spend the money you earn to enhance the activities of the business. For instance, you can start selling ​​food and drinks. If you have enough capital, you must immediately consider upgrading your computer systems and recruiting a reputable team to attract a solid customer base to your shop.
Purchase Equipment and Facilities – in Gamer Cafe, you will start your business from scratch. You can buy equipment like computers, games, food, drinks, and many more. Moreover, you can set up new rooms and others as you develop your internet cafe business gradually. Ensure that you upgrade your location and branding to entice more customers! Keep upgrading your equipment and facilities so you can get more customers.
Market Your Business – In this game, you will be able to market your business through flyers. Hand out your flyers to potential customers walking outside your shop. You can also effectively market your business through loyalty cards or upgrading your equipment as well as buying more trending games. Conquer all obstacles to lure more people to your business.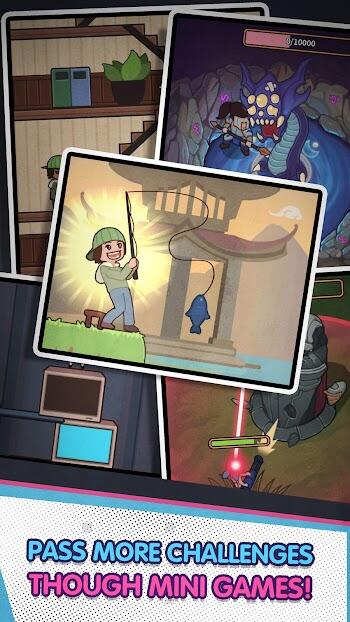 Hire Skilled Employees – In Gamer Cafe, you are the boss. That implies that you can be able to recruit employees that will carry out unique roles. There is the general manager, shop attendant, security guard, cleaner, and many more. Note that the game allows you to hire as many employees as you need to run and grow your business.
Unlimited Money - You can play this challenging game and have fun today! You will earn as much unlimited money as possible and be able to purchase and unlock various in-game items!
Download Gamer Cafe Mod APK Free – Unlimited Money
In Gamer Cafe, you will manage your internet cafe business today. Download Gamer Cafe Mod APK now, run your own business and earn lots of unlimited money.