Download Galaxy Enhance X APK latest version and optimize photos using powerful AI tools. You will no longer have to contend with blurry, uninspiring images!
Information of Galaxy Enhance X
Galaxy Enhance X 2023 is an AI tool that can be used to optimize photos. It was developed by Samsung Electronics Company Limited. It uses artificial intelligence to improve the quality of your images.
It brightens up your photos and makes them look sharper. It also removes blemishes and imperfections. This way, your photos will look their best when you post them on social media or show them to your friends and family.
Galaxy Enhance X is easy to use. Simply select the photo you wish to optimize and let the AI do its job. In a matter of seconds, your image will be enhanced and ready to share with the world.
Why Download Galaxy Enhance X APK for Android?
Technology has revolutionized how we take and edit photos. AI tools like Galaxy Enhance X make it possible to achieve professional-looking results without prior experience or knowledge.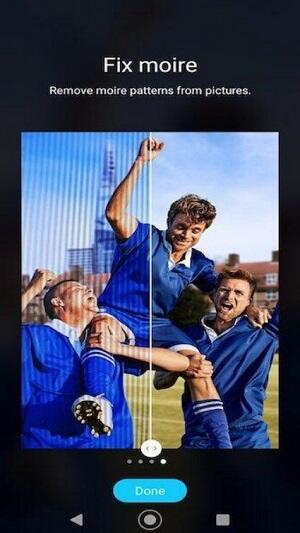 This is especially critical in the age of social media sharing. With everyone sharing photos online, you should ensure your photos look their best.
This photo awesomeness will attract more followers and likes. This way, you can share your photos with confidence, knowing they will be well-received.
Additionally, this photo cuts your editing time significantly. Previously, you would have to spend hours in front of a computer editing your photos.
Now, with Galaxy Enhance X, you can achieve the same results in a fraction of the time. As a result, you can spend more time enjoying your life and taking photos instead of editing them!
Even better, you will never be limited by anything. For example, the app allows you to take great photos even at night. In other words, you can take great photos no matter what the situation is!
How to Use Galaxy Enhance X App
Galaxy Enhance only requires a few clicks to get started. First, open the app and select the upload button. Then, choose the photo you wish to edit from your gallery.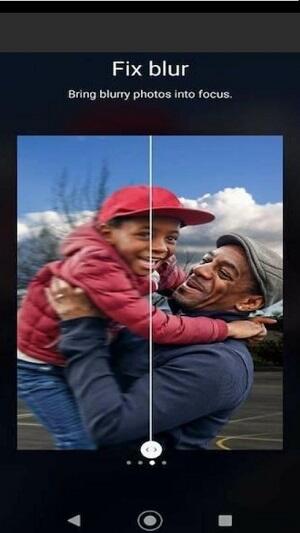 Once the photo is selected, you will see several buttons on the screen. You can choose the action you wish to take: auto enhance, crop, brighten, and rotate, among others. The app allows you to undertake other complex actions as well.
If you are satisfied with the results, select the save button. The app will then save the photo to your gallery. You can share it online or send it to your friends via WhatsApp, Facebook, or any other platform.
If unsatisfied, you can use the undo button to go back to the previous step. You can also use the reset button to start from scratch. This way, you will be 100% in charge of the process.
Lots of AI Tools to Explore
Galaxy Enhance X has lots of in-built tools to enhance your photos like a pro. Some common ones include:
Fix More. This encompasses several actions such as removing blemishes, whitening teeth and lightening dark spots. It is a complementary tool to the auto-enhance option.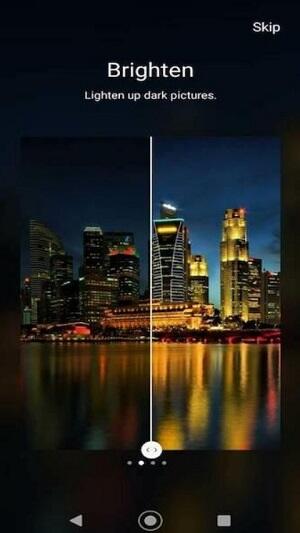 Portrait. This is a helpful tool for selfie lovers. It optimizes your photos to make you look your best. You can use it to remove wrinkles, dark circles, and other blemishes.
Crop. This is a simple but effective tool. It allows you to crop your photos to the desired size and aspect ratio.
Resize. This is another simple but effective tool. It allows you to resize your photos to the desired dimensions.
HDR. This tool comes in handy when taking photos with high contrast. It brings out the best in your images and makes them look sharp and clear.
Fix Blur. This tool uses advanced algorithms to fix any blurring, whether it's caused by a camera shake or low light.
Sharpen. This AI tool makes your photos look clear and crisp without a hassle.
Remove Reflection. Reflections caused by water or glass can ruin a great photo. This tool removes any reflections, making your photos look their best.
Auto Enhance. This highly automated tool fixes common issues with photos. It adjusts the brightness, contrast, sharpness, and other settings to make your photos look their best.
Bokeh Mode. You can use this tool to blur the background of your photos to make the subject stand out.
Night Mode. This tool removes any blurring caused by low light or camera shake.
Beauty Mode. This is a beauty-enhancing tool. It removes blemishes, smoothen your skin, and enhances your features.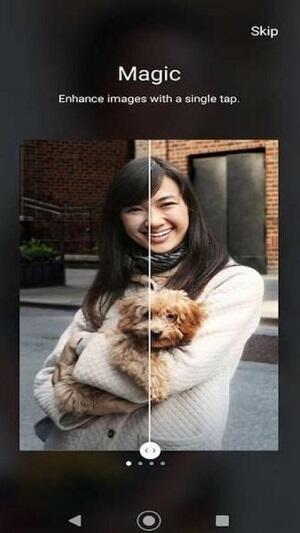 There are lots of other AI tools available as well. With Galaxy Enhance X, the possibilities are endless!
Special Features of Galaxy Enhance X APK Download
If you upload blurry or dark images, Galaxy Enhance will turn them into crisp and clear photos. The app uses state-of-the-art technology to achieve this. As a result, your photos will look great no matter what the source was.
This option is perfect for those who don't have time to edit their photos manually. With a single click, the app will automatically enhance your image.
It will apply the perfect filter and make other necessary adjustments. The result will be a photo that looks like it was taken by a professional photographer!
The app is uncomplicated and easy to operate. Even if you have never edited a photo in your life, you will use Galaxy Enhance with ease. There is nothing complicated about the process.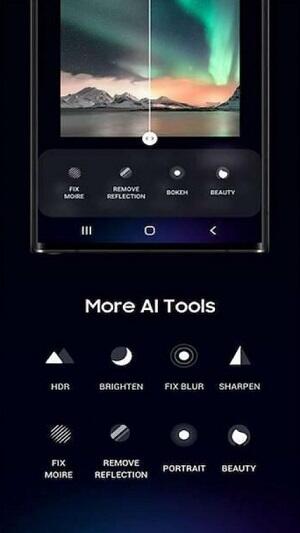 In a few simple steps, you can achieve amazing results. Just select the photo you wish to edit and let the app do its job. It is that simple!
One of the best things about Galaxy Enhance is that it is 100%free to use. There are no hidden fees or charges. You can use all the app's features without spending a single penny.
Conclusion
Galaxy Enhance is a must-have app for photo lovers. It is an AI-powered photo editor that can take your photos to the next level. With its help, you can enhance your photos like a pro!