Download Fun Battle Simulator Mod APK Unlimited money Latest version for hilarious ragdoll fights. It has resilient heroes, authentic sound systems, and advanced placement system.
Information of Fun Battle Simulator
| | |
| --- | --- |
| Name | Fun Battle Simulator |
| Updated | |
| Compatible with | Android 5.0+ |
| Last version | 1.03 |
| Size | 71 MB |
| Category | Strategy |
| Developer | Isset studio |
| Price | Free |
| MOD | Unlimited money |
About Fun Battle Simulator
Fun Simulator is a ragdoll-based game that challenges you to manage a troop of fighters and win battles against other teams. It has stick-like characters with exceptional physical abilities.
The game features an advanced character placement system that allows you to strategize your positions. You must control the fighters and ensure they hit their targets with unmatched precision.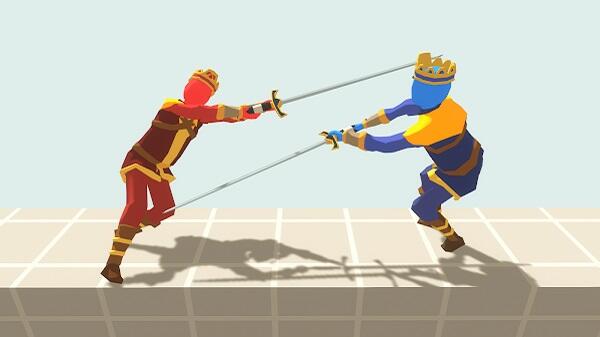 Targeting & aiming mistakes are dangerous since they will expose your heroes to attacks. As the commander, you must show excellent reflexes and skills to win the battle. Overall, you can expect intense, mind-blowing action in the Fun Battle Simulator game.
Fight Enemies in a Fast-Paced Environment
Battles in the Fun Battle Simulator game are short but sweet. It lasts a few minutes, but it's jam-packed with action. Your goal will be to eliminate all members of the rival team.
While that sounds easy, it won't be a cakewalk. The opponents are pretty good, and they will put up a fight. You must time your attacks perfectly and use the environment to gain an upper hand in the battle.
And if you think that's all, wait until you see the special abilities of the characters. They can perform impressive stunts in the air and deliver powerful attacks. When used correctly, these abilities can change the tide of the battle.
Hilarious Game Physics
As earlier mentioned, this game is all about ragdoll physics. The movements of the characters are exaggerated for comedic effect. It's quite entertaining to see them fly in the air and hit the ground with a thud.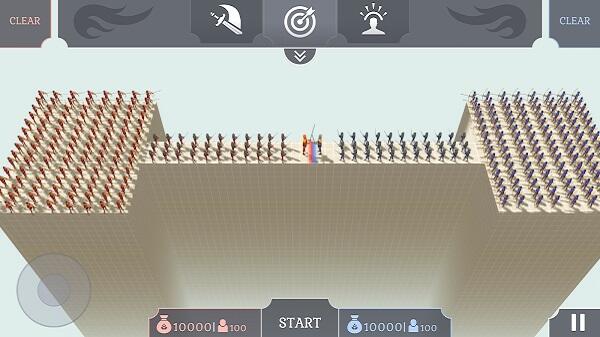 The animation is top-notch, and it perfectly complements the gameplay. The fighting sequences look natural, and they are a joy to watch.
Additionally, the battlefield is dynamic and keeps changing with every match. This adds to the replay value of the game. Some will have valleys, while others will be set in deserts.
Color-Themed Teams
This game features two teams, and they are color-themed. Your team will be clad in red, and the opponents will be in blue. It would help if you note this because the color will be helpful when planning your strategies.
However, the colors are not well pronounced, and they can be challenging to spot sometimes. This adds to the game's difficulty, but it's still manageable.
Be Strategic!
This game is all about being strategic. You must take note of the environment and identify the weak points of your opponents. There are many ways to win a match, and it's up to you to find the best one.
You can go for an all-out attack or play defensively. It's entirely up to you. If you play defensively, you must be patient and wait for the perfect opportunity to strike.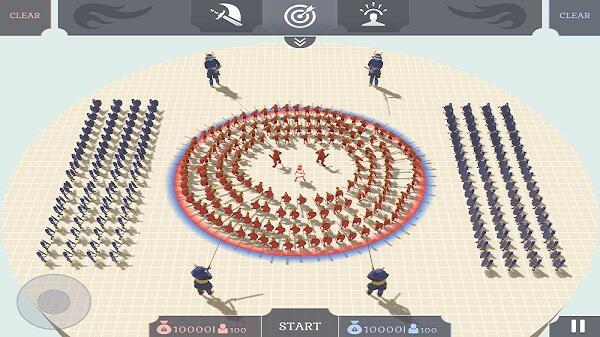 And when you do attack, make sure that it's a powerful one. The goal is to take out as many opponents as possible with a single blow.
Additionally, you can do several things to increase your chance of winning, including:
Improve Your Army. You can purchase more powerful soldiers to inject new life into your team. Each character will bring something new to the table, so choose wisely.
Upgrade Your Soldiers. You can use the in-game currency to upgrade your characters and make them even more powerful. The upgrades will give them an edge in battle and help you win more matches.
Use The Environment. The environment plays a significant role in this game. You can use it to your advantage and launch surprise attacks on your opponents. Take note of the different features of the battlefield and use them to plan your strategies.
Overall, you must be strategic if you want to win in the Fun Battle Simulator game. There is no room for mistakes, and you must be quick on your feet.
Highly Responsive Controls
This game is all about timing, and the controls play a significant role in that. The controls are highly responsive, and they make it easy to perform different actions.
You can jump, duck, and attack with ease. The characters respond quickly to your input, and that's crucial in a fast-paced game like this.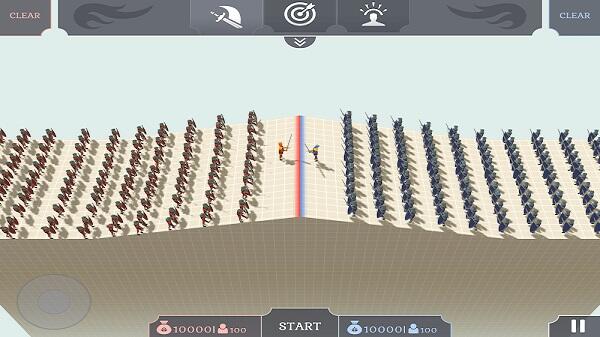 Additionally, the controls are well-designed, and they are easy to learn. You won't have trouble getting used to them, even if you're a first-time player.
Unique Game Modes
Besides the classic mode, you can explore other game modes that offer a different gameplay experience. They include:
Sandbox Mode. This mode allows you to test out different strategies and try new things. There is no pressure to win, and you can take your time to experiment. It has no rules, allowing you to relax and enjoy the game.
Adventure Mode. This mode lets you solve different puzzles to progress. Each level presents a different challenge, and you must use your wits to overcome it. It is perfect for those who like a little bit of thinking in their games.
These modes inject a much-needed dose of variety into the game. They prevent it from feeling repetitive, and that's always a good thing.
Other Exceptional of Fun Battle Simulator APK
Fun-Filled Ragdoll. This game is not gloomy, and it doesn't take itself too seriously. That's evident in the ragdoll elements, which add a touch of humor to the game. For example, when you defeat an opponent, their limbs will go flying in different directions. It's a small detail, but it makes the game more fun to play.
Great Sound Effects. The sounds of battle add to the intensity of the game. You will hear the clash of swords and the screams of injured soldiers. It creates a realistic and engaging experience.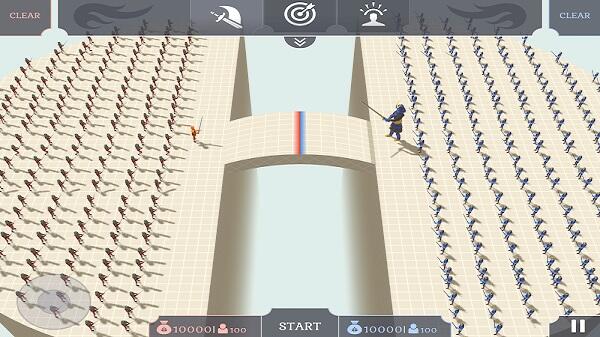 Many Secret Troops. This game has many secret troops that you can unlock. Each of them has unique abilities, and they can give you an edge in battle. You must explore the game to find all of them.
Many Weapons to Unlock. This game has many weapons for you to unlock, including swords and bows. Each of them has different stats and can change your gameplay.
Exciting Music. The music in this game is adrenaline-pumping, and it will get you pumped up for battle. It adds to the fast-paced nature of the game and keeps you engaged.
Fun Battle Simulator MOD APK Download
This MOD game is an excellent example of a well-designed mobile game. It has everything you could want in a game, and it's perfect for casual players.
Even better, the Fun Battle Simulator MOD APK unlimited money feature gives you an edge in battle. You can use the money to tailor-make your troop, upgrade your weapons, and buy items that will help you win.
Conclusion
The Fun Battle Simulator APK is a great game that you should try out. It's packed with unique features, and it's perfect for those who want a casual gaming experience.
Additionally, the Fun Battle Simulator MOD APK for Android gives you an advantage in battle. It's a great way to get more out of the game, and it's definitely worth trying.