Download Fishing Planet MOD APK latest version and enjoy therapeutic fishing escapades. It features diverse reels, lures, rods, and other unique tools.
Information of Fishing Planet
| | |
| --- | --- |
| Name | Fishing Planet |
| Updated | |
| Compatible with | Android 4.4+ |
| Last version | 1.0.183 |
| Size | 86.87 Mb |
| Category | Sports |
| Developer | Fishing Planet LLC |
| Price | Free |
| Google Play Link | |
| MOD | Unlimited money |
Fishing Planet (by Fishing Planet LLC) is a free-to-play fishing game that offers an immersive, realistic, and exciting experience perfect for any fishing enthusiast. From the many fish species to the diverse tools & equipment available, there's something for everyone.
It features lots of detailed 3D locations for your consideration. You can choose from lakes, rivers, reservoirs, and oceans, each with varying depths, temperatures, and unique creatures like seals and golden shiners.
You can challenge yourself with a range of achievements and leaderboard competitions against other players. Winning these contests will earn you unique items, including new locations and exclusive tools.
Overall, Fishing Planet is an incredibly rich game that provides endless fun. The stunning visuals will draw you in, while the rewards will keep you enthralled. Whether you're looking for peaceful outdoor relaxation or intense fishing battles, Fishing Planet is worth every minute.
Fishing Planet APK - Background Story
Fishing isn't a new activity. It has been part of human history since time immemorial. From humble beginnings in ponds & streams, we now have access to the vastness and richness of the oceans and other bodies of water.
Fishing Planet celebrates this long-standing tradition with its realistic fishing simulator for Android devices. Here, you'll find a wealth of activities, including bait selection, casting technique, and proper catch and release. It takes all the fun of real-life fishing and puts it into your pocket.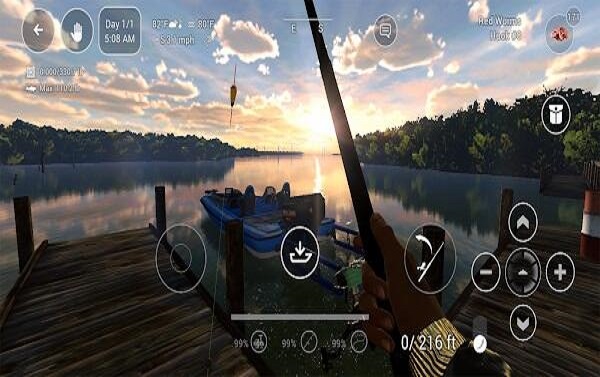 Even better, the game supports cross-play on mobile. This means players on Android can compete against players on iOS. This makes it easy to join exciting tournaments and leaderboard competitions. Download it and explore the possibilities of Fishing Planet.
How to Play Fishing Planet APK - Exciting Gameplay?
The world of Fishing Planet is a stunningly detailed 3D environment filled with realistic-looking water and flora. It challenges you to become the ultimate angler by competing in tournaments and fishing challenges.
With a comprehensive selection of rods, reels, lures & baits designed for the most varied weather conditions at your disposal, you can ensure success and land even the largest fish with your expert casting technique.
Additionally, the game has an in-app shop where you can purchase exclusive items like boats, wetsuits, and custom tackle. This will give you an edge in the leaderboard rankings or tournament competitions.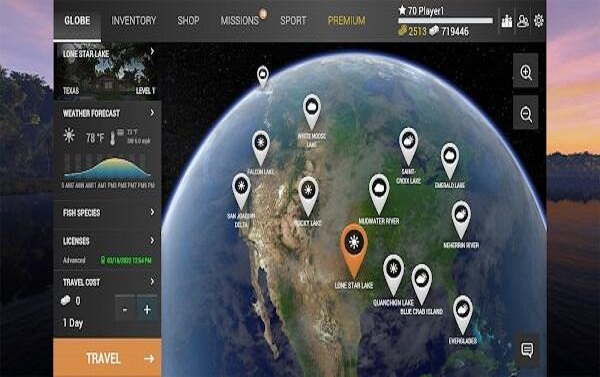 Fishing Planet is a 100% free game but includes optional purchases ranging from $0.99 - $99.99 per item. As such, it provides an enjoyable and relaxing experience on any budget.
Join the action and become a master angler with Fishing Planet MOD APK for Android. Experience realistic outdoor simulations, try out different gear & lures, and practice your skills on various bodies of water.
Outstanding Features of Fishing Planet APK
First-Player Online Multiplayer. This game was designed to offer an interactive experience as you compete against other players in fishing challenges. You should wear the best gear, master your casting technique, and pick the right bait to win.
Realistic Water and Weather Effects. Every location in Fishing Planet has unique weather conditions that affect the fish species available. You can choose from sunny days, rainy days, cloudy skies, or stormy nights, with the possibility of sudden weather changes.
Regularly Updated Leaderboards. Fishing Planet is constantly updated with new tournaments, leaderboards, and achievements. These updates ensure the game stays interesting and competitive while providing rewards for your success. Strive to be the best angler in Fishing Planet.
Rich Graphics. The game uses realistic visuals and vibrant colors to create a stunningly detailed 3D environment. This is further complemented by realistic water physics and dynamic shadows that bring the fishing world alive on your Android device.
130+ Fish Species. This game includes an extensive catalog of fish species with accurate sounds, behaviors, and movements. Their behavior depends on air & water temperature, wind, water current, climate, seasons, and time of day. Challenge yourself to catch every single one.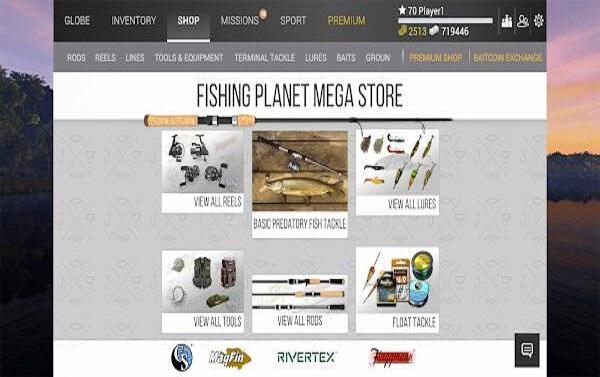 3 Fishing Techniques. You'll access float, bottom, and spinning fishing techniques, each requiring you to use a different set of skills. For example, spinning requires you to cast further with accuracy while bottom fishing involves using bait and patience.
20 Scenic Waterways. You can fish in 20 picturesque waterways located around the world, each with its own unique set of species and challenges. Whether you prefer deep-sea fishing or freshwater streams, there's something for everyone to enjoy.
Ridable Kayaks and 3 Types of Motorboats. Once you have the right gear, you can travel around these waterways in style with rideable kayaks or motorboats. With these boats, you can access more remote areas and land even bigger catches.
Thousands of Lures and Tackles Combos. This game features numerous tools with unique hydrodynamic and physical properties. You can mix and match these lures & tackles to create the perfect combination for any fish species.
Simple Controls. Fishing Planet has a user-friendly interface and tutorials that will introduce you to the basics of fishing. Once you've mastered the basics, you can move on to more advanced techniques.
System Requirements and Additional Information
Fishing Planet MOD APK download requires a minimum of 4 GB RAM and 2.5GB of free storage space. Its heavy graphics demand a fast network connection and a relatively modern device (with enough space).
The game is optimized for both smartphones and tablets. It is also compatible with Android 4.4 and above, but you may experience some lags on devices with lower specs.
Additionally, the game has numerous competitions, including:
The Size Matters - Saint Croix Lake
Cheesy Cat - Mudwater River
Best Five Bass (Amateurs) - Falcon Lake
Saltwater Giants - Blue Crab Island
Triple Trout - White Moose Lake
Spotted or Banded? - Amazonian Maze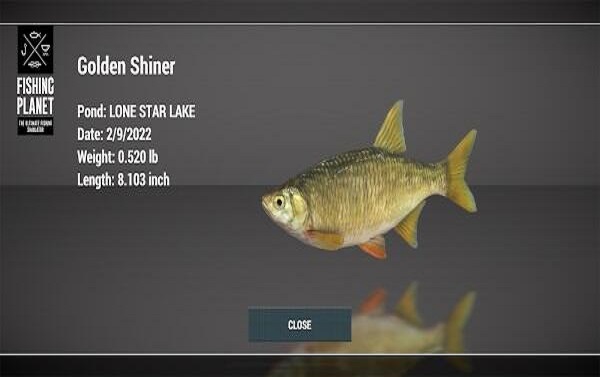 These tournaments are a fantastic way to demonstrate your fishing expertise and compare it against other anglers. They will bring you closer to nature while providing hours of fun.
Even better, you'll get a global map with an accurate weather forecast and fish availability. This way, you can make informed decisions and feel confident in your choices. Ensure you pick the best vehicles to handle the terrain and plan your route efficiently.
Fishing Planet also has an extensive catalog of tackle shops, where you can get whatever gear or bait you need for your next outing. On top of that, you can challenge opponents from anywhere around the world in live tournaments or join thrilling daily and weekly contests. You'll find that each tournament offers exclusive prizes and rewards for your success.
Tried and Approved Recommendations for Playing the Game Like a Pro
If you're serious about becoming a master angler, here are some tips and tricks for Fishing Planet:
Explore the World. Roam around and appreciate its beauty. Look for different fish species in their natural habitats to maximize your chance of successfully catching them.
Learn the Techniques. Each technique has its unique skill set. Learn the basics and practice to improve your casting and lure control accuracy.
Choose the Right Bait. Pay attention to what fish prefer. Fish have different preferences for temperature, wind, water current, climate, seasons, and time of day. Challenge yourself to catch every single one.
Customize your Rod and Reel. Customize your combo to suit the fish you're targeting. Different species require different setups, so be prepared and adjust accordingly.
Upgrade your Gear and Boat. Upgrade your gear from time to time to increase efficiency. Choose the right boat for each expedition and equip it with the necessary items for a successful trip.
Use Power-Ups. Use various power-ups, such as tackle boxes and baits, to make your fishing experience more efficient.
Participate in Tournaments. Put your skills to the test and battle other players in tournaments for a chance to gain rare, coveted rewards.
Conclusion
Fishing Planet APK is an immersive and realistic fishing game that allows you to explore stunning locations in pursuit of the ultimate catch. Customize your fishing gear for each species, upgrading as you go, then cast off with confidence. Experience authentic outdoor adventures from the comfort of your home - with Fishing Planet!