Enjoy this fun runner game, where you'll control an average Joe, as he pushes through walls and collects food to become chubby. Download Fat Pusher for Android and enjoy this addicting experience.
Information of Fat Pusher
Fat Pusher is the nest best thing to happen since Temple Run. This game is so amazingly simple, yet satisfying in every aspect. Control an average sized an and watch him get fatter and push through obstacles to the end. Then collect all of your points and coins for more features.
How to Play
The concept is fairly simple in Fat Pusher, as we already stated. So, your objective is to reach the end of each track. However, there are a few gimmicks in the game to keep you invested.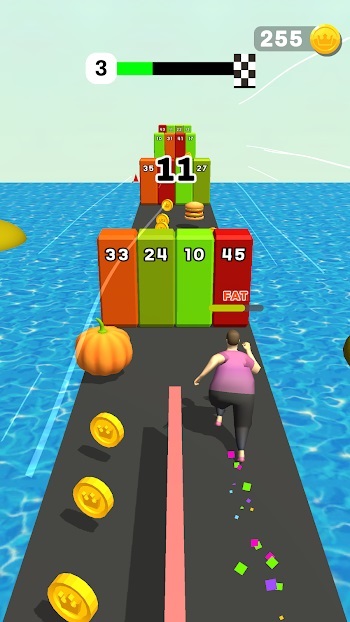 First of all, your runner will start at an average size. As you run, you will need to collect food and coins during your run. Food will increase the size of your character, getting fatter and fatter with each bite. While coins are used to gain more points. However, there are still a few more kinks that need to be worked out and understood to score high.
Gain More Points
There are walls that will need to be pushed in order to progress. This is a double-edged tactic of the game. On one hand, pushing the walls will make your character slim down, little by little. On the other hand, you gain points depending on the number displayed on the wall. The higher the number, the more points you gain, while the more-fat you lose.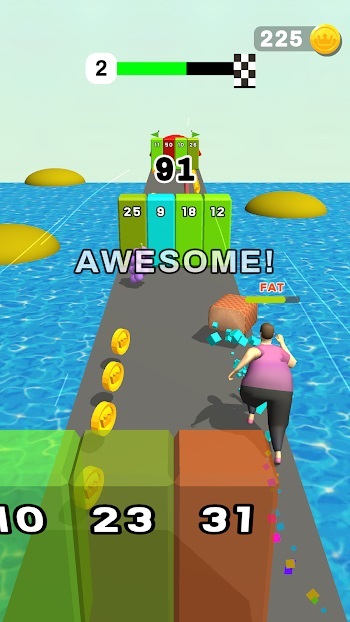 In the end, your fatty will jump off the ledge of the track and slam into an air bag. This will spring your partner on the other side into the air. The higher he can travel; the more bonus points will be obtained.
Eventually, you will gain power-up skills that can help you break through walls with ease. However, they can only be used once per run.
One Fat Pusher Tip
Here is one vital Fat Pusher tip to understand. First of all, just because these walls make you smaller, doesn't mean to avoid the larger numbers.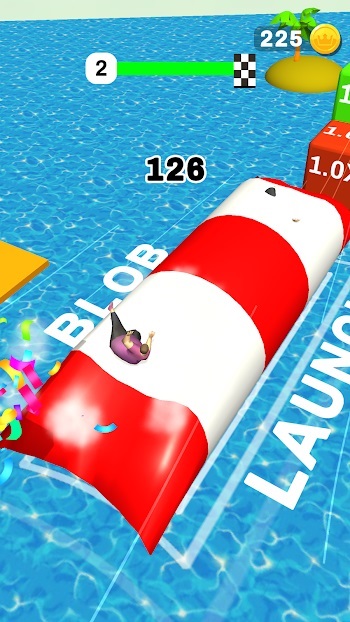 If you are fat enough, try to aim for the second to lowest number or so in order to gain more points. If you manage your food wisely, you can actually gain more points by pushing larger numbered walls.
Fat Pusher Mod APK Free Download
Now that you understand the game, you can download the Fat Pusher Mod APK latest version for Android. This file and gibe you unlimited money to access. Therefore, you won't need to go through the tedious grind of collecting coins for unlockable content. Instead, you can devote all of your time to racking up the most points and getting the best score possible!