Download Fairy Tale High APK latest version to design & customize infinite girls. It offers highly diverse dresses, accessories, hairstyles, and makeup for your girl.
Information of Fairy Tale High
| | |
| --- | --- |
| Name | Fairy Tale High |
| Updated | |
| Compatible with | Android 4.0+ |
| Last version | 1.7 |
| Size | 19.7 MB |
| Category | Casual |
| Developer | Doll Divine |
| Price | $1.00 |
| Google Play Link | |
| MOD | No MOD |
Fairy Tale High is a dress-up game offered by Doll Divine. It is a highly flexible and innovative game that allows you to customize your girls the way you want. You can design and personalize infinite girls without a hassle.
The app provides numerous tools to use in your design. For example, you can choose the shape of your girls' eyebrows, eyes, and other extremities. Ensure you can create a unique look for each girl by adding freckles and other exceptional features.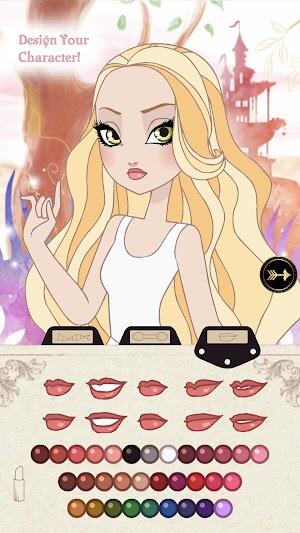 Besides, the game is rich in colors and glamor, providing vibrant backgrounds. This allows you to play around with colors until you achieve an irresistible beautiful look. The game also offers plentiful hairstyles, ranging from braids, ponytails, buns, and updos.
Overall, Fairy Tale High APK for Android will provoke your creativity. It'll challenge you to mix & match various elements to create a stunning look. Ensure you utilize the thousands of options to make your girls look like real-life princesses.
Why Fairy Tale High APK Download?
Fairy Tale High is a great way to spend quality time with your kids. You can use the app's templates to design even more characters. Here are undisputed reasons to play this game:
Lightweight. This application is approximately 20MB, making it considerably lighter. Its lightweight nature ensures it won't slow down your phone or tablet.
Highly Diverse Features. This game is endowed with a variety of features. It offers various dresses, accessories, hairstyles & makeup for each girl.
Vibrant Backgrounds. There are bright and colorful backgrounds to choose from when designing your princesses. This makes the app more captivating and interactive.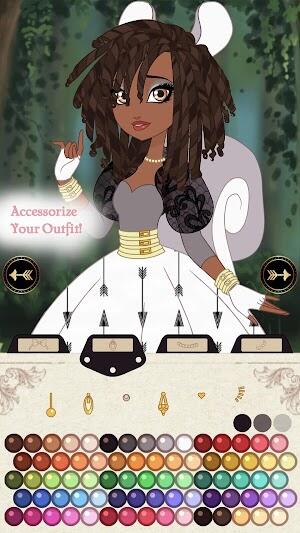 No Ads/ In-app Purchases. This game costs approximately $1 to download. It doesn't include ads or in-app purchases. This ensures you won't be tempted to incur any extra costs.
Play Offline. You can play this game without any internet connection; thus, it offers an excellent opportunity for mothers and daughters to stay connected despite physical distance.
Fairy Tale High APK offers the perfect way to create a unique girl. Download the game today and enjoy a highly engaging dress-up experience. Let your imagination run wild and design a stunning princess.
Fairy Tale High APK Download - Immersive Gameplay
This game is based on a unique story about a school called Fairy Tale High. This institution has many doll-like characters designed to offer a fun-themed, cartoonish gaming experience.
Fortunately, you won't be required to circumvent obstacles or solve puzzles. All you have to do is to customize your girls in the most creative way possible.
Ensure you create many characters since this will help you perfect your skills. You'll also have more fun, as you can switch between different looks. Download Fairy Tale High APK and get ready for the journey of a lifetime.
High-Level Customization Options
This game stands out because of its highly advanced customization options. From creating unique girl characters to designing various backgrounds, you can do it all with Fairy Tale High APK. Here's what you can do with this game:
Create an Avatar from Scratch. Are you feeling creative? Bring your ideas to life by creating an entirely new character. You will tailor-make every element of your characters, from the color of their hair to the design of their dresses.
Customize Facial Features. This application provides numerous facial features to customize your girls without a hassle. You can choose the shape of their eyebrows, eyes, and other extremities.
Mix & Match Colors & Hairstyles. You can infuse up to 3 colors into the dresses, shoes, and accessories to create a vibrant look. Ensure you only include shades that blend, so you'll get the most stunning results.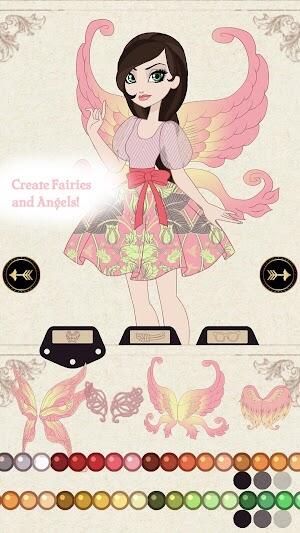 Play with Makeup & Accessories. A girl's look is nothing without makeup and accessories. This game allows you to become creative and utilize different shades, lipstick, eyeliner, and jewelry to create the perfect look. You can even use gold embroidery to up the glamour.
Highly Diverse Dresses. Whether you want a Japanese kimono, a Sweet Lolita dress, a kawaii dress, or a cosplay one, you can find them all in this game. There are even princess dresses to create the perfect fairy-tale look. You can even tailor-make a fabric pattern for the dresses.
Use Animal Items. Dress your girls in cute animal items such as furry hats, cat ears, and bunny tails. Other options include adding wings, nekos, and other magical creatures to your creations. This way, you'll be able to create fantasy-type looks.
Other Outstanding Features of Fairy Tale High APK
Drag & Drop Interface. This game has a drag-and-drop interface, enabling you to apply various features to your character hassle-free. Its super-optimized design ensures it works smoothly, even on older devices.
Customize Backgrounds. How you design the background determines the overall picture quality. Fortunately, you don't have to be tech-savvy to build stunning effects in this game. You'll access numerous backgrounds and special effects.
Beautiful Graphics. Fairy Tale High APK comes with truly stunning graphics. Its high-quality visuals make it a captivating experience from the start. You'll be able to appreciate different textures, lighting effects, and particle systems while using this application.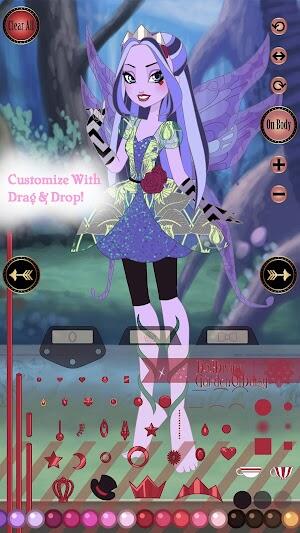 Uncomplicated Controls. This game is designed to provide hassle-free maneuvering. You'll have a field day using the easy-to-access buttons. You'll also appreciate that it doesn't require any special gestures to operate (simple clicks are enough).
Lots of Colors to Use. You won't run out of options while creating your characters. Fairy Tale High APK has an array of colors from which you can choose, so you'll never be limited in design. Moreover, there are several color pickers to ensure you find the most suitable shades for your creations.
System Requirements & Additional Requirements
This game works optimally with Android 4.0+ devices. You'll require approximately $1 to download it. Fortunately, there are no hidden charges & you won't pay any additional costs once you install the game.
The game weighs 20MB, and you won't worry about consuming too much of your device's storage. However, we recommend that your device has at least 2GB RAM for optimal performance.
Finally, this game is suitable for girls of all ages since it contains no vulgar images. It's an ideal platform to exercise your creativity and have a great time with friends. Enjoy the endless features that come with Fairy Tale High APK MOD today!
Proven Tips for Playing Fairy Tale High APK
Explore the Features. You'll have access to all sorts of items, and you should familiarize yourself with them. This way, you won't be overwhelmed when it's time to design an outfit.
Have Fun Mixing Colors. You can use the color picker tool to come up with unique and stylish looks. Additionally, you can combine colors for a more vibrant outcome.
Utilize Animal Items. Animal items will give your characters a fantastic look. You'll find fox tails, bunny ears, cat claws, and many other creative options to choose from.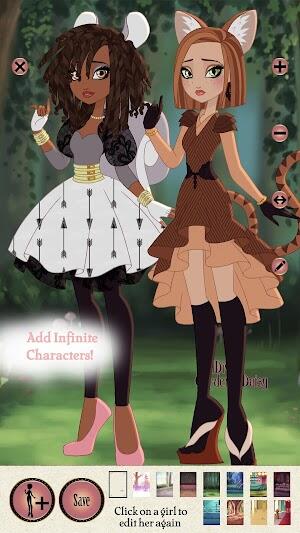 Adapt the Dress Patterns. Fairy Tale High APK enables you to adjust the pattern of dresses, allowing you to tailor-make them to suit your desires, preferences, and tastes.
Try Different Backgrounds. You'll have 100% access to diverse backgrounds. As such, you should experiment with the different settings & effects to find the background that looks perfect for your characters.
Conclusion
Fairy Tale High APK MOD is a perfect game for girls who want to unleash their style and fashion sense. You'll have access to numerous animal items, colorful backgrounds, and high-quality graphics. Plus, you can enjoy the uncomplicated controls & modified dress patterns. Utilize the above tips for an exciting gaming experience!