Download Eagle Game APK unlimited energy - latest version and fight to survive on a remote island. It is an adventurous game that boasts superior graphics and exhilarating challenges.
Information of Eagle Game
| | |
| --- | --- |
| Name | Eagle Game |
| Updated | |
| Compatible with | Android 4.3+ |
| Last version | 3.0 |
| Size | 40.40 MB |
| Category | Simulation |
| Developer | Gluten Free Games LLC |
| Price | $0.99 |
| Google Play Link | |
| MOD | Unlimited energy |
Eagle Game APK is a simulation game offered by Gluten Free Games LLC. It is a realistic game that lets you enjoy the world of the birds.
The game comes complete with HD graphics that simulate different environments. It allows you to explore snowy areas, dry regions, and rainy forests among other environments. This way, you can be sure that you will never get bored when playing the game.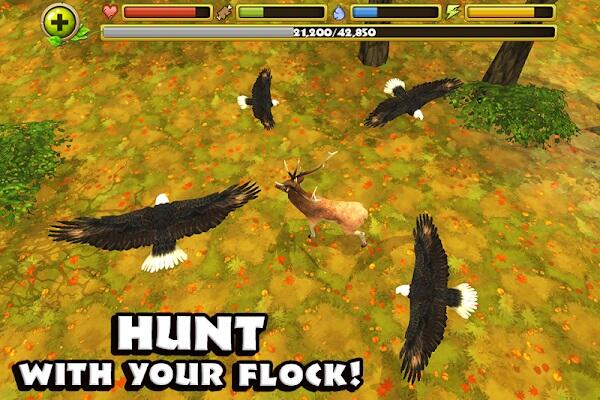 Additionally, the game is lightweight and is compatible with many Android 4.4+ devices. If you want to explore the world of eagles first-hand, then download Eagle Game for Android today!
Interesting Gameplay
This game has pretty straightforward gameplay. It is designed for those players who want to challenge their inner wild side.
You can play as a young and inexperienced eagle or as an experienced and skillful bird of prey. The first few levels serve as tutorials that teach you the basics before you move on to more difficult challenges.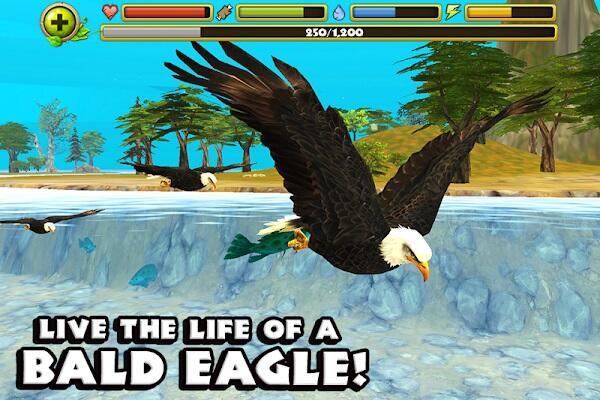 Even though it is titled as a simulation game, the developers took care to make sure that its controls are easy enough for everyone to use. Hence, even novice players will have no problem playing it without getting too frustrated along the way!
When you finally conquer all the obstacles in your way, you get rewarded with clear skies and halcyon weather conditions. But until then, expect challenging gusts of wind unpredictable storms! Eagle Game APK offers hours upon hours of content that allows you to enjoy endless gameplay!
Exciting Challenges
The game offers exhilarating challenges that guarantee fun and suspense. You can do the following to spice up the gameplay: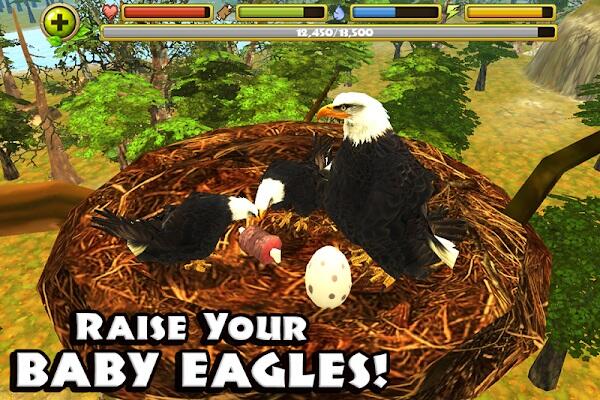 Start a Family. The game allows you to breed and raise your own family of eagles. You must take the challenge of providing for every member of your family until they become independent. Additionally, you should ensure that you're creative enough to keep your baby eagles warm during stormy and rainy days.
Build Your Nests. To be successful, you must build nests that will allow your eagles to rest and recover their energy. By doing this, you can ensure that they are strong enough to prepare for future challenges.
Protect your Nest from Predators. As you try to find food for your family, predators are always looking for something delicious to eat as well! The game allows you to fight off these beasts with nothing but the power of your talons! You can also use different strategies like camouflaging or hiding in bushes to elude them completely!
Explore the World. Lastly, explore different regions of the world while trying to discover new territories for yourself! This is an arduous process since every corner of the digital world has its dangers waiting for you around every corner! At least, you can rest assured that after overcoming all these challenges, your eagles will be well-fed and healthy.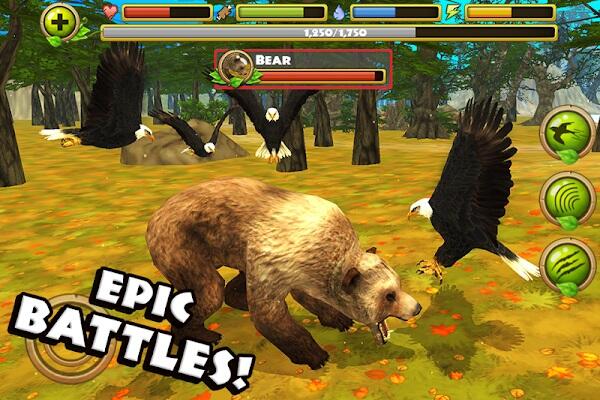 You'll feel as if you're soaring on the wings of your eagle as you go from one area to another. It's a great adventure game that lets you explore the world of eagles using your eagle only, without any hiccups or interruptions.
Outstanding Features of Eagle Game APK
Fight Fierce Battles. The game challenges you to fight your adversaries and win treasures. You'll have several tools such as razor-sharp talons, which you will use to exterminate fierce wild animals that are determined to stop you from progressing with the gameplay.
Open- World Gameplay. Eagle game is set in an open world where you can explore and enjoy nature. You'll soar up the mountains, go down valleys, rise above cliffs, and navigate through forests. It has an exciting 3D environment.
Level Up Your Eagle. You can upgrade your eagle's strength and collect rewards for increased gameplay. You will also unlock new eagles because you start with a chick, grow to an adult, and then breed more eagles. It has simple touch-based controls so even kids can play the game without any hiccups.
A Flock of Eagles Feature. The Flock of Eagles feature means that you can create your own family of eagles which you will use in the game's battles. Each eagle is valuable because it assists you in fighting other animals/player characters throughout the gameplay process.
Detailed Survival Guide & Map Features. To succeed, gamers must seek information about their enemies from the survival guide. It has a map that shows the eagle's position and allows gamers to travel where they want in the world.
Stunning HD Graphics. The game features beautiful, high-definition images which will keep you glued for hours. The game allows you to go anywhere and fight battles using your mind and physical strength without worrying about any restrictions or barriers around the gaming environment. Its relaxing environment will soothe your mind and relieve you from any stress.
Adventurous Challenges. If you want to explore the world of eagles without getting too close to them, Eagle Game for Android offers exhilarating challenges. The realistic graphics are complemented by smooth gameplay mechanics for superior gameplay experiences. With easy controls and challenging obstacles waiting for you at every corner.
Bone-chilling Graphics and Realistic Sound Systems
Playing this game feels like you're exploring real ecosystems found in extreme climates! Even better, the game incorporates highly realistic sound systems. You'll feel like you're flying over the mountains, peering into deep gorges, and swimming in all kinds of dangerous rivers.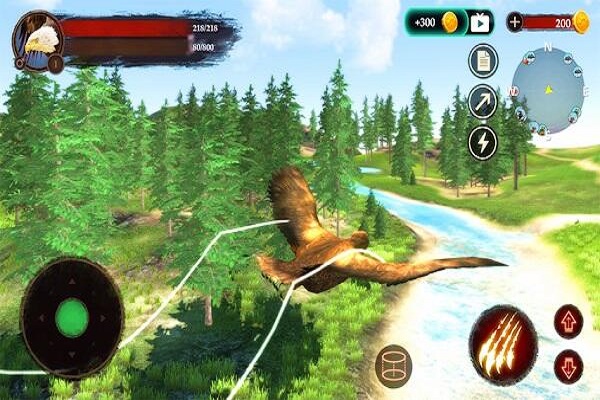 The sound effects are realistic to an extent that you can hear other animals fighting for their lives or fleeing from the eagle's path! This is what makes Eagle Game APK a truly immersive game.
Conclusion
With amazing visuals and a mesmerizing soundtrack, Eagle Game APK is a must-have app for gamers who want to experience exciting gameplay. Its controls are simple so even beginners can enjoy the game without going through any complications or problems.
You can also train your eagle for strength and stamina to become its master. The open-world gameplay gives you the freedom to explore the world of eagles on your terms. Its control mechanics are easy to learn so you won't have any problems using the gameplay features.
So, if you want a challenging adventure game with stunning visuals and realistic sound systems, download Eagle Game APK now! It's free to play but some in-game items will require payment before they can be used.