RPG games are ever-evolving! You can't have enough of the action in these games today, and Dungeon Princess 2 is not left behind. Download it now fight in dungeons!
Information of Dungeon Princess 2
| | |
| --- | --- |
| Name | Dungeon Princess 2 |
| Updated | |
| Compatible with | Android 4.1+ |
| Last version | 610 |
| Size | 103.28 Mb |
| Category | Role playing |
| Developer | SSICOSM |
| Price | $0.99 |
| Google Play Link | |
| MOD | Unlimited money, gold |
Evil spirits come to destroy our livelihoods and leave us and our loved ones devastated. We need to discover a unique way to fight them. Here is a game that gives you a chance to explore dungeons and defeat evil spirits. Dungeon Princess 2 RPG is a sequel to the all-time popular Dungeon Princess game that was played by hundreds of thousands of gamers around the world. You will take control of the main characters and lead them through different locations in an attempt to turn Nadia's sister into a beautiful princess!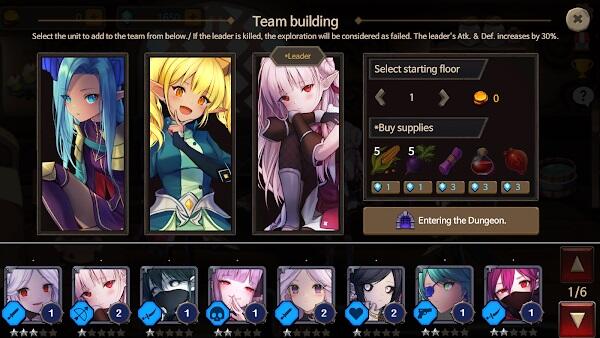 During gameplay, each heroine has her unique skills and abilities that they should use in combating the forces of evil. Players need to enter various levels of the underground city, through constant battles to improve the girl's fighting skills and enhance the equipment. That comes in handy especially when challenging enemies that are more powerful. After successful battles, you should assemble your collection by collecting unique items and attributes. Be keen to improve your combat skills gradually since you will face over 10 types of monsters and bosses.
Thrilling Dungeons Battles
Dungeon Princess 2 is a premium adventure game where players go against the dungeon monsters in battles. Players can collect all kinds of attractive girl characters and carefully train them to plan and master combat skills. This is a premium game in the role-playing genre. That implies that you should pay to download the game from the Google Play Store. You will be exposed to studying mazes and dungeons to defeat monsters with ease. Ensure that you use the maximum skills of the characters to win in the dungeons battles.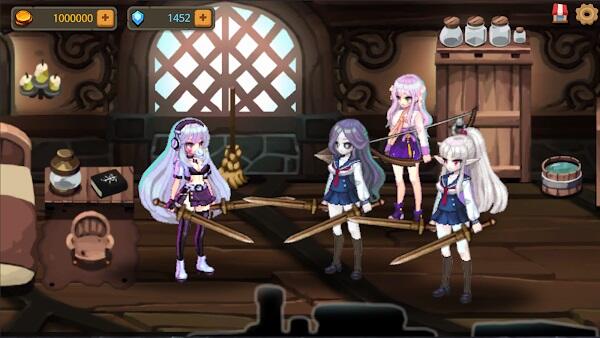 The cute graphics of this game that delights the eyes of the gamers cannot go unnoticed. The storyline of this game is interesting and captivates the gamers for as long as they want. Moreover, the game comes with various features that make the game interesting.
Fans of the RPG genre have something to smile about with the release of the new series of the Dungeon Princess game. Impress yourself with the top-notch combat skills of your avatars as they fight the monsters as well as evil and strong bosses. Prepare a competent strategy and master combat skills and moves to win. Download this game now and join thousands of gamers playing this game now.
Dungeon Princess 2 Game Features
This strategy game offer challenging battles to the gamer. There is a new battle system where those confident in the strategy and game controls can showcase their prowess. Here are the other most interesting features of the game.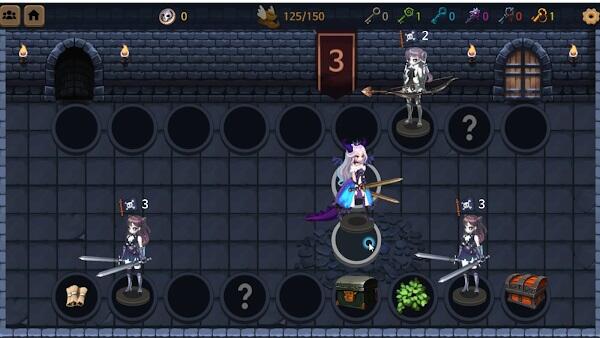 Unique Battle System – you can choose various skills during battle if stamina allows. You will have to check the level of stamina to change your combat skills. It is crucial to find the best combination of character lineup, skills, and timing to stand out as the best fighter. You will also enjoy creating battle strategies and controlling attack timings all by your fingers!
Win every game level here with sets of collectible items and attack skills. Be ready to react to enemy attack charge ups and ensure that you are prompt in disrupting their spells with excellent stuns. Furthermore, you can utilize the character swap function during battle to replace wounded characters for an extra boost towards winning battles successfully!
Exciting Gameplay – this is undoubtedly one of the most exciting Android games where you get a rare chance of controlling battle heroes. You will control the main characters and use them in numerous instances to try to turn Nadia into a beautiful princess. However, you will have to go through various monsters and ruthless bosses. Besides, the action in the game involves exploring countless dungeons and fighting with evil spirits with unique skills and abilities.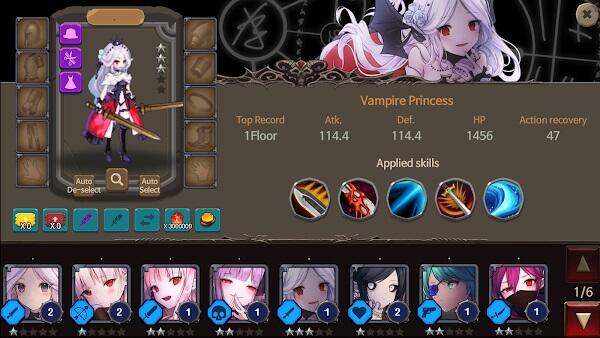 The most daunting experience is exploring the gloomy dungeons. On the other hand, the most electrifying part is where you will have to take a squad of 4 girls with different characteristics and abilities to help you with your quests. All the battles take place in real-time and thus you need to unleash your super battling moves with speed. You have access to over 430 collectibles with unique avatar attributes as well as more than 50 types of Armor sets to select.
Several Heroines – notably, Dungeon Princess 2 is among the most popular online virtual games. That may be because of its exciting storyline and epic graphics. It also offers the players more than 10 characters with incomparable abilities and skills. You will be able to play with other girls as a squad to complete and receive various rewards in this game. Create relationships between characters to survive. Clear the final stage of the game and crown your sister Nadia into a princess.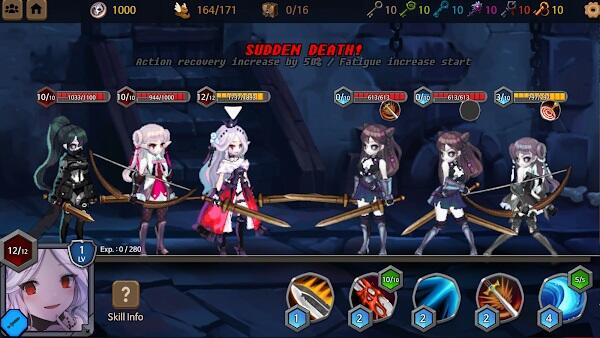 Different Opponents – you will have to face dangerous monsters, evil spirits, and bosses. There are over 18 types of monsters in the dungeons. That is why you need powerful skills to defeat all these opponents to win the game. The game has over 150 different types of skins that come with outstanding skills and abilities. Your heroes need to maintain their power and meticulous timing of defense over various enemies!
Download Dungeon Princess 2 Mod APK Free – Unlimited Money & Gold
The Dungeon Princess 2 Mod APK has evolved to include more unlimited money and gold. In addition, it has extra dungeons, new characters, and additional store items and game equipment.