Download Disney Mirrorverse Mod APK Unlimited money latest version and enjoy a new action-packed RPG game. It features 3D Disney & Pixar characters fighting against a dark force.
Information of Disney Mirrorverse
| | |
| --- | --- |
| Name | Disney Mirrorverse |
| Updated | |
| Compatible with | Android 9+ |
| Last version | 9.0.0 |
| Size | 1.54 Gb |
| Category | Role playing |
| Developer | Kabam Games, Inc. |
| Price | Free |
| Google Play Link | |
| MOD | Unlimited money |
DMG MULTIPLE
DEFENSE MULTIPLE
Disney Mirrorverse is an adrenaline-pumping game offered by Kabam Games Inc. It challenges you to take control of 3d versions of Disney and Pixar characters and use their unique skills to fight against a dark force.
The controls of the game are facile and responsive. You just have to tap on the screen to attack, jump, and move around. There are numerous skills and combos that you can use to take down your enemies.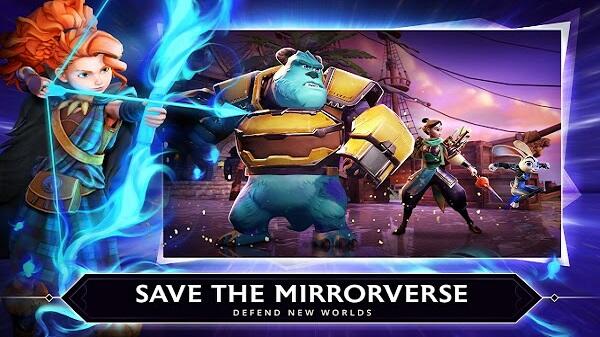 If you love Disney and Pixar movies, you will appreciate the graphics and sound effects of Disney Mirrorverse. It requires Android 9.0 and above.
Disney Mirrorverse APK - Background
The game started long ago after two stars collided and created two distinct universes representing dark and light forces. These forces evolved into fractured enemies that are now a threat to the world.
You will unite with other players to form teams of Guardians to battle ever-evolving enemies. You must prevent the enemies' mission of shattering the Mirrorverse.
The game has many Guardians that you can select to join your team. The major ones include:
Maleficient. This is a powerful and vengeful draconic mage with incredible abilities and skills.
Baymax. He is a robotic superhero and member of the Guardians with healing abilities. He is quite caring & devoted to his patients.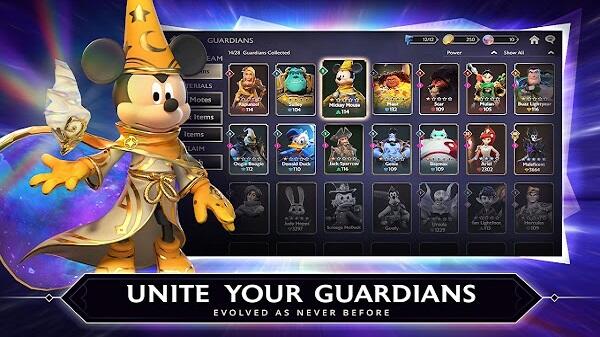 Sulley. This character is fully armed with sophisticated weapons and has high strength.
These are just a few of the Guardians you'll encounter in the game. Otherwise, the game has more than 44 Guardians that you can choose from. Each of these Guardians has different skills and abilities. You can also upgrade their skills regularly.
An Action-Packed Gameplay
Disney Mirrorverse is a role-playing game with immersive and action-packed gameplay. You will have to fight through hordes of enemies to save the Disney & Pixar worlds from a dark force.
You can play as 3d versions of popular Disney and Pixar characters. Each character has unique skills and combos.
You can assemble a team of 3 characters and switch between them during the battle. Ensure that you have a holistic approach while choosing your team members as each character specializes in a particular area.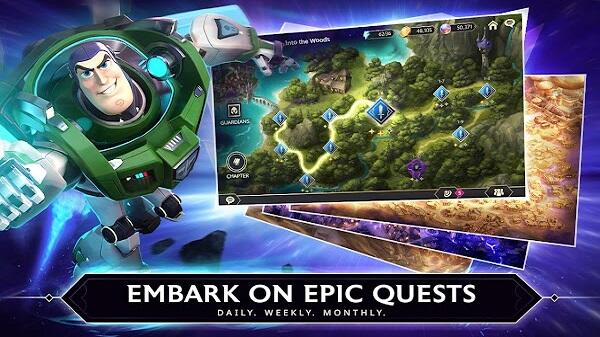 For instance, some characters are good at long-range attacks while others excel in close-quarter combat. Similarly, some characters can heal their comrades while others can boost their stats.
While fighting enemies, you must dodge their attacks and counter them with well-timed hits. The game gets interesting as you progress as the enemies become more challenging to defeat.
Fortunately, you will earn rewards after every battle, which you can use to upgrade your characters. Always ensure that you unlock new skills and combos for your characters as they will come in handy against tough opponents.
Different Game Modes
This game features different modes to test your skills. It follows a narrative-style campaign where you will have to complete quests. Here's a critical analysis of the modes:
Story Quests. This mode allows you to explore various storylines. The quests will get more challenging as you progress. All the stories will be based on popular Disney, the Ages of Isolation, Fractured, and Discovery.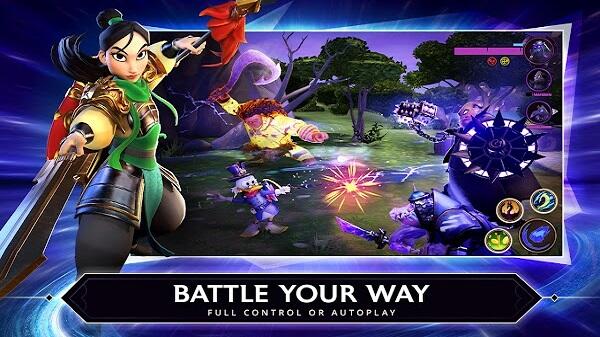 Event Quests. This mode features time-limited events. You will have to take part in different events to earn rewards. The event quests are based on real Disney and Pixar movies.
Raids. You can team up with other players and take down powerful bosses in this mode. The boss battles are quite challenging, and you will need strong characters to win.
Explore the Dungeons. The game features different dungeons that you can explore. Each dungeon is filled with powerful enemies, and you will use strategy to defeat them.
Rank up the Global Leaderboard
In this game, you will be required to explore different worlds, fight enemies, and earn rewards. The rewards will help you rank up the global leaderboard.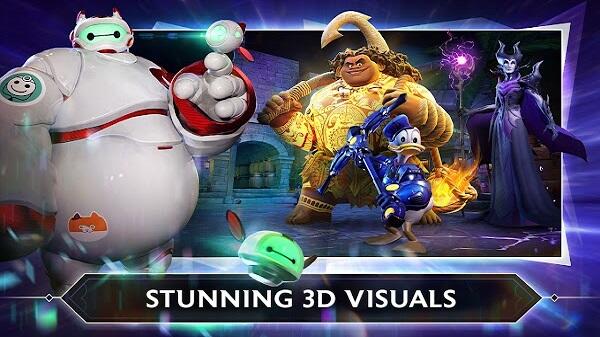 You will collect valuable items that you can use to upgrade your characters. Ensure you have a strong team as you will need it to take down bosses and other players.
Unique Features of Disney Mirrorverse APK
Regular Updates. This game relies on challenges and events to keep the players engaged. The developers release regular updates with new events and challenges.
High-Quality 3D Graphics. If you love fighting games, you appreciate the critical role that graphics play. This game features high-quality 3D graphics that give it a realistic look. You will enjoy fighting in authentic environments.
Dynamic Gaming Stages. The game has multiple stages, with each having one to four battles. You will be required to kill all the enemies to progress to the next stage.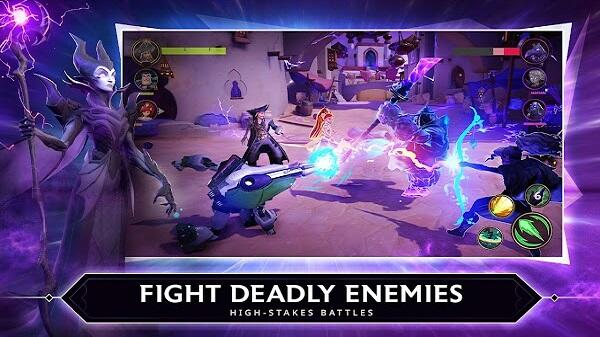 Interactive Environments. This game features interactive environments that you can use to your advantage. You can use the environment to take cover from enemy fire or surprise them with an ambush.
More than 44 Characters. You can play as 44 popular Disney and Pixar characters. Each character has unique skills, combos, and fighting styles. You will have to experiment with different characters to find the perfect team.
Immersive Sound Systems. This game features a top-notch sound system that makes it more enjoyable. You will hear the characters' footsteps, the sound of gunfire, and explosions.
Disney Mirrorverse MOD APK Download
If you want restrictions-free gameplay, download Disney Mirrorverse MOD APK for Android. This MOD guarantees more exciting gameplay. Here are its features:
Disney Mirrorverse MOD APK Unlimited Money. The MOD gives you unlimited resources to spend on in-game items. You can use the money to buy character upgrades and new fighting styles.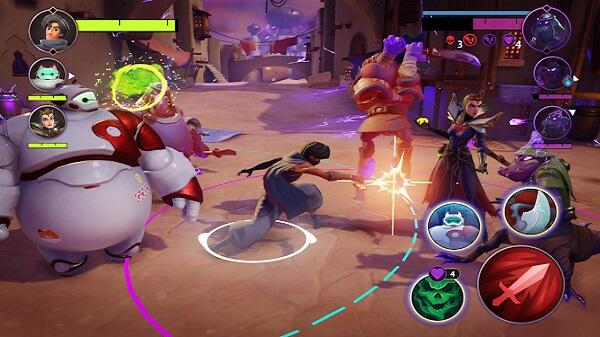 Unlocked Characters. The MOD unlocks all 44 characters, allowing you to play as any character you want. This improves the gameplay as you can try out different characters and fighting styles.
No Ads. This game is free from advertisements, and you will have an uninterrupted fighting experience.
Conclusion
Disney Mirrorverse is your go-to game for an immersive fighting experience. It has excellent graphics, challenging gameplay, and a wide variety of characters.
The game is regularly updated with new events and challenges to keep you engaged. You can also download Disney Mirrorverse MOD APK to enjoy an even better gaming experience.