Apple makes one of the best live wallpapers that goes well with any music! Download Diffuse now so you can get the same live wallpapers on your phone.
| | |
| --- | --- |
| Name | Diffuse |
| Updated | |
| Compatible with | Android 7.0+ |
| Last version | 0.9.1.0 (2945)-0-PUB |
| Size | 6.5M |
| Category | Personalization |
| Developer | Contrail Software |
| Price | Free |
| Google Play Link | |
| MOD | All unlocked |
Apple is consistently at the top of the biggest smartphone companies in the world. Like them or hate them, they have consistently battled numerous companies as the sole company under iOS. And throughout the years, they've produced incredible tech and software such as the Apple music live wallpapers. If you'd love to have this effect on your Android phone, download Diffuse now!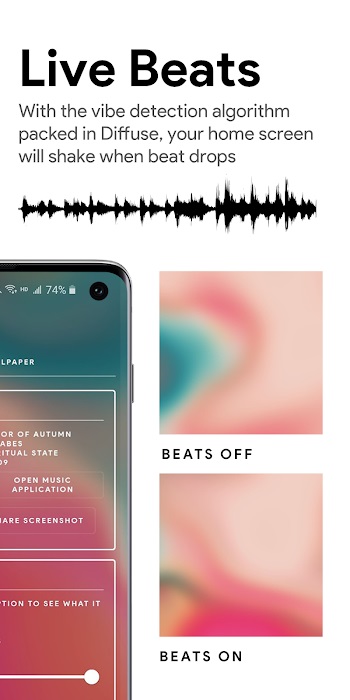 This app was published by Contrail Software and it intelligently mimics what you see on Apple. Here, you can get a live wallpaper background that follows what you're playing. It works with most music players, supports many music streaming platforms, and can be customized to match your preferences! More than that, this app allows you to have a more interactive music listening experience since it has Live Beats. If you love wallpapers and music, you need to download this now!
Make Listening Interactive
Over the years, Apple has consistently brought out numerous innovative technologies on their smartphones. From VR to face unlock and even Apple Music live wallpapers – they know how to please users! But because of this, they get more customers wanting to buy the new iPhones! But today, we'll introduce to you an innovative app that lets you have the same feature from Apple. This feature is called Apple Music live wallpapers and it's now available for Android through this app.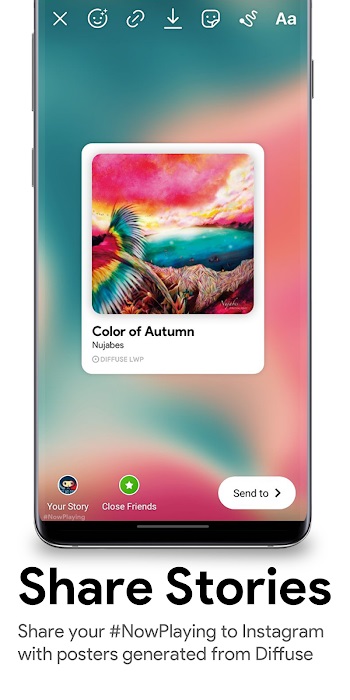 With Diffuse, you can now get live wallpapers that dances with the music you're currently playing. This makes you feel an entirely new listening experience as it involves your other sensory organs now. Here, the background blurs our and displays a fluid-like texture that goes with any song. Thanks to the app's Live Beats software, the background moves with every beat and it displays the music visually for you to enjoy. Take note that the app moves in real-time which produces the most satisfying effects that you can ever feel.
Diffuse Highlights
Do you listen to music every day? Did you know that just by having a live wallpaper that goes to the beat, you can have an entirely new experience? With Diffuse, anything is possible!
An Incredible Technology – We all know by now that Apple is a premium smartphone brand that consistently sells a lot of units worldwide. The company has been on a roll ever since they released the first iPhone and they now have 11 entirely different units under their belt. But aside form that, this company is also known for its crazy ideas and innovations that they pioneered. One of the recent ones is the Apple Music live wallpapers which seems simple but has a profound effect.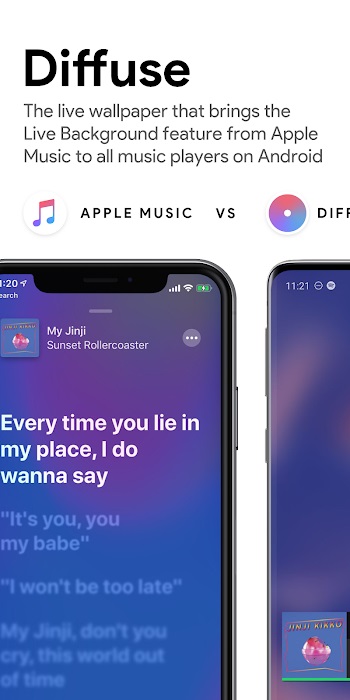 In overview, this feature allows users to see a blurred background that dances to the beat of whatever you're playing! This is a feature that's not possible 10 years ago but is now a feature on iPhone. And in Diffuse, you get to experience this same feature! Now, you don't have to get an iPhone just to get the same feature.
Compatible with music players and streaming platforms – Diffuse makes sure that everyone can use this innovative app. This means that the app is compatible with most music players and streaming platforms. This includes apps such as Spotify, Apple Music, Tidal, Soundcloud, YouTube Music, QQ Music, TuneIn Radio, Black Player and more. It also requires users to have an Android 7.0 and up to be able to use this app easily.
This inclusivity allows anyone with an Android phone to experience this brand-new feeling of listening to music visually. Not only does this provide a new experience, but it also lets you relax and vibe with the music as well.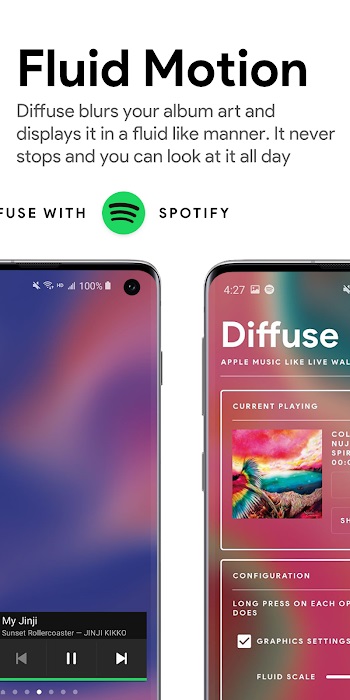 Customizable – Aside from the fact that this is an awesome piece of app, Diffuse allows users to further customize their experience. Here, you can configure your graphics settings, live beats, album art settings, default color, debug view and more. Here, you can set the slider to how strong or weak your fluid scale and live beats can be.
Aside from that, you can choose from a variety of color schemes the default color for the app. There are quite a lot of selections such as Beach, Night Club, Flamingo, Midnight, Abbey Road, 7 Days, Sapphire, Monochrome, Rainbow, Fire and many more!
Easy to use app – Even though this app is just a free trial, you can already enjoy it well. But if you want to unlock a lot of other features, you can also pay for the premium. But in terms of app usage, anyone can freely use this app!
Download Diffuse Mod APK – Latest version
Do you wish that you can also have a live wallpaper that dances to the music? Download Diffuse now and get the full experience of listening to music!