Download Dekaron G APK Mod Latest version and team up with other Dekarons to defeat evil forces. It has high-octane action with PvP battles and massive siege warfare.
| | |
| --- | --- |
| Name | Dekaron G |
| Updated | |
| Compatible with | Android 6.0+ |
| Last version | 1.1.174 |
| Size | 358.82 Mb |
| Category | Role playing |
| Developer | ThumbAge Co., Ltd. |
| Price | Free |
| Google Play Link | |
| MOD | No MOD |
Dekaron G APK is the official mobile version of the popular PC MMORPG Dekaron. It offers fast-paced combat and intense PvP battles on a massive scale, with siege warfare and team-based gameplay.
Players can choose from unique classes and use special abilities to defeat powerful bosses and invade enemy strongholds. The game features stunning graphics and smooth controls, making it a stunning mobile gaming experience.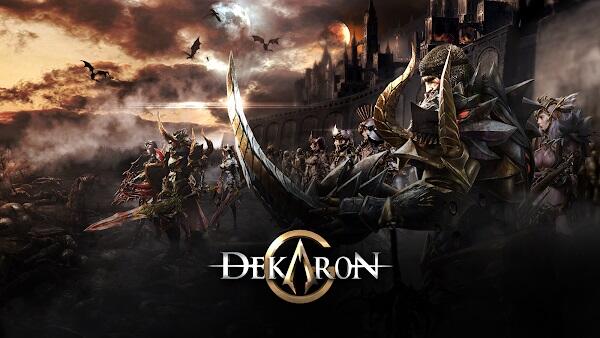 Overall, Dekaron G APK for Android is a must-try for fans of MMORPGs and action games. It features epic battles, intense gameplay, and a vast world to explore. Download the latest version and join in on the action!
Two Moons - Background Information on Dekaron
Dekaron is a dark fantasy MMORPG published by GameHi. It has gained a dedicated following and spawned spin-off titles, including Dekaron G APK for mobile devices.
The game takes place in the fictional world of Trieste, the world of the two moons, including Miseria (Moon of Misery) and Ricchez (Moon of Abundance). This planet is larger than the Earth, and the two moons' orbits around it at different speeds.
When the Miseria aligns with Ricchez, the season is called the Solstice of Evil, and it takes 12 days for the alignment to pass. During this time, evil forces become stronger and wreak havoc on Trieste, leading to battles between players and the game's antagonists, known as Alokens.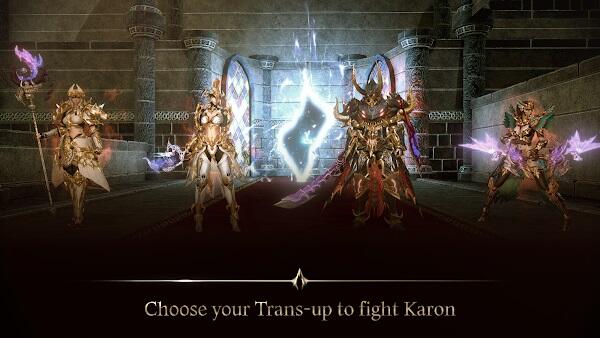 While they defeat the Aloken, a more devastating enemy known as Karon invades the world. He summons monsters and enemies to invade and conquer Trieste. The world was destroyed in the Grand Fall battle.
Fortunately, a few members built an ark called Arcana and survived the attack. After a while, the Karon evil was defeated and the survivors rebuild their world, leading to the game's current state where players fight against evil forces and protect Trieste.
You must join forces to prevent another Grand Fall from happening and save the world of Dekaron. Are you ready to become a hero in this dark fantasy MMORPG? Download Dekaron G Mobile APK now.
Highly Intense Battle Experience
This game takes you on a wild ride with incredibly intense battles. The combat is fast-paced and dynamic, which adds to the excitement of fighting against enemies.
The game is about sacrificing yourself for the greater good and teaming up with others to defend Trieste from evil. You will explore the deep and mysterious world while fighting against powerful bosses and invading enemy strongholds.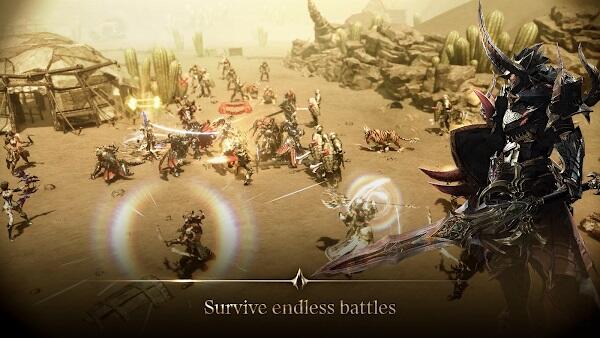 However, your enemies are no weaklings! They will put up a tough fight, so be prepared for intense battles and strategic gameplay. Ensure you have strong abilities and equipment to come out victorious in the battles.
A Free Trade System
This game offers a free trade system, giving players the freedom to buy and sell items with each other. This adds to the social aspect of the game as you can trade with your friends or make deals with strangers to gather stronger items and equipment for battle.
Ensure you carefully evaluate the value of items and negotiate well to get the best deals. This could mean the difference between victory and defeat in the intense battles of Dekaron.
Lots of Weapons to Unlock
As earlier indicated, this game has an open trade system that allows you to purchase weapons & equip your heroes. There are many weapons available to unlock, ranging from swords and spears to bows and guns.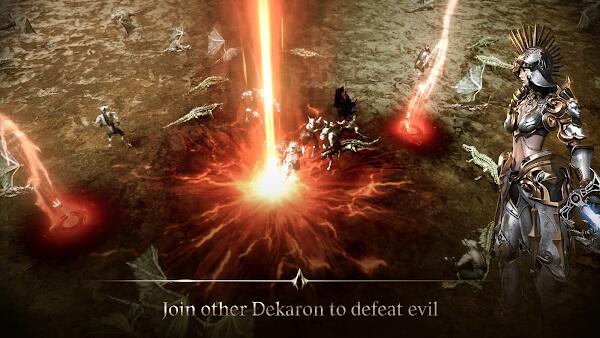 Each weapon has varying stats and attributes, adding another layer of strategy in battle as you choose which weapons work best for your heroes. Some popular ones include Harpe, Ascalon, Flamberge, and Nagelring Sword.
These weapons also have upgradeable options, allowing you to further enhance their capabilities and strength. Ensure each has unique powers & skills to enable you to succeed in the battle against the evil forces of Trieste.
Vast World to Explore
Dekaron offers a vast world for players to explore, filled with diverse landscapes and plenty of secrets waiting to be discovered. You will journey through mysterious forests, haunted castles, and dark dungeons.
The world is constantly expanding with new updates and content, giving players a never-ending adventure as they discover new areas and challenges to overcome. Some popular areas to explore include Haihaff Snow Fields, Ardeca, and the Tower of Ascension.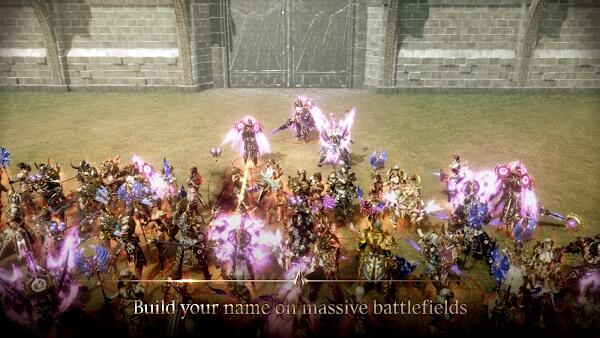 The world also offers various events and quests, adding to the excitement. Ensure you prepare well and gather strong abilities and equipment before venturing off into the unknown areas of Dekaron.
Upgrade to Dekaron G Premium!
While the game offers plenty of features for free, players have the option to upgrade to Dekaron G Premium. This gives access to even more content and features, including:
Unlocks All Maps. You will have access to all the maps in the game, allowing for even more exploration and adventures. Whether you want the snow-covered Haihaff Snow Fields or the dark and sinister Tower of Ascension, you can explore it all with Premium.
Free Trade Systems. Premium members have access to free trade systems, allowing more freedom in buying and selling items. This can lead to better deals and stronger equipment for battles.
Enhanced Character Customization Options. You'll have even more options for customizing your heroes, including unique skins and costumes. Stand out amongst other players with a one-of-a-kind look for your heroes.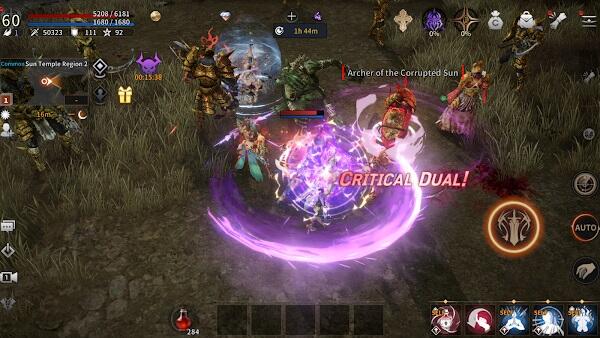 Join a Guild. Premium members can join guilds, teaming up with other players and working together to defeat powerful beings. This adds to the game's social aspect as you strategize and battle alongside your guildmates.
PvP and PvE Battles. PvP will pit you against other players in intense battles, while PvE battles have you exploring dungeons and facing off against computer-controlled enemies. Both provide a thrilling challenge for Premium members.
Dekaron Newsletter. Premium members will receive a monthly newsletter with the latest updates and information, keeping you in the know.
Upgrade to Premium and enhance your Dekaron experience even further. It's worth it for all the added content and features that will make your journey through this epic game even more exciting.
Dekaron G APK MOD
If you are looking for even more advantages in the game, there is also the option to download the Dekaron G APK MOD. This modified version offers increased speed and unlimited resources, giving you a leg up on other players.
Conclusion
Choose your path and equip yourself with powerful weapons as you explore the vast world of Dekaron. Whether you stick with the free version, upgrade to Premium, or use the APK MOD, you're sure to have a thrilling adventure. The possibilities are endless in Dekaron G.